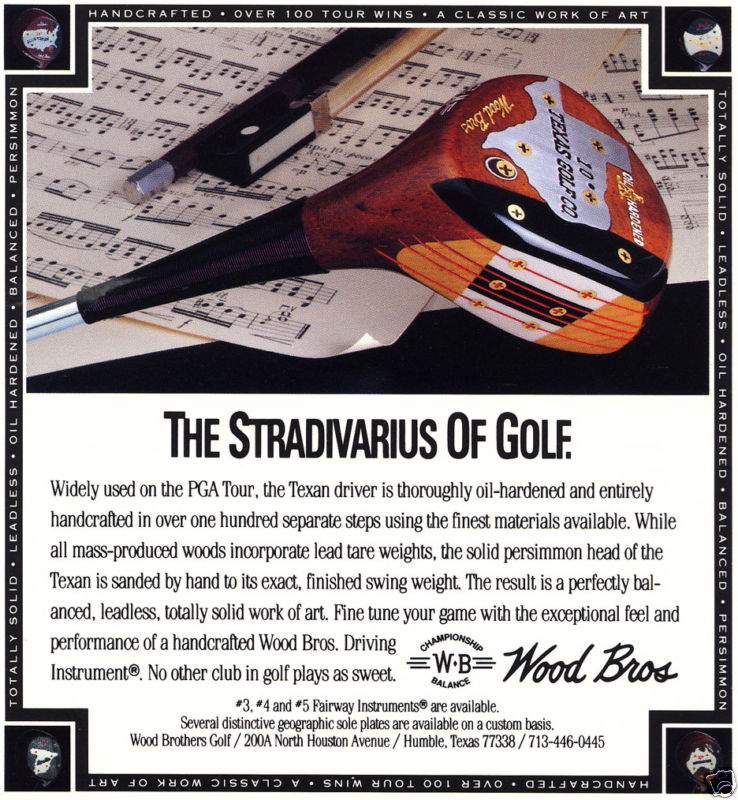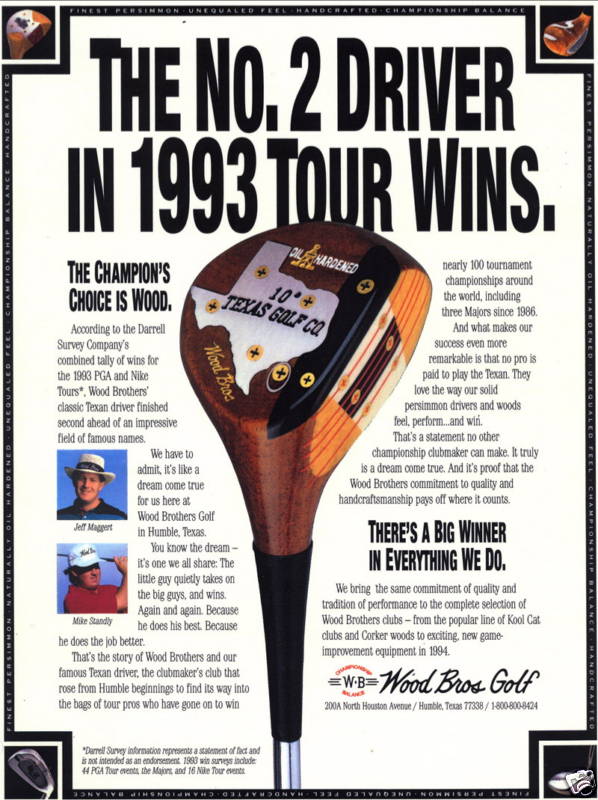 Nice one Jurren,
Do you have one yourself? I think Two has one, mine is in the air crossing the atlantic at the moment (looks slightly shallower face than the one in the advert) and I have a tip off that another forum member may have cornered the market in limited edition Masters versions

Be fun to see how they play.
Cheers, Arnie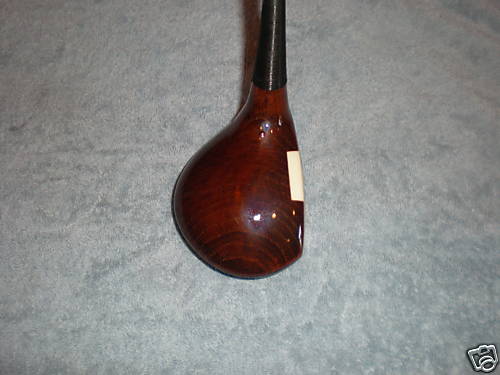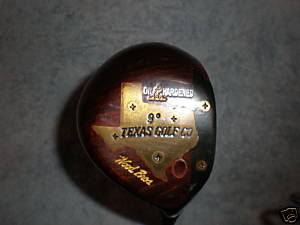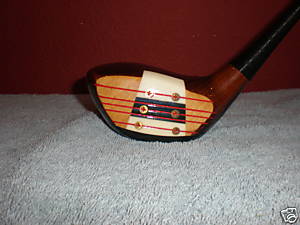 Hi Graham,
Unfortunately i do not (yet) own a WB. But I'm in the process of buying two of them, so it won't be long

I took the two ads from an ebay auction from last week. Dave Wood was selling a WB driver he had made for Jackie Burke. I asked him if he had any more pictures/stories and he added the picture below to the auction. The picture shows the driver he made for Bernhard Langer as a gift for his '93 Masters victory. Langer played a WB driver during that tournament. As Mr Langer is a religious man, Dave Wood chose to give the driver a religious theme and painted and engraved the Last Supper on the skirt of the driver. Later it turned out that Langer was the last to win a Major using a persimmon driver and the gift made for Langer to congratulate him on his win also happened to be the last persimmon driver Dave Wood ever built.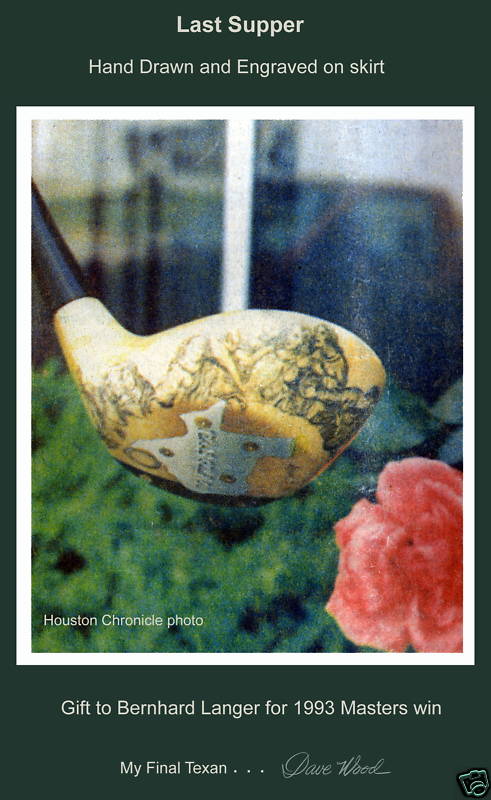 Wow that Langer "last supper" driver is something else Jurren! Almost matches my "Dave Ballester" set for story value lol! Isn't that one of the joys of persimmons, the individuality and persionality of each club tied in with the stories and the history? At the highest level it is an art form. I think the Wood Bros Texan made originally for Jackie Burke was snaffled by our friend FreddieC last night and I believe that Dave Wood gave him some further detail on the way that Langer liked his driver set up. I'll ask Fred if he is comfortable with sharing that info.
Cheers, Arnie
Oh really, did Fred buy that driver?
Jackie Burke thought the driver sat to square and had another driver made with a bit more loft and 1* closed. According to Mr Wood the driver Fred now bought is close to the specs for Langers WB driver.
Check out the crucifix…craftsmanship from a bygone era.
I think so - spend enough time on ebay and you get to recognise account names - I really should get out more! I have dropped him a line to confirm.
Cheers, Arnie
Yes it was Fred - good for him!
Here is an extract of his email exchange with Dave Wood:
Interesting fun stuff!
Cheers, Arnie
Those Wood Brothers are true works of art and craftsmenship. It's shocking most of the people who play this game have turned their backs on the look, feel and playability of persimmon.
Jurren,
The Jackie Burke driver according to Dave Wood is virtually a "twin" of Bernard Langers driver. It was made from the same turning. Its very nice. I've hit it a few times last week. I wouldnt say its my ultimate set up. I do like one that sits about a degree closed myself with a tiny bit more face progression, but I do love it.
I spoke to Dave Wood last week after I received it. Dave as you know is a super Gentleman, its been a pleasure getting to know him a bit. He's one of the nicest guys I've ever had the opportunity to get to know. He's also a very talented Artist and is busy with a lot of that work. I must say today I'm very fortunate to own 2 more Texans today. He was willing to sell me 2 that he was (barely) willing to part with. I say this because I know he loves his clubs. I'm calling this my last hurah. I think I'm done buying for a while. I've got some good ones and these 2 new ones, one in particular which I did manage to hit today is really something special one of a kind. Dave hand made this one (natural stain 9 deg.) for Ben Crenshaw as his back up. His primary was a M85 which Dave also customized for Ben. This blonde 9 degree was built to Ben's spec and he did play a few times with it in competition. The 10 degree was used by Jeff Sluman. Not sure what shaft is in there Slu, because there is no band. The 9 deg natural (BC) originally had a Hogan 5 shaft, but when Ben gave it back to Dave a S300 was put in and it was displayed at Wood Bros. in Texas. Like most Texans they have great grain pattern.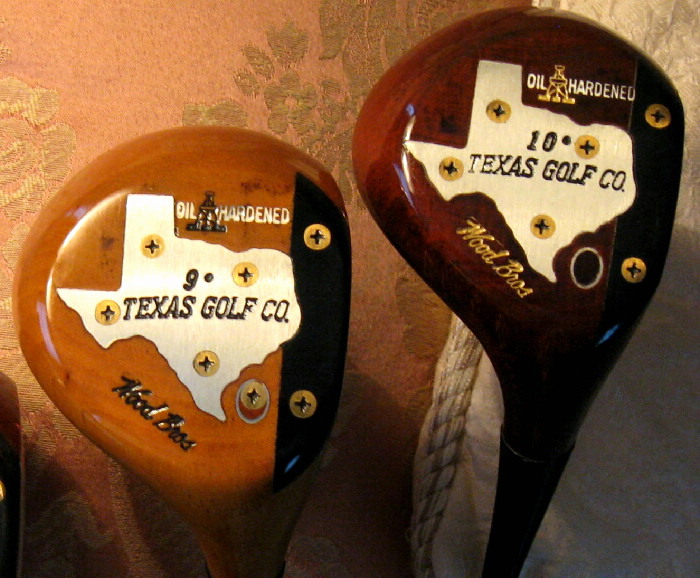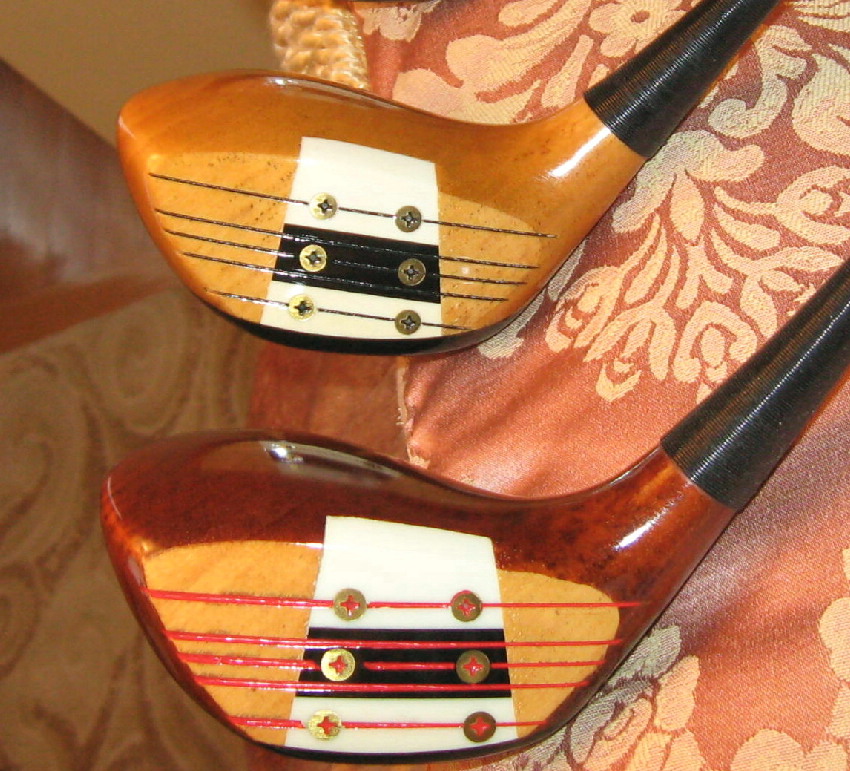 freddie
even if you stop buying the silly things…I want a promise that you will keep posting with comments and pics of your favorite sticks! A joy to read your posts!
Fred,
Those look great! I've got two coming my way as well. John is currently working on them. They're also both a bit special. One is one of Dave's first Texan's. He (hand)made it at the end of '84. Took him a month to built. Even the etching on the soleplate is done by hand rather than stamped. Unfortunately it has a really nasty neck crack, but it is cool to have nonetheless. The other is an Australian, most likely one of Steve Elkington's back-ups. The original Australian was modeled after Norman's M43 that Dave also built. I'll post pictures of both once John is ready refinishing them.
To the rest of you. I'm doing an interview with Dave soon. I'm trying to get the questions together by this weekend. If any one of you out there has a question they would like to ask Dave, PM me, and I'll try to fit it into the interview. When the interview is done it'll be posted here on ABS as well.
Jurren,
Those 2 you have coming sounds great. John lives near me and mentioned he's working on 2 of the WBs for you. The Australian is a Rare driver, I can't wait to see the end result. The Wood Bros drivers were real classics. I'll PM you a question or two for Dave.
Gentlemen,
All I can say is WOW!!
Great pics and great background information… really interesting. Makes me feel that much luckier that I happened across the WB I picked up several weeks back.
Keep the pictures and comments coming!
robbo
Driving Instruments … I love it.
Fascinating how much "technical artistry" went into these designs!
Thanks for posting Arnie,
robbo
Robbo,
I agree. These Texans are pretty special clubs. There were never a lot of these WB models sold in the states at all. Mainly to Tour players and over in Europe and Japan. I think thats mainly because they were very pricey! Tour players paid 200 bucks a piece and over in Japan retail ran as much as 2K US. Chances are the one you have that nice blonde one coulda been a gamer for a Tour player or good club pro. I got out yesterday and hit some shots with the Blonde 9 degree. Its close to an inch longer than the standard persimmon and has a SW of D5 to D6. I thought I would have a little trouble with it , but wow was i surprised. This is one sweet swinging club! I always hit Titleist Balatas with these old persimmons and hit a few on the screws yesterday, it was a blast.
Freddiec,
You are correct, they are something special. I'm pretty sure the blonde I have is all original, and if you look at the head the only wear is on the insert itself, so I suspect if was previously owned by a "player" (the X100 that's in it is a bit of a giveaway as well). I've hit about 20 balls at the range with it and it's as solid as can be.
It sounds like Mr. Wood still has a passion for his product. I admire those who take the time to personally explain (in some detail) the specifics related to your purchases.
Thanks for sharing,
robbo
Thanks guys for raising my awareness of The Wood Brothers persimmons…
Do I need one? I'm starting to think so!
It would be great if we could get Mr Wood over here onto this forum for some discussion. I'm sure Vic Wilk would love to have him on the "On the Fringe" radio show.
Lag,
I'm going to send Dave Woods an email over the next few days telling him about this great forum. I'll mention ABS is dedicated to Pure Traditional golf. (Equipment, instruction, architecture, ect.). I agree, it would be cool to have a guy like Dave give his perspective and input.
Here is a reply for further information from the seller on two Masters edition drivers I bought recently…
YES I agree that the two Masters Edition TEXANS would be worth keeping NEW and just displaying as they are truly a work of art. I used to live in Augusta and have been to four Masters (including 1986) and even played their as well. Pretty awesome to say the least. Back in the day, Wood Brothers made these for the Tournament in very minimum quantities to be sold at the Masters. A good friend of mine, who has attended about 20 Masters, bought these and always kept them. Eventually we worked out a trade as I probably had more interest in them at the time. At the Tournament they sold for $500 each. Personally I always had great respect for the Wood Brothers quality and their production was unrivaled in my opinion. AS you will see the detail is incredible especially the Sole Plates. Again, THANKS for the purchase and glad these are going to someone who appreciates them and I think you will "WOW" them in the U.K.