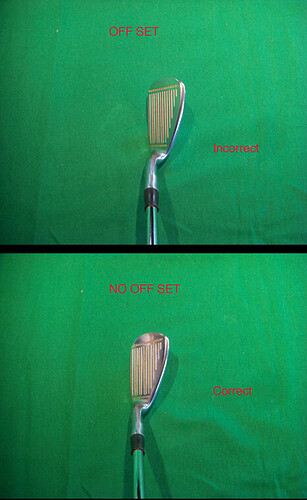 Thought I should "sticky" this pic for those confused about offset etc.
This is a typical of what we often start with, and how we try to finish off the bending to remove offset.
Offset was put into clubs by design to help band aid poor golf swings. While offset does lessen the damage of an OTT swing, it's wreaks havoc on a proper swing where the player is forced to over roll or hand throw the clubhead at the ball independent of true connective rotation.
Offset also tends to pork chop the divots rather than encourage a more linear strike through impact which sends the ball into a much more penetrating ball flight.
Removing offset also tends to bring the woods and irons more into harmony so the player can use the same swing and not have to have separate swings to deal with the differences between offset vs forward face progression in the woods.
No offset irons are really designed for a hard hitting action and firm shafts.