Maybe this thread should be rare golf photos! Those are some gems! Thanks for posting… keep them coming!
Payne Stewart winning The 1987 Bay Hill Invitational at Arnold Palmer's Club where he lived and giving his baby daughter a kiss through the back fence on his way to victory. Stewart donated his entire first prize of $108,000 to the Arnold Palmer Hospital for research in honor of his father who had recently died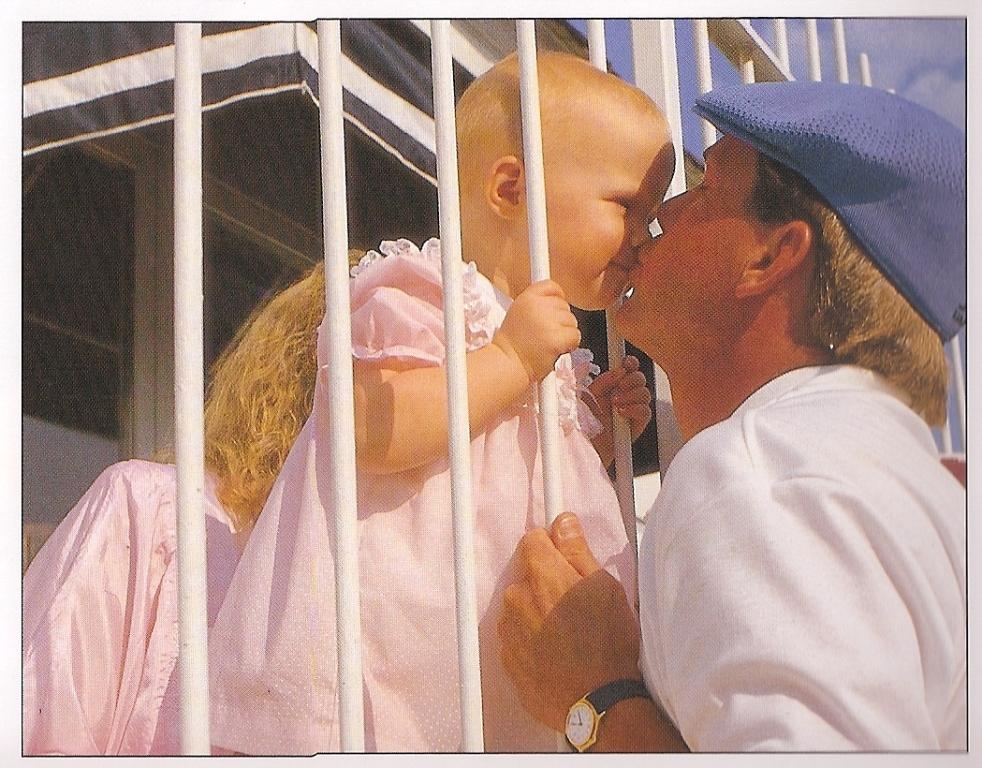 Floyd on the practice range searching for the pot of gold at the end of that rainbow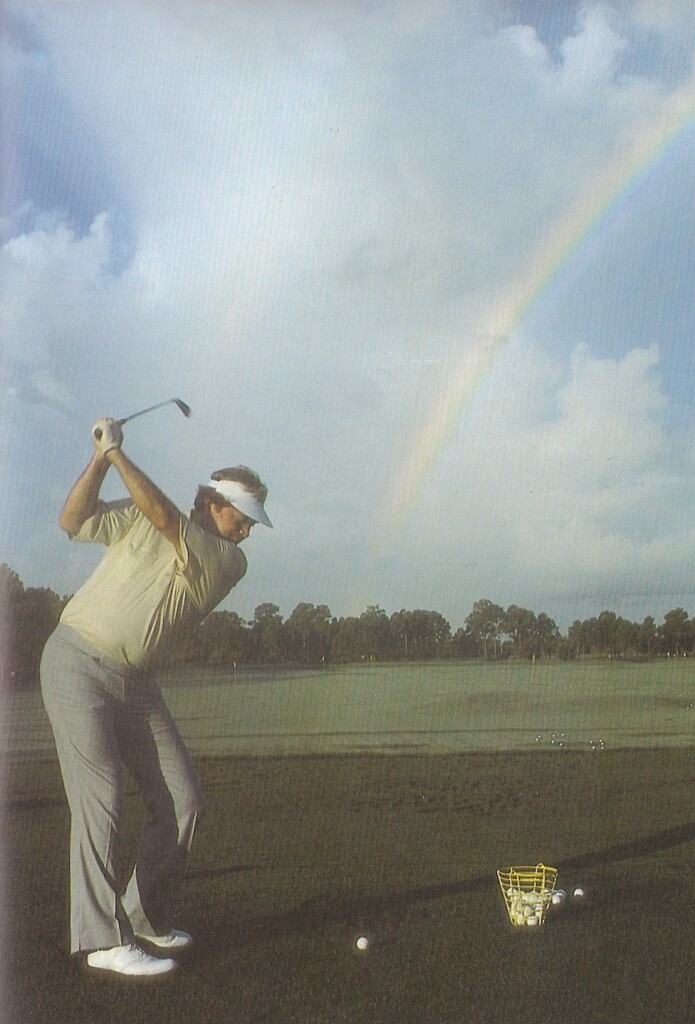 Player beating the heat at the PGA Championship at Atlanta Athletic Club in 1981 by pouring water down his own neck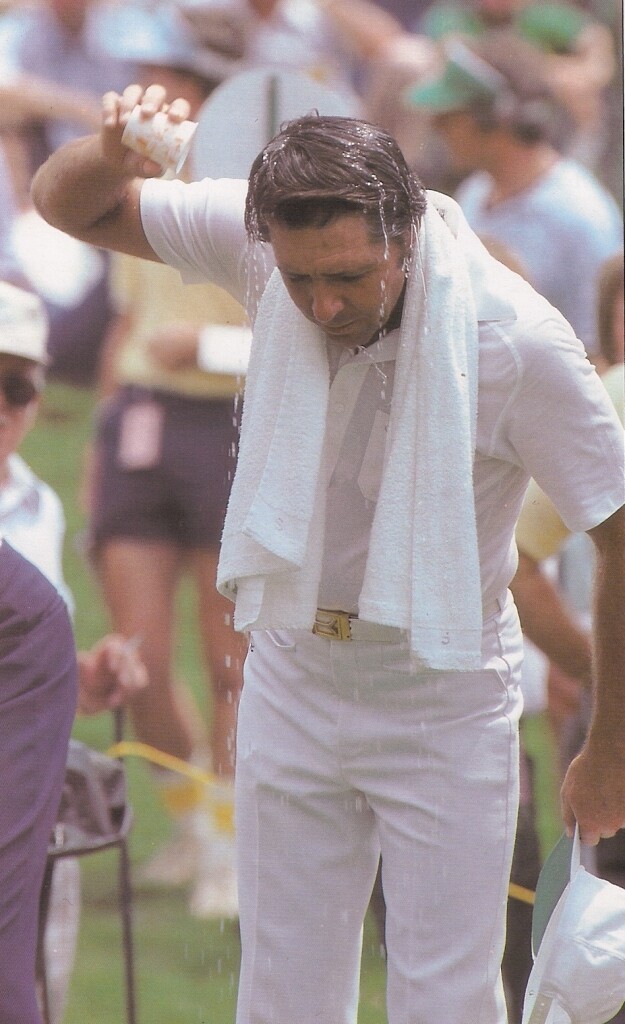 Guess who!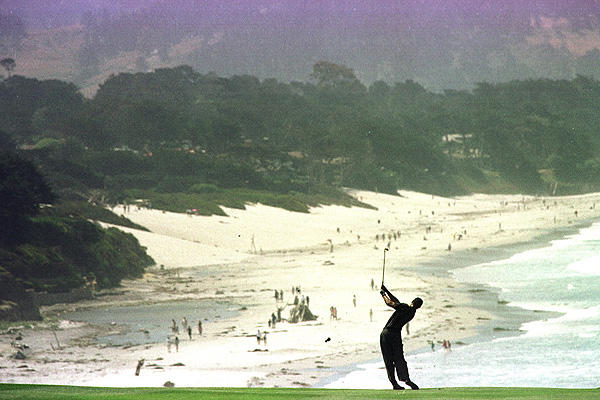 Here's a nice shot of Hogan hitting to the par 3 8th at The Olympic Club in the 1955 US Open
The entire hole is ringed with people watching and the clubhouse provides a great backdrop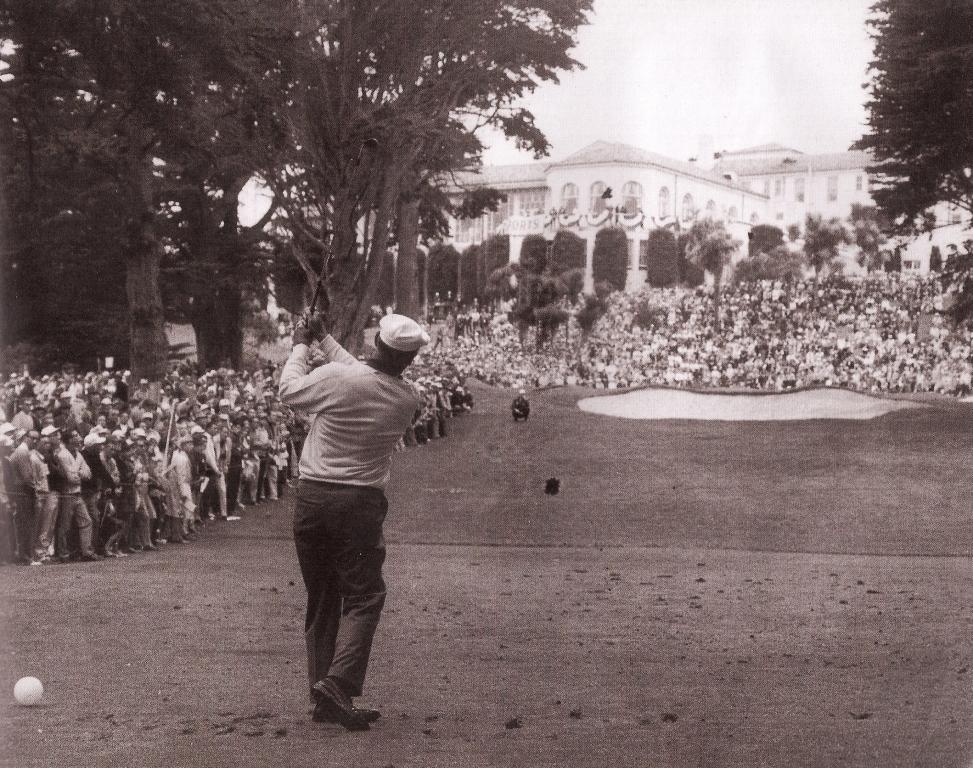 Crenshaw–with Hickory Clubs and in a kilt !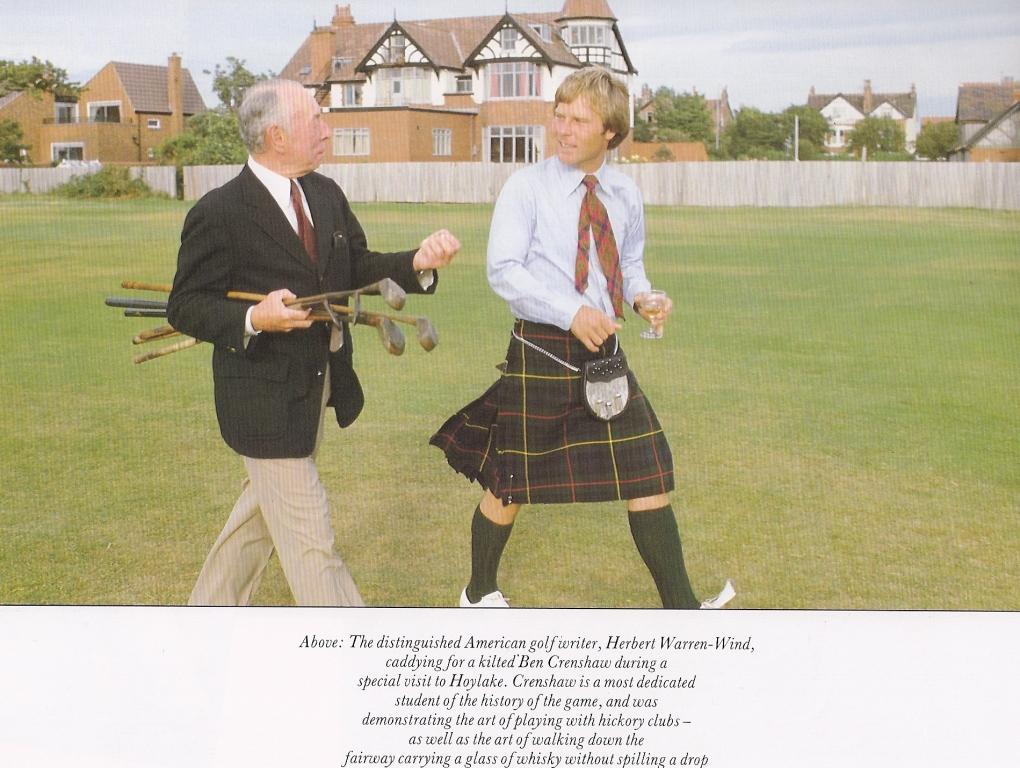 Seve putting and his brother caddying- note the caddy wearing golf shoes which is a no no in today's golfing world per PGA regulations-
A near miss as you can tell by both of their reactions !!!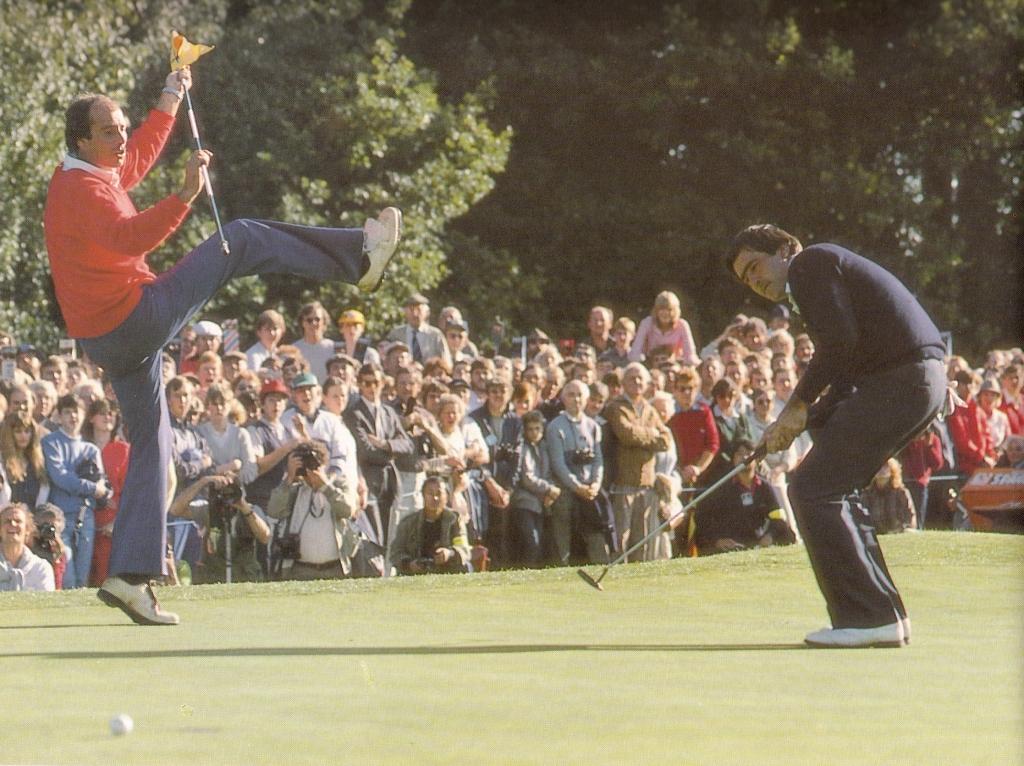 Seve playing to the cameras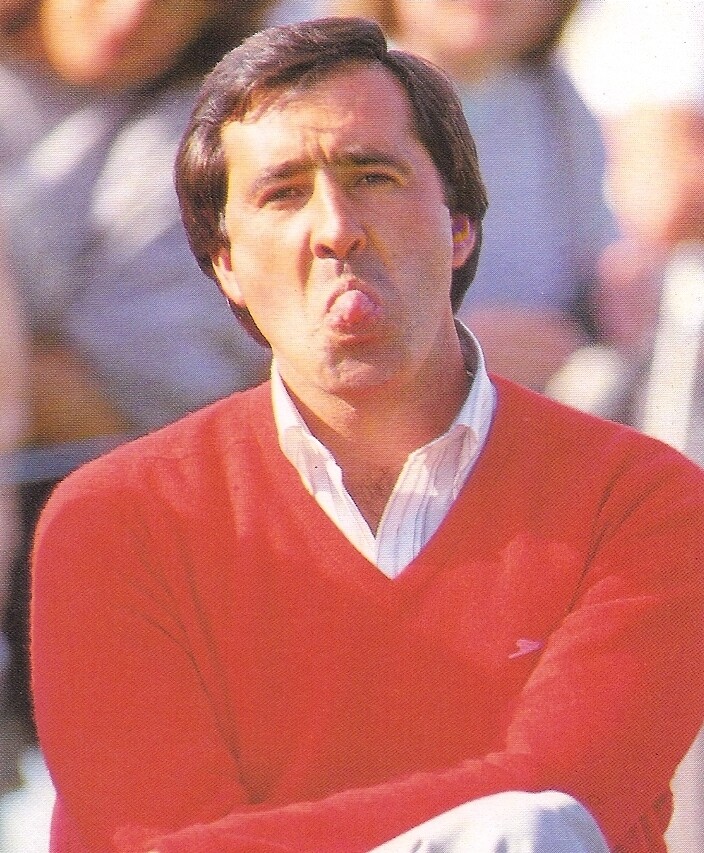 Seve in total disbelief that he fatted and hooked his 4 iron second shot into the pond fronting the 15th green at Augusta National during the final round of the 1986 Masters.
He held the lead at this stage and a birdie here would have nearly sewn up his 3rd jacket. He faltered though and golfing history was made with Jack Nicklaus passing all the contenders and winning his 6th jacket at the age of 46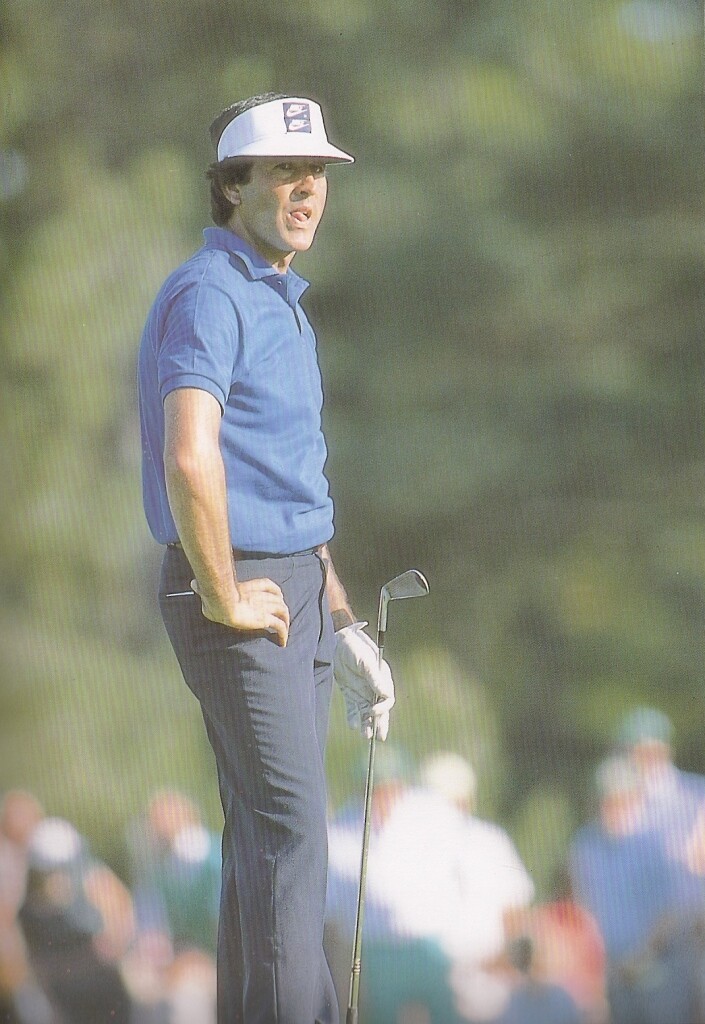 Arnold Palmer taking a lash at a drive in the 1962 US Open at Oakmont near his home town in PA
Palmer and Nicklaus shake hands after the 1962 US Open playoff
Palmer gives a drive the full treatment as Nicklaus looks on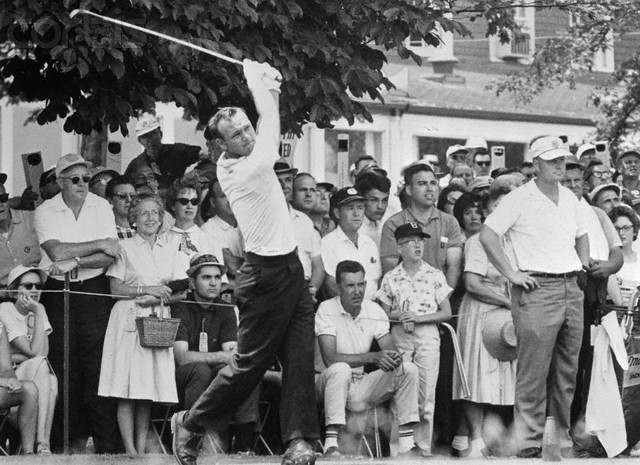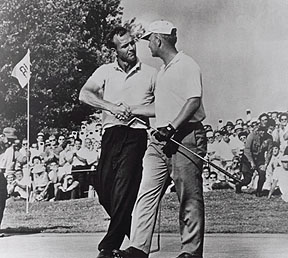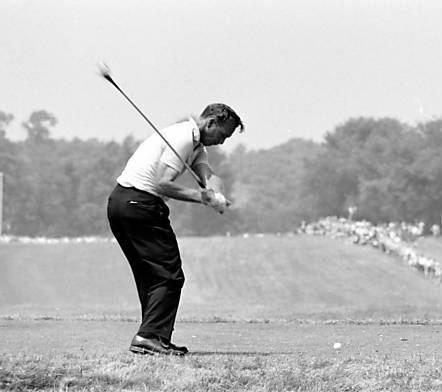 There's a sight you don't see every day- Gary Player in plus fours!
Doesn't look like things are going according to plan on this day- however-
Besides being a winner of the Grand Slam of all golfing majors- Masters, US Open, British Open and PGA- Player also won his own South African Open 13 times !! and the Australian Open 7 times !!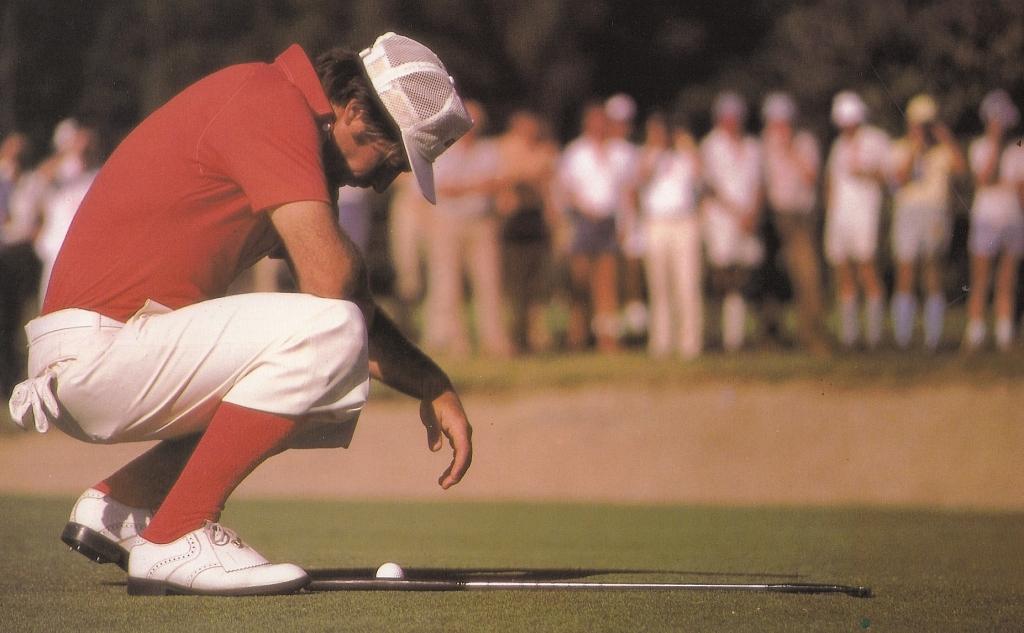 Before eventually succumbing to Stewart Cink in a playoff for this year's British Open Championship, Tom Watson had another very good chance at equaling Harry Vardon's record of 6 Open Championships- however in 1984 he overshot the 17th green 'Road Hole' at St. Andrews with his second shot and bogeyed , just as Seve Ballesteros was putting the finishing touches on his round with a birdie at 18 to claim the prize and deny Watson a piece of history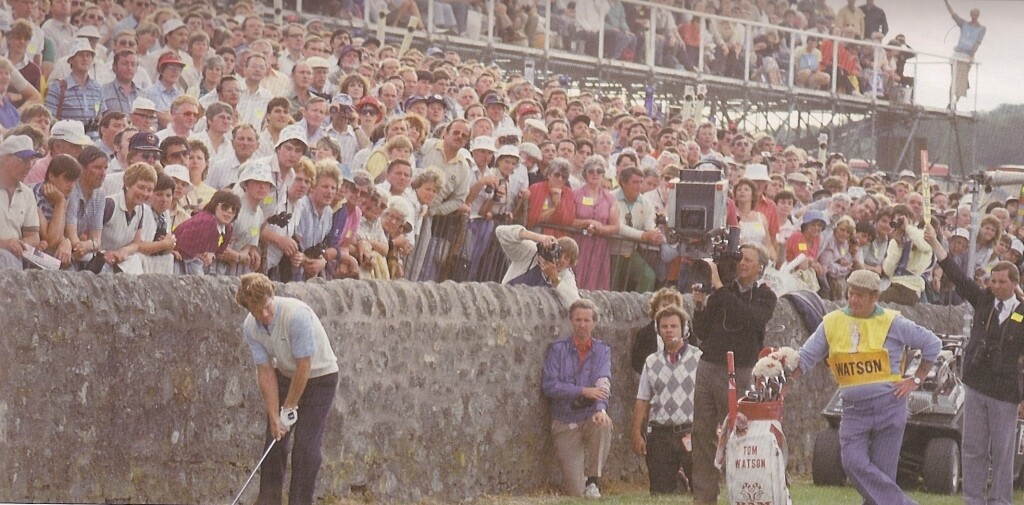 Greg Norman raises his arms in triumph with his caddie Pete Bender after capturing his first Major Championship at Turnberry in 1986
and then
Norman and friends celebrate the victory with some champagne in the same spot- well after the crowds have gone home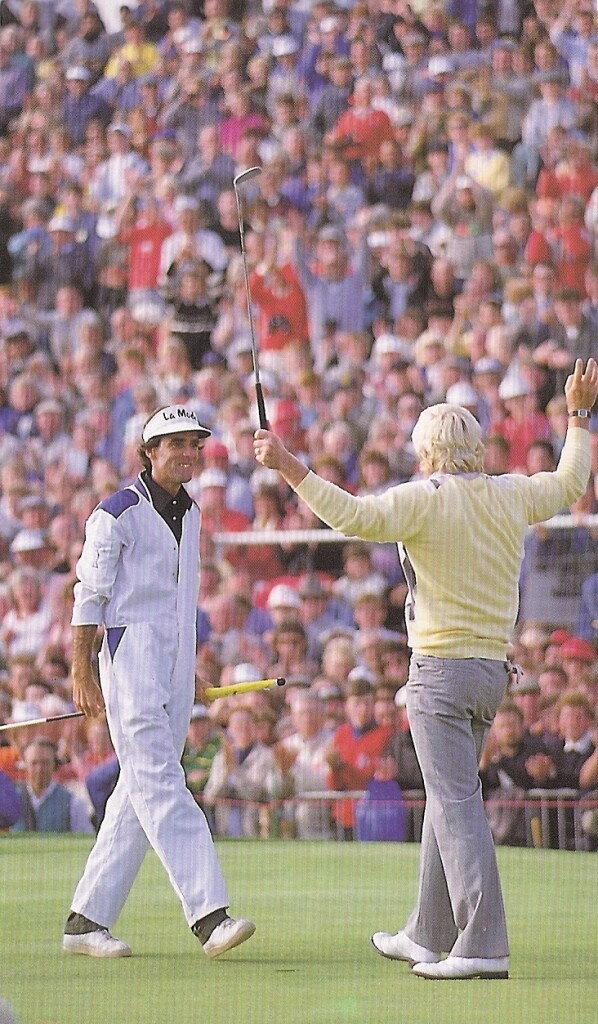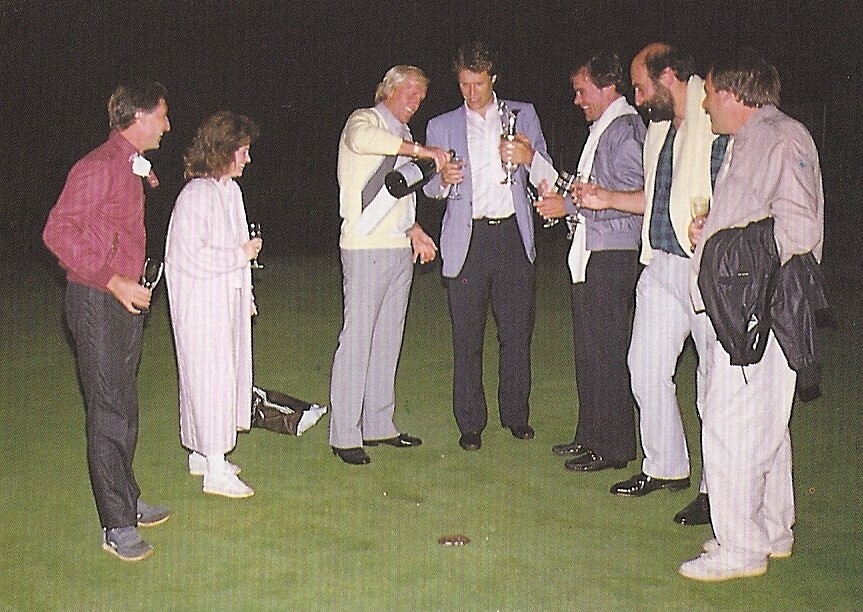 OOPS- Tom Watson dropped the Open Championship trophy after his 5th victory in 1983 at Royal Birkdale- but still happily poses with the 'Old Claret Jug'- or what's left of it !!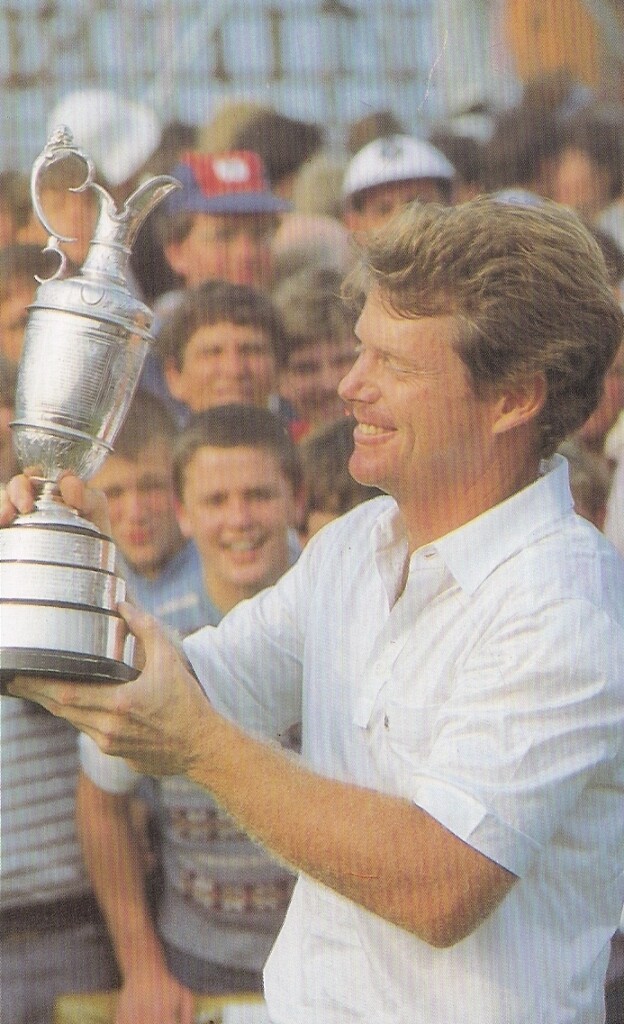 Gary Player showing his finger strength to his son Wayne and a young Hal Sutton by holding his and Sutton's club between his fingers and rotating them- love the Hogan persimmon that Hal is using !!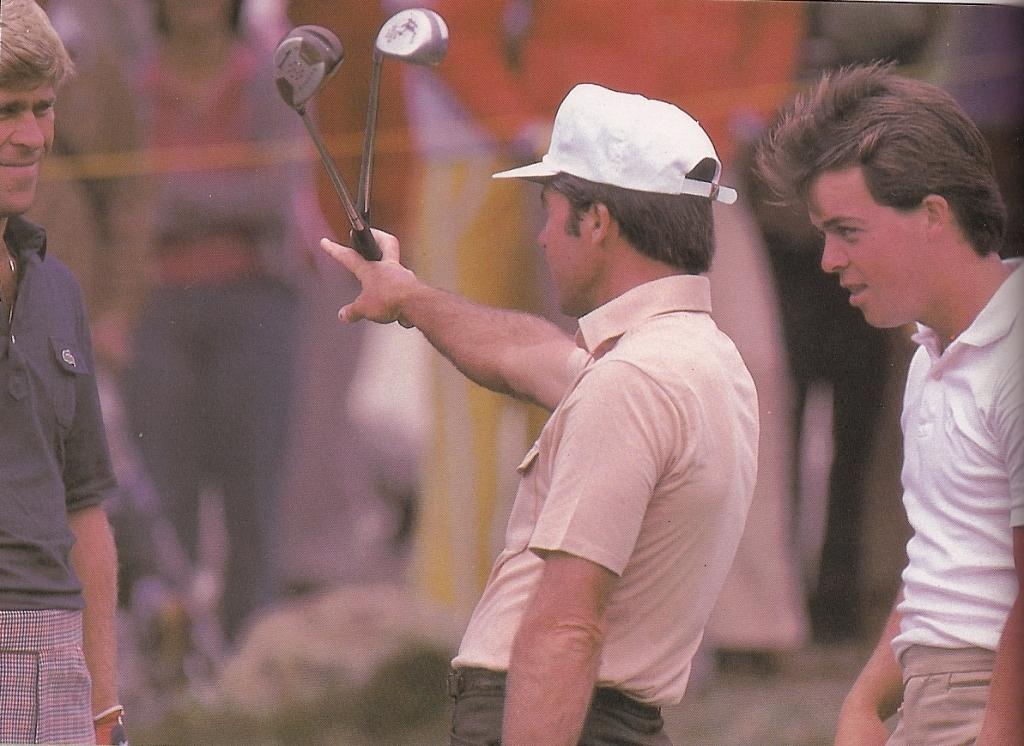 Hey Jack— I'm the KING-- now go away or I'll choke you or punch you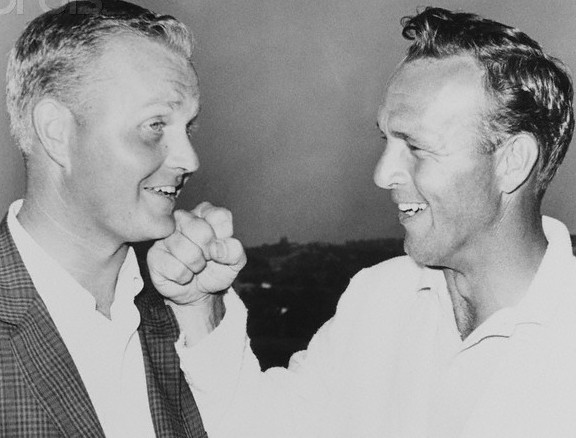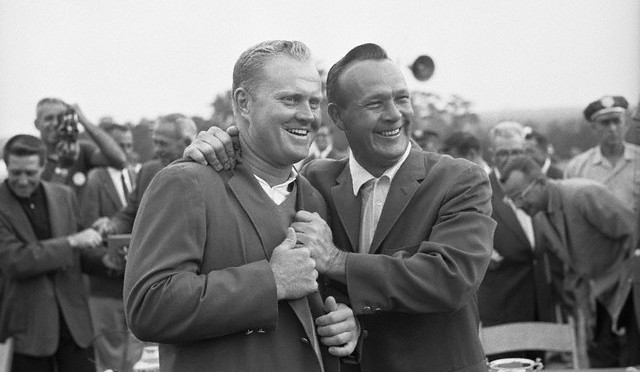 Arnie smoking on the tarmac!
try do that near a plane today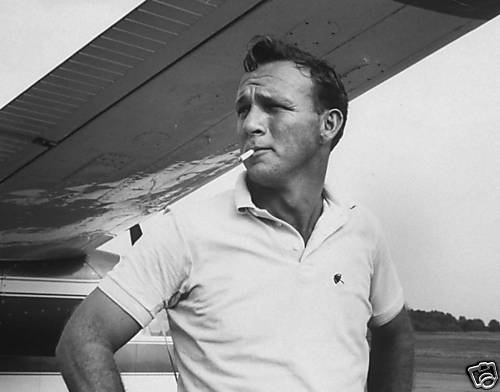 Seve and Tom Watson acknowledging the huge galleries after one of their Open wins.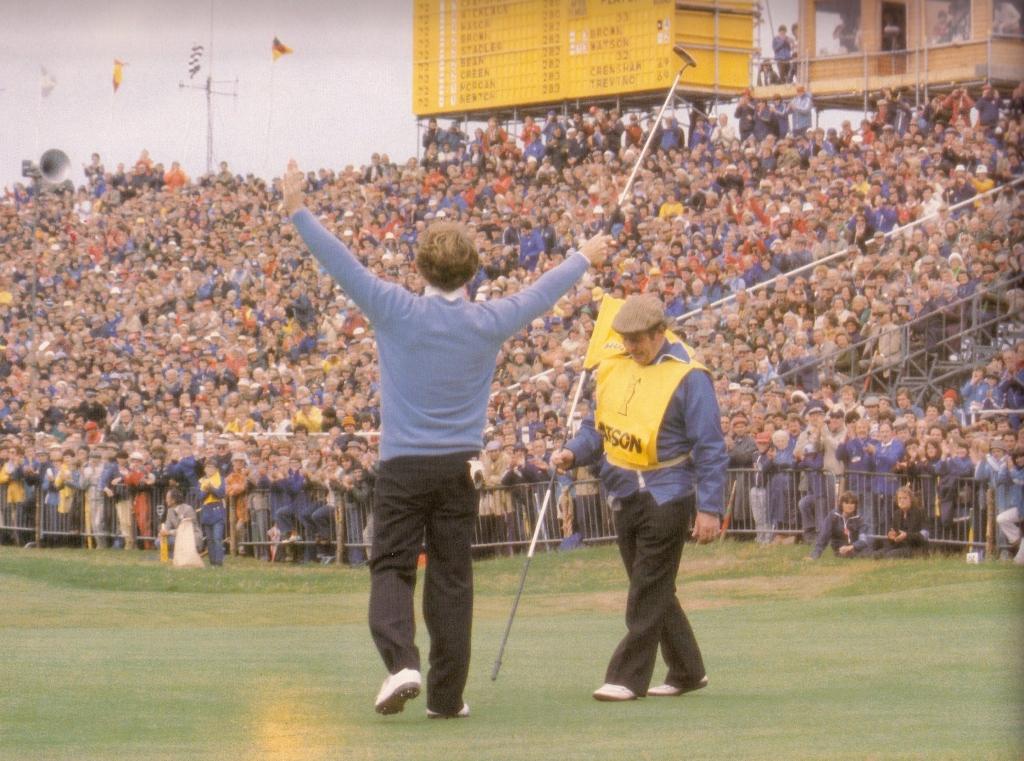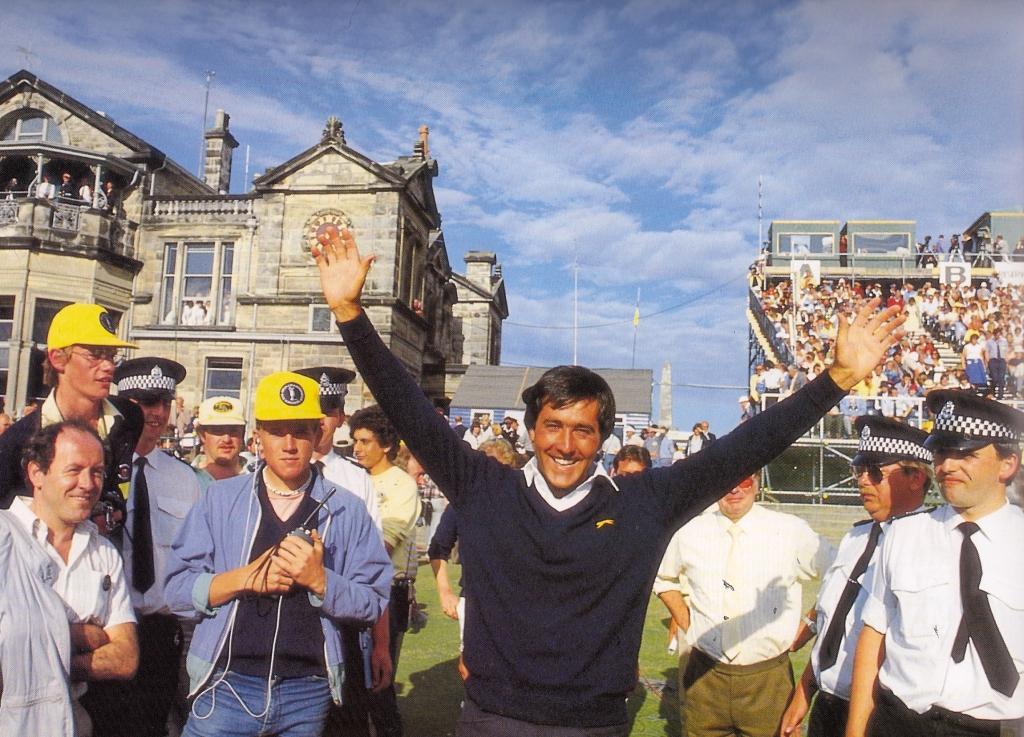 Not great in terms of the occurrence, but great in terms of a stark reminder of just how lucky Hogan was to survive his crash and shows how even more remarkable it was for him to comeback and perform to such a high level again.