anyone know if there is a difference between the Macgregor tourney M85 vs Macgregor tourney m75?
The M85's came stock with stiff shafts, while the M75 came with regular shafts. The heads I believe to be the same, just a different stamping.
Just noticed that the info in TM's link indicates that "R" for certain tourney iron shafts is for "rigid" as opposed to "regular" flex. Perhaps we should actually be going after some of those sets that are being advertised as Reg stiffness?
Cheese,
Don't give away my secret! lol
I just found this out last week… I was looking at a set of M85's with the R on them… but then compared them to a set of MacGregor's that had #1 on them. Same step pattern, so I was a bit puzzled because the clubs looked stock from what I could tell.
The Propels however have a totally different step pattern and feel… and I really prefer them over the stock TT firm or comparable issues.
Sorry ! Delete delete Delete
The M85 used the Model 69 head , which was basically the same head as the 693 and M43, their deep baby. The M75 was not the same head per the Kaplan book, they used the Model 40 which most likely had a tad more loft and slighly shallower. 85 had White/Black/White insert, 75 had White/Red/White. Most of the M75s I've seen are shallower, although I've seen some that do look as large as a M85, but its pretty rare to find one that is. If you compare the fairway woods in the sets, they are pretty close, but the drivers are not. Shafts are Lag pointed out were Stiff on the 85 (Tourney C) and Reg flex "E" on the 75. M75 is one of my fav Macs.
Wouldn't you know I strike with a picture ! No… Not Freddiec. LOL.
Here are the M75w and the M85w, both have original Tourney shafts and leather grips. This M85 is my go to Mac when I need to put together the vintage bag.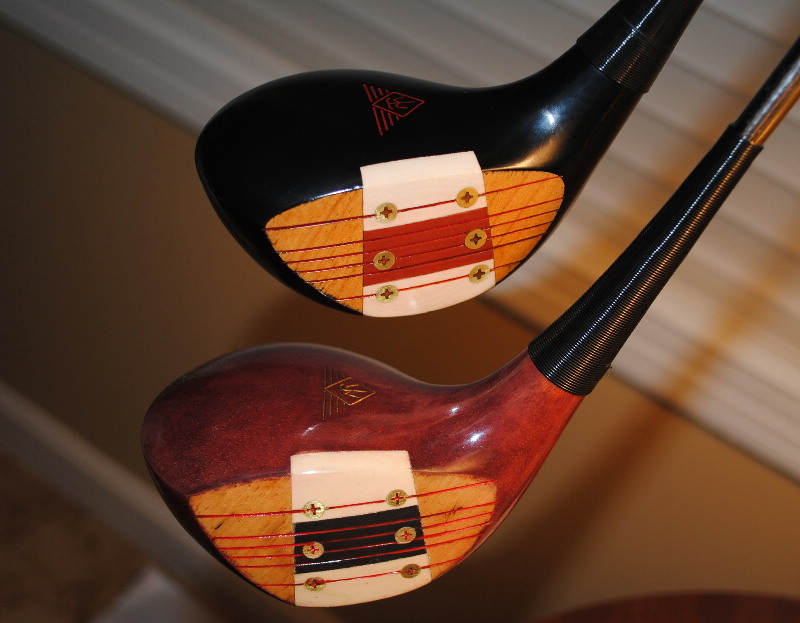 Nice pics as always Freddie. Between you and Arnie I don't know what to do about drool on the keyboard!

Can someone remind me again why we went away from persimmon to "this"?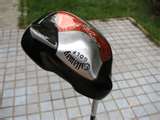 robbo
Robbo,
Nice pic you posted! Is that really a driver? wow… Love to know what Hogan, Snead or Nelson or any of the greats would say about that, just sad… Try putting a Jen Craig head cover over that, it might just pop. Fire in the hole. LOL
Freddiec
Do yo have any secrets to such a nice job on the whipping.
Hey Macs,
I don't. I had nothing to do with the refinishing of those clubs. Both were refinished really nicely, worked on by different people I would imagine. The M75 set I purchased from a golf shop in Ohio 5 years ago , the M85 also part of a 1,2,3,4 wood set were from Kansas City. Whoever did the M75 set was really at the top of his game. My buddy "persimmonpal" could probably throw you a tip or two,he's also very good and knows all the tricks of that trade.
Freddie,
That M75 is SICK!
I've always leaned towards a light stain or no stain on any refinish I've done so the grain peeks through, but after seeing that badboy in black I may have to re-think my next project! I bet working in black isn't as easy as it might seem.
robbo
Robbo,
what was that thing?
do you put popcorn in it?
then roast it over a campfire?
Lag,
I dare say it might even be too light for THAT job!
Rob,
Thanks…!!! I gotta admit this M75 set is UN Frekin Real. The sole plates alone look like they were just freshly stamped. I think the original owner honestly used them maybe a few times and put them in a close for 35 years, the leather grips and tourney shafts also are perfect. Whoever did the refinish job was a Master. I'll have to take some more pics of the other clubs that look the same. One of my buddies who's also a collector called them "The best M75s on the planet". I hate to brag, but they are sick. Here are a few pics, don't really do justice, but you can drool.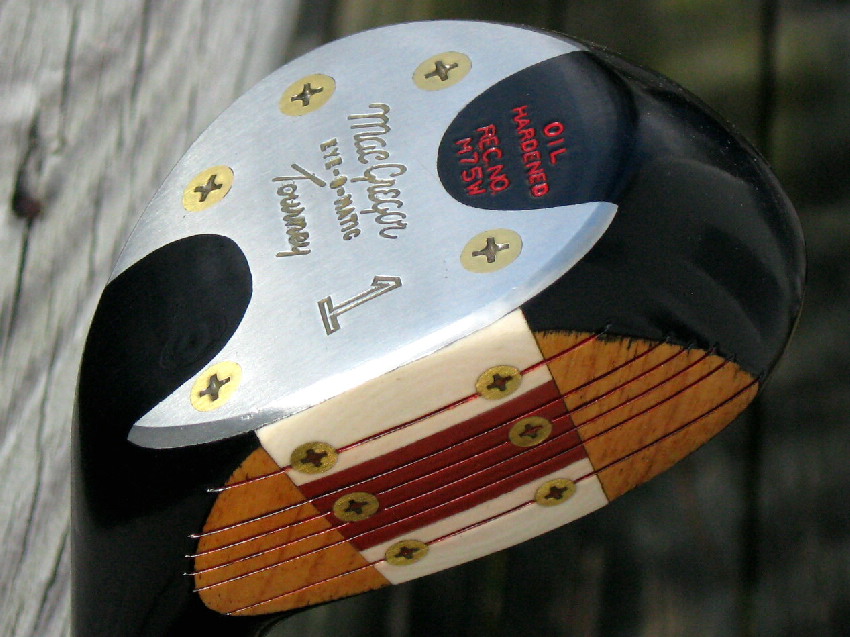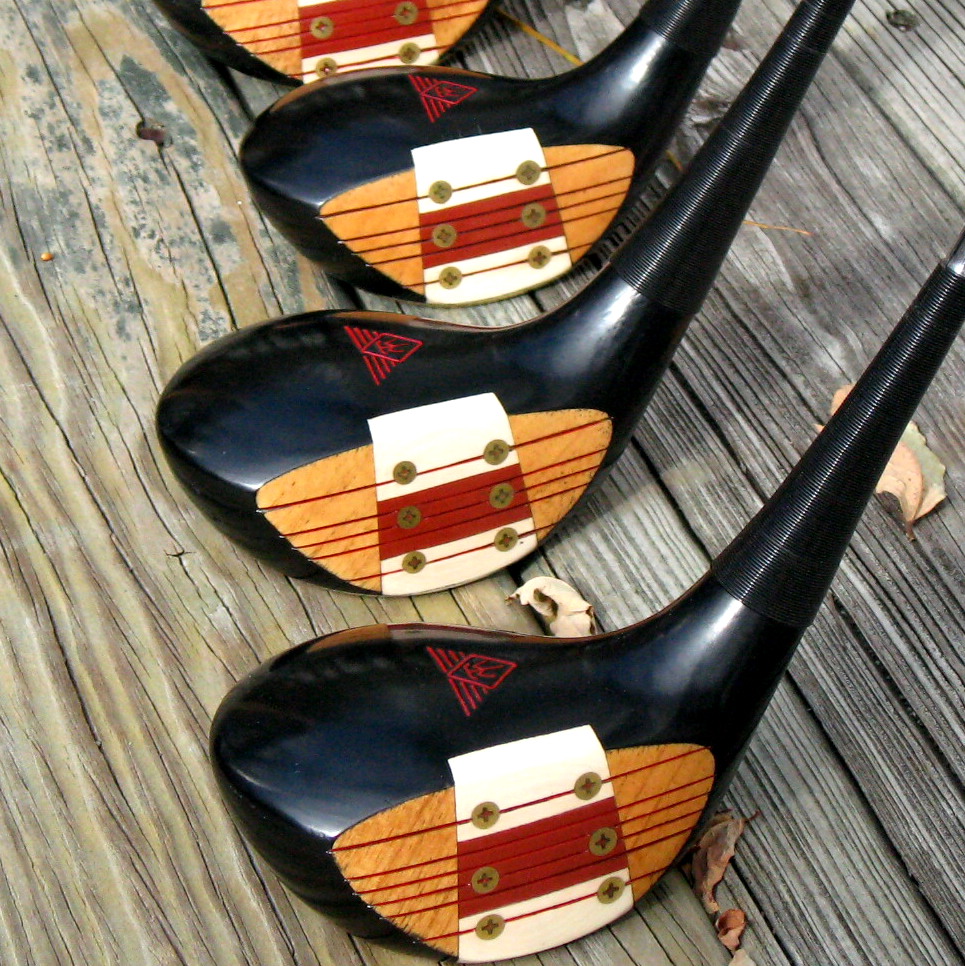 Robbo,
The funny thing about atleast the driver in this set is the SW is around a D4 to D5, which I think is a bit unusual for a wood with a regular type flex. It must have been a heavy block. You can see the grain patter thru the satin black paint in this pic, these are great sticks. I've hit the driver a few times during a 9 hole muni run and its great. I was tempted once or twice to have them re fin to show the grain,but no way, they look too nice as is. Thanks for appreciating them.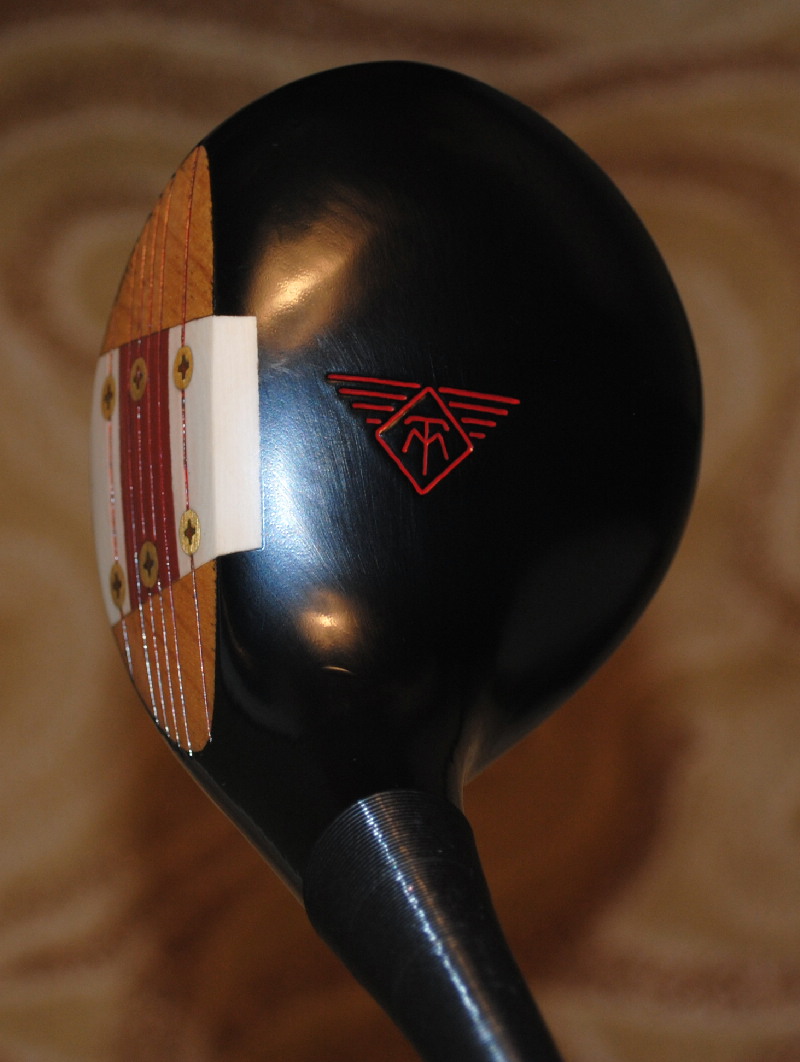 I find working with a black spray to be much easier now than going for a stain finish. You don't need to do as much sanding down to remove the old stain which gets deep down into the grain of the wood, you just need to get a smooth finish. Its real easy to just apply masking tape to the face and the sole plate and cut round the edge with a knife then spray a couple of coats with a gentle wire wool in between coats. The black hides all the scars of adding weight and the epoxy build up to the neck too.