That is all. The international guys will likely get it…
Well, in fairness, I'm rooting for Spurs tomorrow, even though as a LIverpool supporter, I've got an unlikely soft spot for Mourinho. It's unbelievable to think, but I honestly reckon that Spurs are the favourites, especially over 2 legs. One match and I'd have to go with Real, but over 2, I really think you guys have what's needed. Bale's fitness is a big factor, but not the deciding factor I don't think. If they get some sort of defense lined up, and then Modric and Van Der Vaart play to their ability, then they'll win. One thing is for sure, they've come a long way in a short time.
OMG. A scouse proppin' a totter. Truly, the world is not the same as the one we grew up in.
Here's the beauty of livin' in hoserland: I'd be more than happy to stand ya both a pint of bitter, or two. Just to hear ya jabber on 'bout the match.
hawg1
Need some good results after dropping seven points from Blackpool, the Spammers, and Wigan…dreadful. The real trick is to not find out the score while I'm working so I can watch it when I get home.
The less said the better…

Come on now chin up and after me sing…5-4, we're going to beat you 5-4…

I guess I was right, Real won in 1 Leg

Though they probably could've won on 1 leg too… sorry to see it.
To play with ten men at the Bernabeu in the quarter-finals of the Champion's League was always a going to be tough, but why bring Defo on and reduce yourself to nine?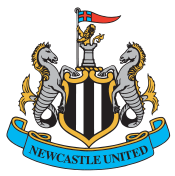 Sorry, has to be done… The stars are aligning even if we don't really deserve it but hell the Rovers don't deserve relegation but they got it.
RAISE YOUR GLASS FOR THE LAST SPOT!!!
Can't see us doing it, lcd - too many things have to go our way.
How come you're a Newcastle fan?
I hold out hope til its official, Chelsea getting their spot as defending champion does make it near impossible though. I spent a summer in college working in Prestwick, we went to a few matches in Newcastle and one in London. I don't remember the matches at all so I did it properly. To this day I have to take a deep breath before sipping a Brown. But I'm a United supporter til the end.
Remembering back, everyone warned me about the food but I loved it. I love fish, love fried anything, once I got used to it I liked meat & kidney pies, I grew up with a grandmother who made Shepherds Pie and occasionally trifles, tried haggus; didn't think it was as big a deal as Argentinian blood sausages I'd had before and there wasn't much I didn't think was at least passable. I liked the fried Mars bars but when I could find them 3 Musketeers were even better. It was outrageous the weight I put on though, I was 190lb when I left & almost 220 when I came back and it was all beer weight. I found out the reason I never liked beer was because I had been drinking cold yellow piss, I like Brown and Harp a lot, mead I could take or leave. I really thought I might have to pay for a second seat on the flight back. Heaviest I've ever been by a lot, only I could leave San Francisco for Scotland and put on 30 pounds in five months.
Alec,
Come down under if u want a proper beer. We do know how to serve it.
Cheers
Steve
No doubt sir, Oz and New Zealand have been calling my name for way too long. First round on me, and the next for that matter.
NNOOOO!!! Its all going wrong!! Stuck watching Man C-QPR, Barton a sincere madman attempting the very rare triple red card… Arsenal ahead, Spurs ahead, Newcastle behind 2-0, all for naught… stuck rooting for the Abu Dhabis just to keep Man U from yet another title. QPR NOW LEADS 3 SHOTS TWO GOALS UNBELIEVABLE
lcd,
It was only a couple of weeks ago you were considering becoming a Toon fan, now you're a hardcore supporter.

Stroll on pal, we don't need glory boys like you here.
I didn't know fifth place was glory, learn something new everyday… I can't root for Liverpool no matter how hard I try. Not like I really care what nutters think anyway, just like my predecessors, the Solomons of Dublin didn't back in the fifteenth century. I guess I don't have any legit Celtic interest in the Old Firm either right? Keep soldering those drivers…
For a club run by big fat Mikes Jumble Sale, 5th is pretty good. You are probably better off with Liverpool anyway or Man U.

I'll keep bending those woods thanks, you keep playing your upright Driver - 4 iron and flat 5 - PW.