I'm clearing out a bunch of old stock right now. If you've ever wanted to try some vintage sets with minimal risk because you don't know you'd like Mac, Wilson, or Hogan better - here is your chance. I'm not trying to make any money off these - I'm happy to pass on a good deal to somebody else who will enjoy these as I have.
BUNDLE Number 1 - PRICE -
$140 shipped within the US
1958ish Wilson Dynapowered 2-w, approx. 5 degrees flat (~abs std).
no labels on shaft band, I believe they are vintage R (close to modern S)
Really clean paint for age, some face wear
"Mint" style black rubber wrap grip, very good condition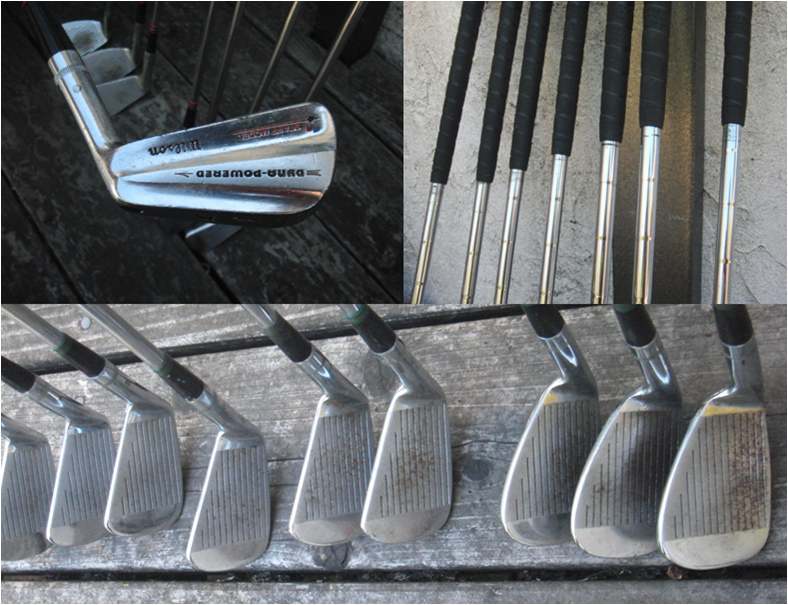 Hogan Apex PC 2-pw + sw, 5 degrees flat + lead tape added to make em heavy!
Original Apex 4 (stiff) shafts, Rubber wrap grips (mix of Lamkin and Kelmac), all tacky and playable
Well worn but plenty of life left. Gamed these for quite a while with good success!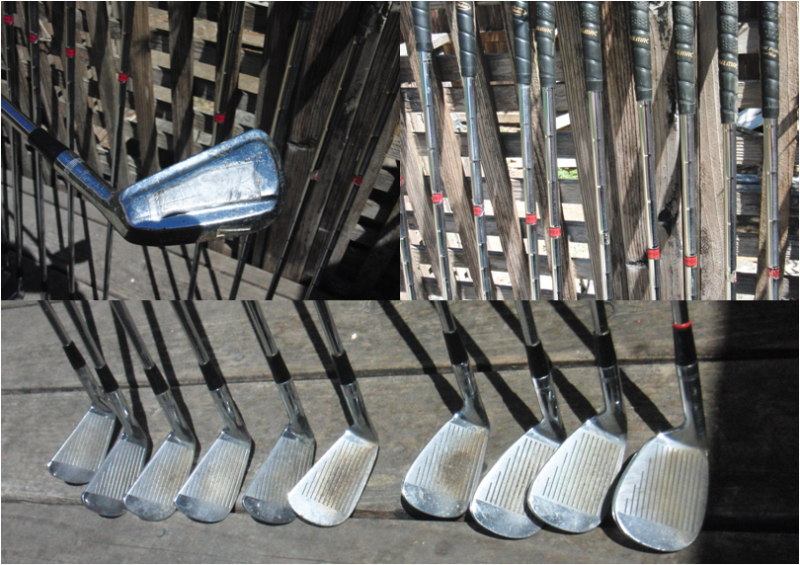 1954ish MacGregor M75 2-9 + Dual Service Wedge, approx 3 degrees flat. 5 iron is still m75 but from a different year (same grip, shaft)
Original True Temper shafts w/ silver bands, original leather grips in great, tacky condition. 1 grip end cap missing
Worn but pretty good shape for age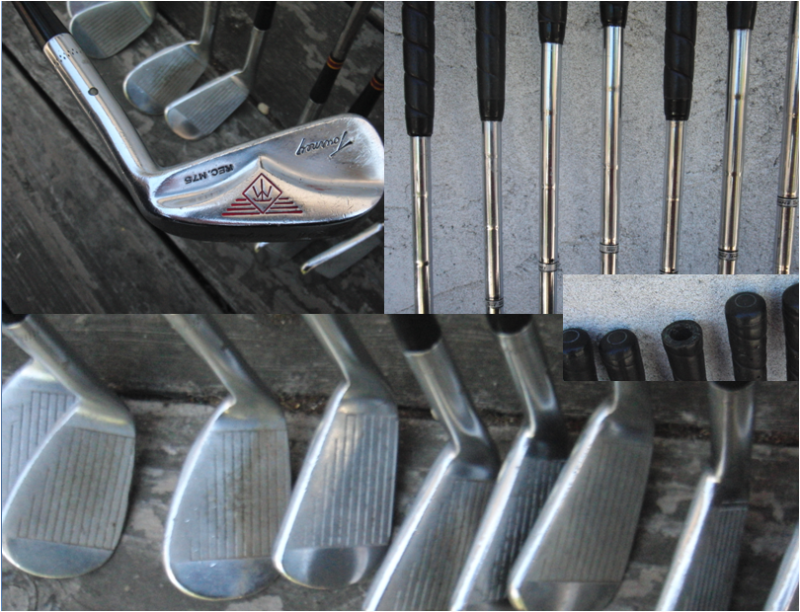 First Flight persimmon set [Driver, 3w, 5w], if they are hit at all its only been a few balls
Original shafts, no flex listed (feel firm)

---
BUNDLE Number 2 - Price:
$140 shipped in US
MacGregor PT1 2-9 + 11, approx modern standard lie (estimating)
Original Pro-Pel 1 shaft (stiff to extra stiff), Original leather wrap grips - slick but playable. 1 end plug has partially peeled (see pic).
Moderate wear but really pretty good for a set over 50 years old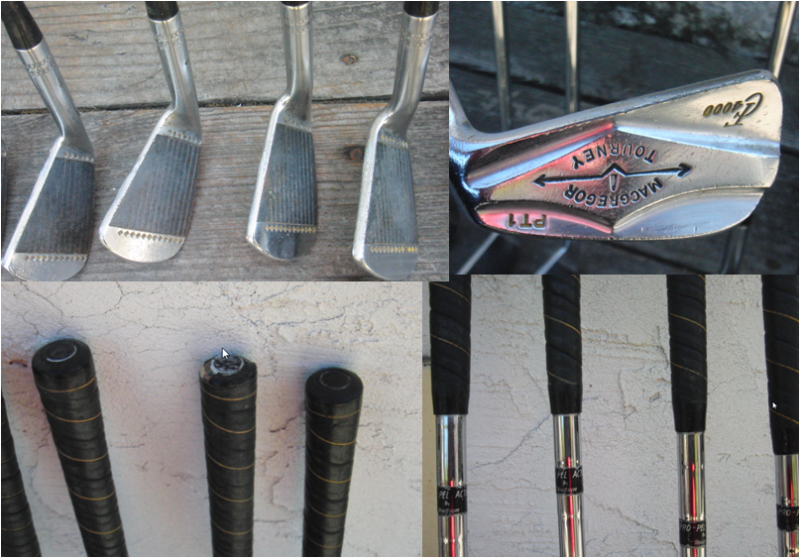 1970ish Hogan Bounce Sole 2-w, approx 5 degree flat (~abs std).
Original Apex 3 shafts, original Hogan rubber grips - slick but playable
Minor rust spots on the face of 3 or 4 irons, very clean from nicks and paint is good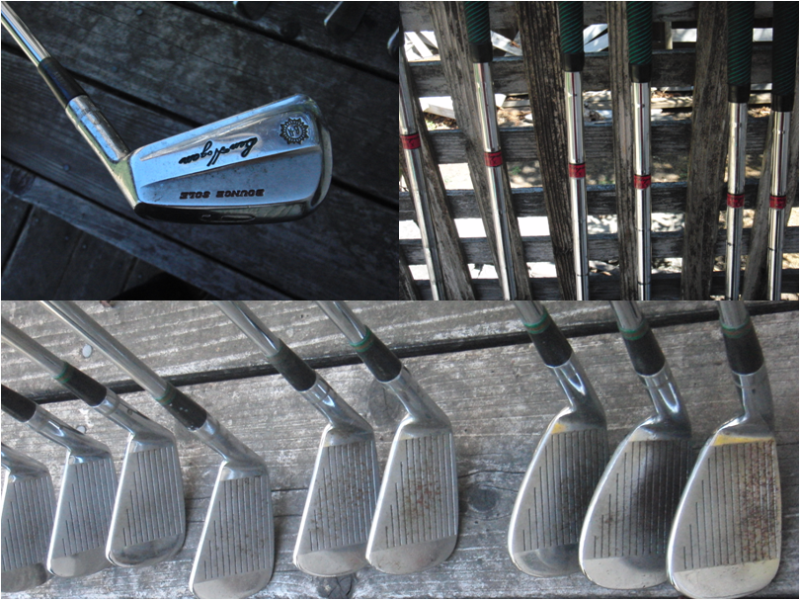 Mizuno Pro-II 3-w, approx 1 degree upright (estimating)
Dynamic Gold S400 shafts in great condition, Winn wrap grips in decent playable condition
Overall pretty clean but shows some wear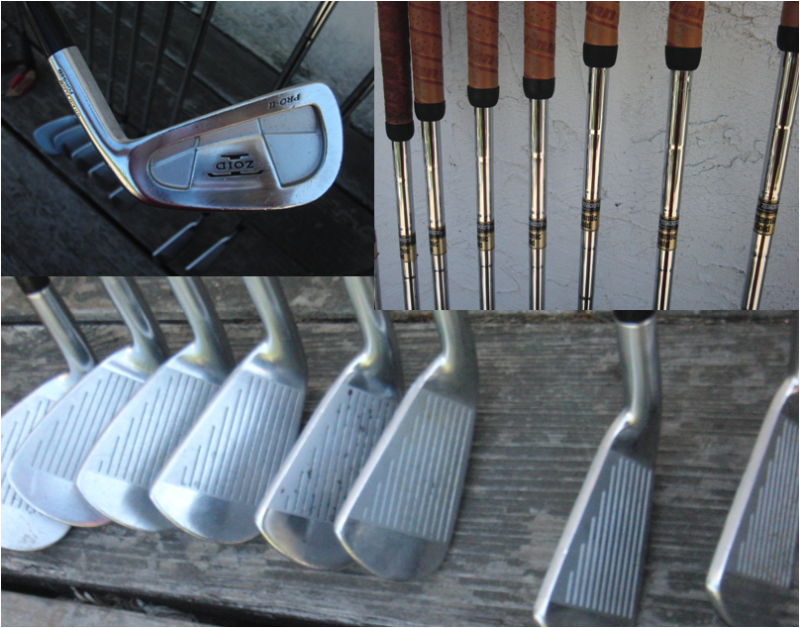 1980's T85 Driver + 4w, near mint w/ Dynamic S shafts + Mac Tommy Armour 2 wood, Dynamic R shaft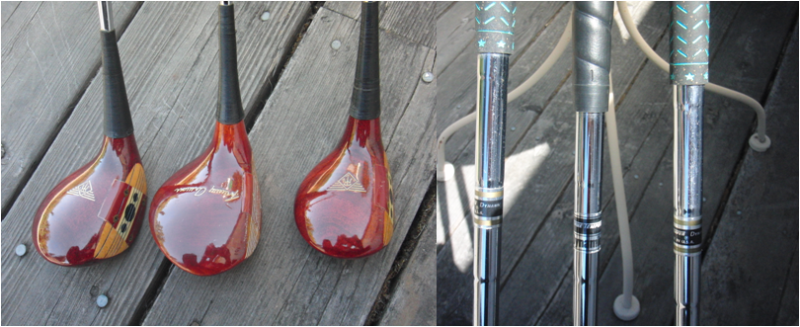 End Bundle 2
INDIVIDUAL SETS:
1992 Hogan Apex Ft. Worth - $160 shipped US
1 + 2 + 3-E → Rare set, the last Hogan Ft. Worth forging - even rarer in this condition w/ a 1 and 2 iron
Std. lie angle, Apex 4 shats
New(ish) GP Victory Half Cord Grips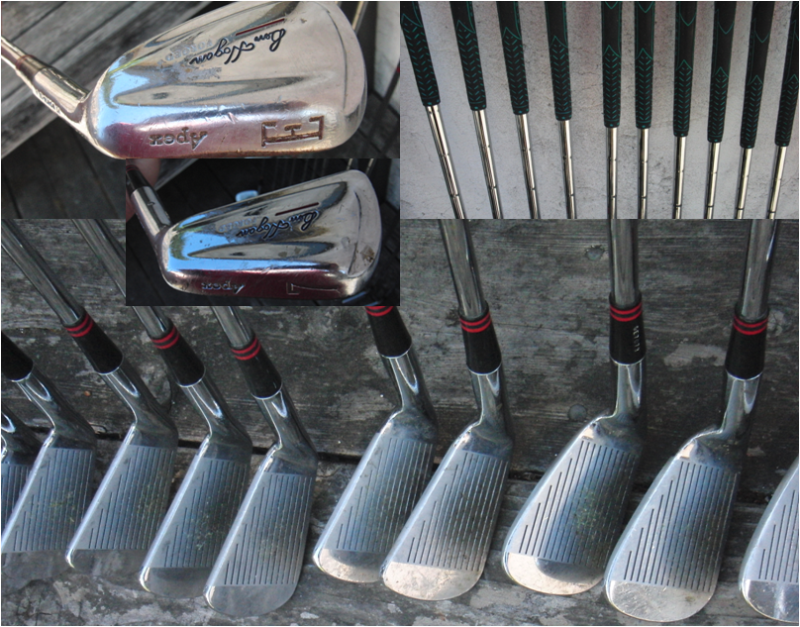 ---
1965 MacGregor Tommy Armour 985 [late model] - $120 shipped US
2-9 - Got these from a former MacGregor staffer and apparently they weren't finished out because they don't appear to have ever hit a ball and there are no pins holding the heads on (although the shafts are original and have the matching holes to go with the hosels). only 1 of the shafts has its shaft band intact. Some of the heads are loose and all of them will probably need to be epoxied in place (I don't believe they were ever glued or pinned the first time). Also, that little cup thing at the bottom end of the grip (closest to the clubhead) needs to be re-secured, although all are intact. Grips are the original Mac leather wraps, also unhit.
Dream project for a clubmaker - just secure the heads and grip caps and you have a MINT set of 985's for play or display.