Stiff, Flat, Heavy, Sweetspot Weighted, No Offset are the hallows of proper gear for serious hitters.
Stiff Shafts
Ben Hogan hated feeling the shaft bending when he swung a golf club and so do I. Firm shafts will give the best
possible ball control and the most accurate vibration coming up the shaft into your hands for hitting repeatable golf shots. Stiff shafts are also better for chipping as they will respond more reliably particularly with chips from the rough. All hitters are capable of playing stiff shafts (hitters).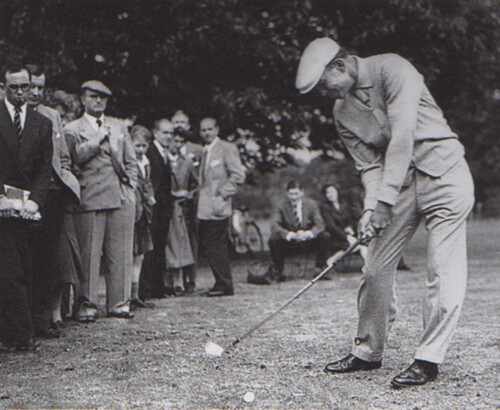 Flat Lie Angles
Flat lie angles inhibit pulled shots and hooking the ball, allowing a player to release hard into impact without fearing left.
The flatter the lie angle, the more the left vector of possibility moves toward the target, not away from it. Flat lie angles also encourage the pivot to get busy by their very nature, they put the club more behind your body than up above the shoulders allowing you to get aggressive with the pivot rotation also. Shallower entry cleans up the strikes so you win on three fronts. There is nothing worse that hitting the ball long and left of a green. Even downhill left to right putts are considerably more difficult that putting up the hill from below the hole and right of the pin on most golf greens. Put position in your favor, eliminate the left side of the golf course, and allow yourself to strike the ball aggressively like the great master ball strikers did using flat lie angles.

Heavy Gear
Swinging heavier gear wins the battle with the ball (compression) and puts more feel into your hands (a player's lifeblood)
Heavier gear also requires firmer shafts as stated above. Hogan, Moe Norman, George Knudson, Sam Snead and many other great strikers played very heavy gear. Let your body adapt to heavier gear. You will get stronger over time, and heavier gear will help you embrace the core pivot muscles that you need to train to properly strike a golf ball. You won't need to beat balls as much to find your feel. It will be there when you pull a heavier club from your bag. ABS gear is progressively dead weighted and swing weighted. Dead weight progression is much more vital than that head to grip swing weighting balance point. Focus on over all club dead weights not swing weights.
Sweetspot Weighting
You want the weight of the club behind the sweetspot where you hit it… not out on the perimeter where you don't want to hit it. Cavity backs and perimeter weighted gear will slow your progress, and their design, by their very nature, are based upon negative reinforcement. You want a club that looks back and you and says "you can do this" instead of a club that says "you can't do this because you are a hacker". Muscleback blades and persimmons will give your brain stellar reliable feedback shot after shot to speed up your improvement and make you a better player. Rise to the occasion and be the best you can be. You can do it!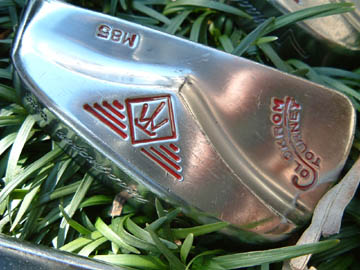 No Offset
You do not want offset on your irons. Offset forces you to over rotate either your hands, shoulders or both which can cause OTT or other negative swing side effects creating unnecessary compensations. A properly struck shot hits the ball on the 3rd groove, and you want to feel your impact right down the shaft center. A slight leading edge forward progression into the shorter irons will put the ball right where it needs to be. Reward yourself with the proper active forearm rotation through the strike zone with a flush hit, not having to over rotate or come down too steep a plane to compensate for offset. We remove all offset from approved ABS gear.
[b]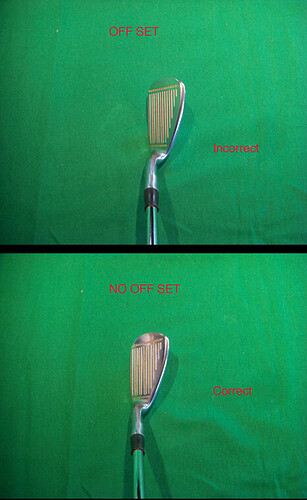 Let your Gear teach YOU![/b]
Set up your gear to grow your swing into, not stunt your swing's progress. Lightweight, upright, perimeter weighted clubs with offset will hinder improvement and keep you hacking at the ball incorrectly. You'll never learn to drive a high performance sports car with tight steering and a high compression gear box unless you spend a lot of time in one. Same with golf clubs.