Insightful interview from Tom Watson… some interesting things to ponder…
Talking with Tom: A few minutes with the '82 Pebble champ
By Shane Bacon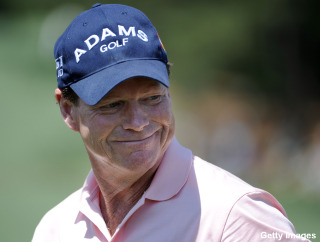 Bacon: You're returning to Pebble next week, obviously site of your 1982 victory. What's it like going back to a venue that brings back such positive memories and how does that help you play well during the week?
Watson: The main thing is, how many times have I played the golf course, is a factor that I look at as a real positive. I've played (Pebble) a number of times in all kinds of conditions. The U.S. Open conditions, the Crosby/AT&T conditions. There are three holes that are new on it, basically, you've got the length at 9, 10 and 13. That's the question mark. If they hadn't changed those holes I'd be pretty comfortable going there. If I was playing really well, and I'm playing half-decent right now, but I won't know until my final practice round on Wednesday how I really feel about my chances, but right now, I have three question marks, and that's the added length (on those holes). All my experience there, I still have a few question marks because of the changes.

Bacon: When golf course changes things like that, when you go, do you feel like the hole is completely different or you're just going to have to hit different clubs that you aren't used to hitting?
Watson: Going into number nine with a 3-wood or a 2-hybrid, that's a different set of problems with a 5- or 6-iron or even an 8-iron or 9-iron that I've played in the last few years. That's the hole that concerns me the most is number nine. Number 10 I can bounce it on the green and number 13 I can bounce it on the green, but number nine you can't thread the needle that accurately for four rounds and it just depends on the wind there if I'll be able to get it down there far enough to hit a shot that'll land on the green and hold.
Bacon: On to the 1982 U.S. Open. The shot you holed and one of the most famous shots ever is on 17, but I wanted to ask, you make that shot and you're running around and Bruce is there. How did you compose yourself to hit that tough tee shot on 18, when you still needed to make at least a five there?

Watson: One of the things I learned is that once it's over, it's over, it's the next shot you have to concentrate on. The biggest problem I've had in my career is after a great shot like that is to be able to recompose myself and get on the same level of concentration or same level of confidence. I've made more mistakes after a great shot than certainly I have after a bad shot. When you hit a bad shot it's like your back is against the wall and you force yourself to recover nicely. After a great shot sometimes you get that relaxed feeling and that relaxed feeling sometimes leads to a bad shot.
Bacon: I heard a funny story, years back, you and some buddies were out at Pebble and wanted to go recreate the shot. Tell us about that.[i]
Watson: That story's been embellished, but we were out there in the dark. That's the whole story. We were out there in the dark and couldn't see a darn thing (laughs). It was late at night after a nice dinner at the Club 19 there. We were all having a dinner there and I said, "Why don't we go play the shot?" and everyone jumped up and said, "I'm in!"[/i]
A lot of champagne talking there (laughter).
Bacon: (laughter) I bet. You've won eight majors, but where do you rank 1982?
Watson: Well, I'm not in the ranking business, but it was a tournament I wanted to win the most. I didn't play very well the first two rounds, but I gutted it out, finally made a change in my golf swing, and it made it a lot easier the last two rounds from tee to green. I made every putt in the last round plus one chip and ended up winning the tournament I wanted to win the most.
It certainly ranks in the top, because the U.S. Open was the toughest tournament to win, still is I think, and when you win it you've really accomplished maybe the pinnacle in golf, I think.
Bacon: Last year at Turnberry is a story, and you had a great chance there, but more looking forward. Playing that well at a major and obviously playing well at Augusta this year, does it give you confidence that you can still win one of those majors?
Watson: It certainly gives me a shot of confidence, there isn't a question about that, but frankly it depends on how I'm playing. If I'm not playing very well I won't have much confidence, if I'm playing well I'll have confidence that I can play Pebble Beach. There are certain courses that I can play, and I think Pebble is one of them still, because length isn't the overriding factor. They can't move it back too much further than they've already done, except with the exception of those three holes, and again, that's what concerns me. How are those holes going to play for me? Eight, nine and 10 are probably the finest three par-4s in a row in the world, there's not a question. From beauty and difficulty and a design standpoint, just a magnificent three holes. How do you deal with that? I've dealt with them well at times and terribly at times, so I hope my consistency is good on those three holes.
Bacon: One more fun question. After the '83 British win at Birkdale, something might have dinged up the Claret Jug. What happened there?
Watson: The trophy was separated, the silver part from the base, and I dropped it and when I dropped it, it bent the bottom part of the base of the silver trophy (laughter). It came back at an angle, and you see it in the picture there. It was repaired, but it dinged it up a little bit.
Bacon: I think you of all people have the ability to ding up the Claret Jug.
Bacon: The Golf Channel is running "Caddy for Life: The Bruce Edwards Story" at 9 p.m. on June 14. Give the readers an idea on what it is going to be about and what Bruce was like?
[i]He was the Arnold Palmer of caddies. He made the new caddies feel like they were welcome, he taught them the ropes, showed them the way to do things out there. He was a great nicknamer, he gave people nicknames.
The thing that comes out of this whole thing is how much he loved what he did. He loved to caddy. He loved the whole thing about being inside the ropes, inside the arena, helping his boss to do the best he could.[/i]