So, I have been on Module 1 for about 3 1/2 weeks now. Avereging 150 reps a day each hand, and then 150 with both hands. Had several lightbulb moments, and really enjoying the process. The weather was unseasonably comfortable here in Texas this week, so this evening, my dad and I went out to play 9 holes on my home course…here's the scorecard.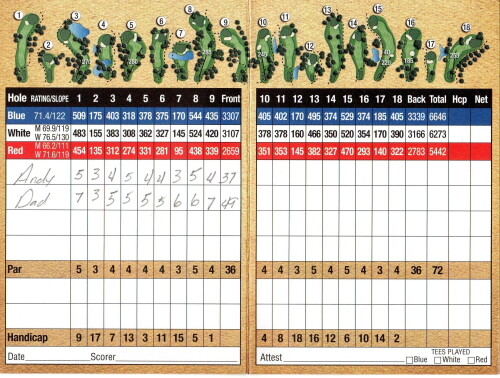 I hit 8 out of 9 GIR…lowest score I have ever shot…ever. Had 6 putts for birdie all between 6-10 feet. One was a little hot, went in and bounced out…the others missed by mere inches. The potential was there to sheet even par or a few under. A little background about me; I started playing Golf in 1978 when I was about 9 years old. Played A LOT through middle school, and sporadically into high school, with my last round being in the summer of 1990. Decided about 3 months ago to pick the game back up, and have completely immersed myself back in it. I am almost exclusively self taught, save for a few lessons back in the early 1980's. I stumbled onto ABS via Al Barkow's website when I was trying to gather some info. on Hogan and Snead. Biggest LB moments from Mod 1: late wrist rotation/release, pitch elbow, role of the right foot on downsing, and wrist interaction (lag) w/heavy club during transaction. Before starting ABS, my average score was somewhere in the mid to high eighties, with the occasional 82 or 83, which is pretty much where I left off in 1990.
For any of you guys on the fence, the ABS course is just fantastic, and a great value…Lag is a fantastic and very knowledgeable teacher, and Bradley Hughes' interaction here is just priceless. Additionally, I want all of you guys to know how much I appreciate all your interaction here, and how much it has helped my swing, and overall game.
Lastly, this is the first time my dad and I have played Golf together in 22 years…what a privelege it was for him to be there when I shot my best score to date.
Thanks again Lag, Bradley, and all you guys here…looking forward to Mod.2 and much more!
Best Regrds,
Andy Dear