Hickory on the rise!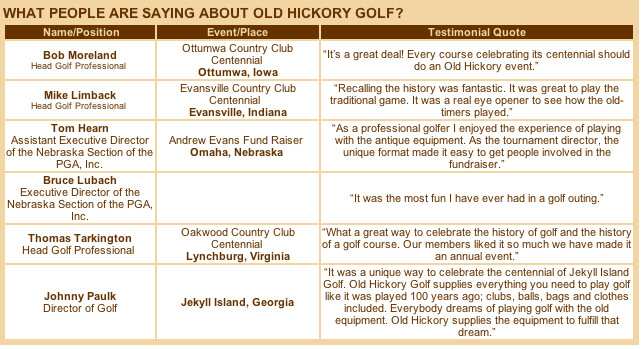 Quite a lot of interest in hickory over here in the UK. A friend of mine went to Royal Cinque Ports recently (originally an Open venue) and spoke to the pro who had a 2000 hicks on site. They run hickory days etc - see article here:
http://www.timesonline.co.uk/tol/sport/golf/article2896849.ece
Also there is now a World Hickory Open for those with ambitions - check it out, some of the players have a very good pedigree!
It would be interesting to learn more about what they are up to…
are they using gutta's or featheries? What kind of equipment rules to they have?
I assume you can't stick a titanium head on a hickory stick!
I'd love to play in one… if not win it…!
I played in a hickory comp a couple of weeks ago and must say it was a blast. I had to hire a set. That was a brassie (2 wood), a mid-iron (3-iron), mashie (5), a mashie-niblick (7) and putter that just about had the loft of a 3 iron.
You used your own balls but harder balls weren't allowed because they were known to chip the woods. Ironically I cracked a Callaway Tour i ball in half. I'm glad they weren't playing the old Rules where you had to play the bigger half of the ball for the rest of the hole.

No, actually I would have enjoyed that.
What immediately stood out was how much stronger the lofts have become with years. The 5 iron looked to be about a 8, the 7 a PW. The leather grips were extremely slippery, especially with the rain, but it was a great reminder to accelerate smoothly. Apparently the grip material was restricted to leather back then, so to add some gripping power and still remain legal they'd wind on the grip inside out so the suede side was showing.
What I also liked was how thick the hickory shafts were–it gave the illusion that the clubs were shorter and thus easier to control.
Steb,
Surely you jest??? How is that possible?
robbo
Do I have to admit how?

The 3-wood's bottom metal plate was extending out from the face slightly. I hit one really thin and that plate sliced that ball right open.

ok… I feel better now.
Me too - I had Steb down as having clubhead speed over 200 mph

By the way, great to have you over here Steb.
Cheers, Arnie
Thanks Arnie - great to see yourself, Prot, Styles, and so many other quality posters from ISG here too.
Welcome ISG castaways! There are life boats picking up TGM survivors as we speak!
Good to see you Steb.

Makes good sense to me…
I might have to have a go at the hickory title… maybe I can win a real major after all!
Inspiring stuff…
I live in the same city as the hickory Tiger aka Randy Jensen. I met him this past summer as I was looking for some 70s-80s clubs. We've worked together on my current sets of irons and I picked up my Hogan Redline 1iron from him. He showed me his hickory room and I'm getting hooked on it. I'm going to begin to put a set together in a couple of months. He is obssessed with hickory. Great guy and he's got loads of old clubs.
8 in a row… makes me think Randy needs some competition…
Maybe Twomasters and myself with give him a go this year! That would be fun…
I better start looking to put a set together… and I might find some guttas in the lake at Mare on #8
if I dig through 100 years of mud sediment! The front nine at Mare was built in 1892
Inspiring stuff. Thanks Arnie…
If Lag wins a major, the traffic around here would be deafening!!
Thanks AA—great stuff!