In the age of no metal spikes anyone have a recommendation for the best gripping soft spike? Thanks, Slide
S. S. S. S
Soft Spikes Suck
Sorry…had to say it…
another example,of corporate golf overtaking real golf…spike marks…heel imprints…have been there forever to some degree and are part of golf. All in the quest for one course or greenskeeper to say his greens roll better than yours do
Steel spikes provide the best option for grounding themselves and helping the swing rotate and utilize what the 1000's of great players before us all used …but 98% of the courses in the world don't allow you to use them anymore…still a good majority on the tours wear steel even to this day
Yet another addition to the ABS line of future product inventions…

Plastic spikes that work…
Golf shoes that offer horizontal support.
A driver made flat for accuracy.
Irons that are flat, heavy and stiff, so you stop missing greens long and left.
A sand wedge that is made for sand, not just fairway play.
Cord grips that actually have cord in them.
Shafts that are heavy not light
A handbook for caddies, once people start walking again.
I'll start out on the pink sheets… IPO shares start at .35 cents. Who's in?
I'm in!
Now if we can only find a way to make Sepp Blatter head of the PGA I think everyone will forced to start playing persimmon before the end of next year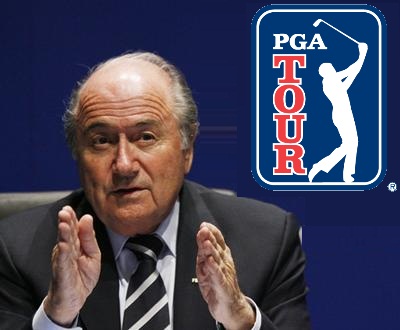 I think soft spikes suck as well and have felt this way for a long time. But I didn't realize until ABS and talking with Sevam1 as to how much it has hurt golf swings in general and why the average score really hasn't gone down by more than 1 standard deviation in the past 80 years.
That being said, I would try the Adidas 4.0 Tours out. I used to have the Adidas 3.0 Tour. They have 10 cleats all together with 4 of them being on the heel, the other 6 being on the upper foot.
Problem with the 3.0's that I have was you needed to be in a cart with them for about the first month of use because they'll start blistering your heel. I think the 4.0's are made to not have that problem.
3JACK
Ratter here…spoke with cousin Range about the IPO price…he's in @ 10,000 shares!
Also spoke with him about soft spikes…couldn't shut him up on this topic. He blames it all on Mr. Hack Nicklaus, from Ohio…as the story is told that his course in Ohio was the very first course in the U.S. to ban metal spikes…thank you for advancing the game.
And, BTW, green damage was a smoke screen. The real issue was damage to wood decks, clumsy people slipping on tiled restroom floors, carpet snags and the like.
Long live titanium tipped steel…

RV
I think green damage is a smoke screen of sorts.
A few months ago I played Eagle Watch GC in Woodstock, GA which installed Championship Bermuda for the greens about 9 months prior. And of course, metal spikes are banned. Had people known how to pick up their feet, the greens would've been picture perfect. Instead, they don't and even with the soft spikes, the greens were tore up to hell.
3JACK
The kickspike which is a shoe with retractable metal spikes won an investors money at "Dragon's Den" a reality show on CBC (canada) 2 seasins ago. I think it has been bought by some big shoe company and will soon be in production.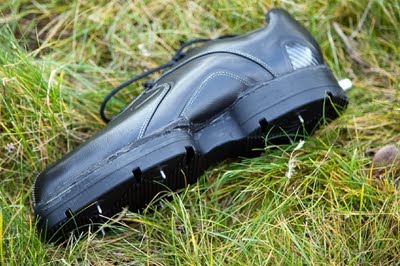 The European Club in Dublin has a steel spikes policy. There is a notice that says the links are a natural and hilly place and players are advised to use traditional steel spikes in their shoes.
Refreshing isn't it!
The European Club is mentioned in the book A Course Called Ireland and what stood out was the descriptions of owner/designer of the place, Pat Ruddy. Worth a read if you get the chance.
I would certainly agree with that Paveda.
I've not read that book, but Pat's introduction to the stroke saver for The European is pure poetry!
But we do forget all here, even Styles, are purists compared to the masses who make the real money for the clubs.
So if spikes make blemishes on perfect greens and crunch up their tees, then their course isn't pretty anymore and people go elsewhere.
I've heard metal spikes can inject disease captured from a previous course deep down into the roots. I'd love to hear the truth of this and is it only a consideration because courses have cosmetic wars, or is it just a phony justification.
I don't believe this. Over here it rains a lot and I remember reading that courses where complaining about soft spikes spreading diseases.
Players often would not properly clean their shoes after a round and then go to another course and you could bet on diseases spreading. Especially in damp conditions.
Also, there are less metal spikes than soft spikes on 1 shoe.
Hence the saying:
Makes a bit more sense soft spikes spreading more disease–damn things are so hard to clean.
And how friggin' expensive are they? Well they are in Oz.
I bet the metal spikes gave the green a continual natural aeration as well.
Soft spikes are horrible - those things were one of the very first things i complained about in golf back when i started… They are okay for 1 week were they provide proper resistance, then they go south, and after a couple of weeks they break apart on the heavy used areas of the shoes. Then you go in the pro shop and ask for a new set of spikes. At some point you realize that your shoes are equipped with 16-18 spikes, but for some reason only 15 spikes in a box (on the popular most sold ones)… Very clever - and of course they are not cheap.
Our greenkeeper told me, that this spreading of disease also occurs with soft spikes.
Soft spikes are better than no spikes… but steel spikes like steel shafts give the best control. There was nothing wrong with steel spikes.
The Tour still allows Tiger and others to use them… so I blame each individual course for accepting that policy… one at a time…
Barkow and I were talking about the spike mark issue, and how he was always in favor of simply being able to tap down the spike marks, and
the reason against that from the a guy like Joe Dey of the USGA was that he felt all the pros would be tapping down everything on the greens
and slowing down play.
But I can't see that slowing down play more than golf carts that must stay on cart paths… that is really a slow play nightmare.