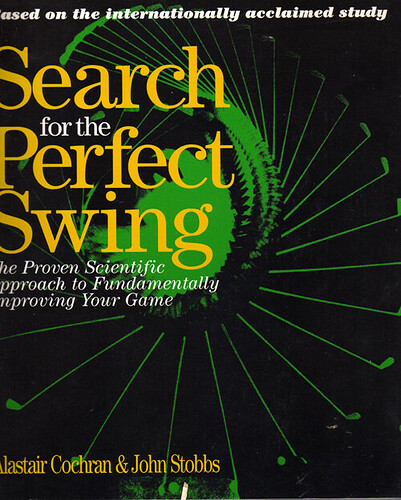 The ground breaking book by Alastair Cochran and John Stobbs (1968).
Most consider this work the pre cursor to The Golfing Machine. It was the first book that attempted to explain the golf swing "scientifically" in great detail…for better or for worse. It's an interesting read, certainly much easier to follow and written in more a narrative style that some would consider unscientific.
Here are a few claims, concepts or points of interest that struck me as interesting while reading it.
Chapters 1 and 2
A good golf swing can generate 4 horse power.
Impact lasts 1/2 a millisecond.
It takes 2/3rds of a second for the shock of impact to reach the players hands.
From 0 to 100 mph in one fifth of a second, 100 times faster than the fastest sports car can accelerate.
A golf club traveling 100 mph at 14 ounces will send the ball off the club at 149 mph.
Increasing the head weight does send the ball off faster if impact velocity stays the same
Reducing weight does not add to the velocity of the club proportionally. A 10% decrease in weight adds 2% to velocity because
the golfer still has to swing the arms, hands, and other parts of the body.
You don't have to swing a heavier club as fast to fly the ball the same distance.
A golf ball will lose 15 yards in flight on a 200 yard shot between 70 F and freezing point.
Pulls and pushes are simply straight shots in the wrong direction.
The hands can work as a free hinge as in the threshing flail, or power can be applied at the hinge.
The bent left elbow can add a second hinge but must be timed.