We are going to take a look at a complete Saturday Masters Coverage when Augusta played as it was intended. The shape of the holes, the trajectory of the iron shots into the greens, it's all here, and this gives newer golfers a chance to learn why Augusta was at one time, one of the premier shotmaking venues in the game.
Hall of Famers are everywhere on the leaderboard. Persimmon and Balata were the required tools to dissect the layout.
If you haven't seen this Masters, hopefully you will enjoy it. I'll post the final round on Sunday after we work through some discussion here.
I think it was '91. My parents and I drove from NY to Charlotte to visit my aunt and uncle who just moved there. The Masters was about to come on and Lanny Wadkins discussed that the great thing about the Masters is it virtually fits any type of play. The long hitters could chew up the par-5's. The great ballstrikers could get an advantage on the long par-4's and par-3's. And the great short game players could handle the green. This has been my issue with Augusta in recent years…it's taken away 'the best man wins' aspect from the tournament. IIRC, that was the year Woosnam won the event. On #18 he hit it so far that he would aim well left, blast it over the left fairway bunker and have a clear shot to the pin. Immediately after the tournament the Committee moved the tee back because they found it preposterous that Woosnam should be able to do that and get away with it.
Because it's Augusta, now people find anyway to defend the course. But, it's become a bomber/trick-shot course and has almost completely extinguished any chance for good ballstriking. I know Bubba is talented and very popular, but a lot of the ballstriking I saw last year is something I wouldn't expect from somebody winning a major tournament. Now the excuse is that 'Augusta was always meant for bombers.' No, it wasn't.
Take a look at '86 Masters. Yes, Nicklaus won. Norman was in second. But Kite was right there as well. Pavin had a real shot until he dumped a ball into the water on #16, a hole that has little to do with length (he just stunk at it, playing the hole +6 for the tournament).
I think they sold out for more TV ratings.
3JACK
For anyone who has an interest in the Masters I highly recommend youtube channel Cpallos. He has uploaded the final 3 hours coverage of every one right back to 1986 to present day!
You can literally see the deterioration. 97 is the big turning point, when Sir Nick placed the green jacket on Tigers shoulders. In the earlier ones, outstanding ballstrikers were always in contention. Now Journeymen dominate the top 10…
For your pleasure… '86. Enjoy
Augusta in the 1980's. With persimmon and Balata, this is how the course was playing. The key to understanding how Augusta was intended to be played is to understand the relationship between the shape of the greens and the general trajectory of the shots coming into the greens. Seve was one of the tours longest hitters and played driver 3 wood to 40 yards short of the green on #8. It was a 3 shot par 5 unlike today. Much more difficult.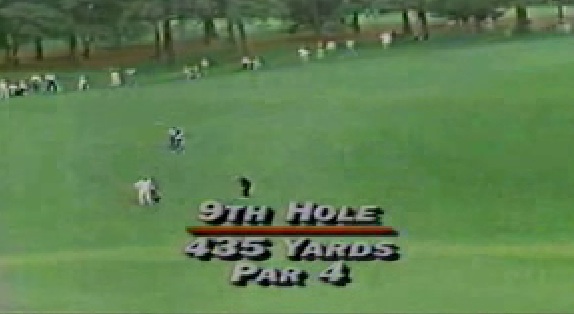 Players are hitting approaches from 160 to 180 yards. Mid irons by design, 5,6,7 irons.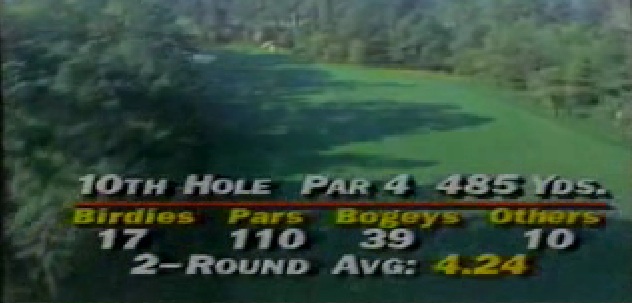 Langer and Seve hit 5 irons into #10. Nakajima misses down the right side missing the left bounce down the hill and comes
in with a 3 wood. He still hits the green. Not one player came through here on the telecast and backed a ball up on this green. Narrow and deep green designed to accept mid to long iron approach.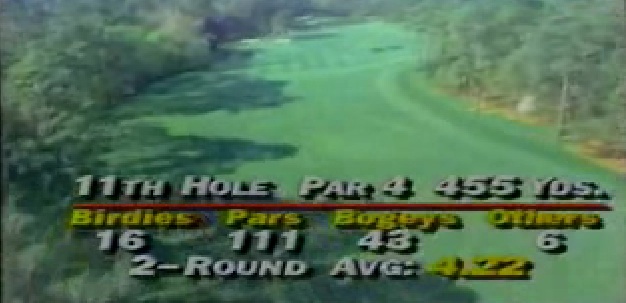 Seve and Kratzert are coming in with 4 and 5 iron into 11. The green is narrow but deep designed for long iron approach shots.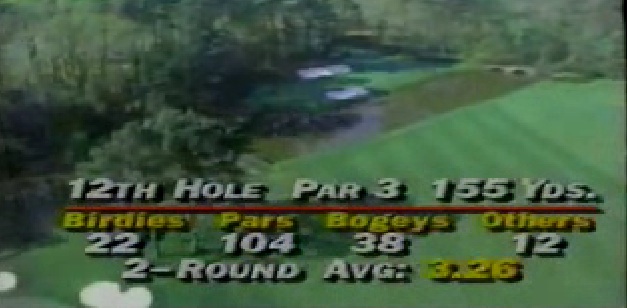 With no wind #12 plays about 155 with guys hitting 7 and 8 iron. With the typical prevailing wind it can play a club longer.
Green is wide but shallow to place precision on distance control with a lower trajectory flight path than players are coming in today with the hotter golf ball. Much harder here than today.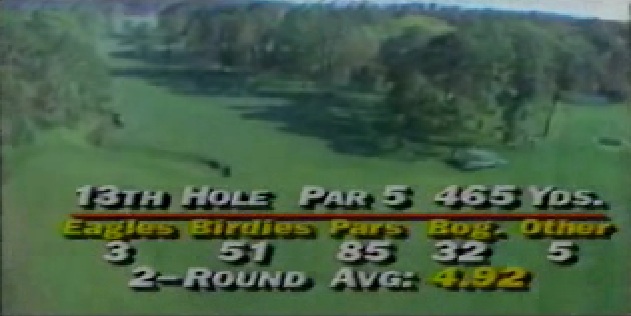 A lot of players laying up on #13 even under no wind perfect conditions. Only 465, and plays shorter in length than #10 and #11, but with the front fully protected and the green shallow but wide, it discourages lower trajectory shot arrival… essentially setting up a much greater risk reward situation. Norman bombed a hard right to left drive 285 off the tee, one of the longest drives of the week leaving him only 180 and a 4 iron. Langer goes for it from 220 coming in which is more typical. Guys are coming in generally with 2 and 3 irons or a 4 wood. Seve lays up from 190.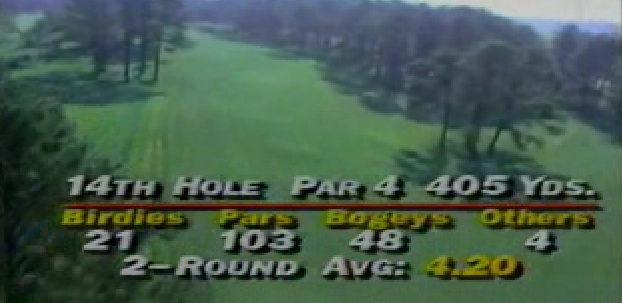 #14 Nicklaus coming in with a 6 iron. Seve 155 with 7 iron. Mid iron hole to severe green. Placement is critical.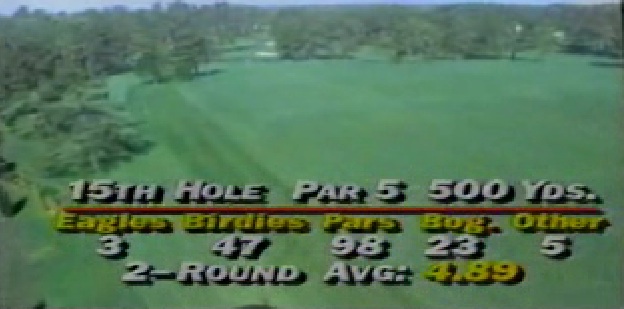 Nicklaus and Haas lay up on 15. Pavin one of the shortest hitters on tour sticks a 3 wood 2 feet from the cup. Watson hit
the longest drive of the week until Seve came later at 280 off the tee comes into the green from 220 with a hard 3 iron. Another wide but shallow green designed to discourage going for it. Fully protected by water in the front. Kite like Pavin also hits 3 wood into #15. Langer sticks a 3 iron close from 225 out. He was considered the best long iron player on tour at that time. Seve drives 285 the longest drive of the week getting past Watson and has a 4 iron in. 4 iron, shortest iron in all week through Saturday. Seve came into 15 with a 3 wood on Friday. Both Seve and Kratzert stick long irons inside 15 feet.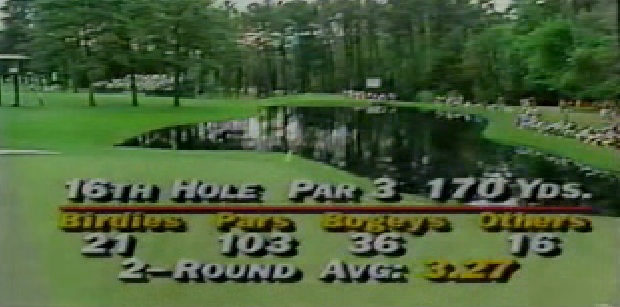 Mid iron par 3. The long iron par 3 is on the front nine. The other a mid. One long, two mid, one short.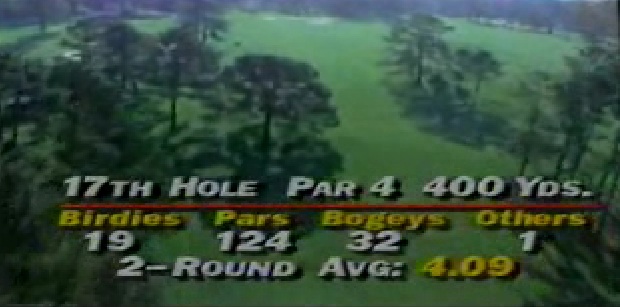 Short iron par 4. Watson comes in from 115, Kite 125. 8, 9 or PW to basically split L/R green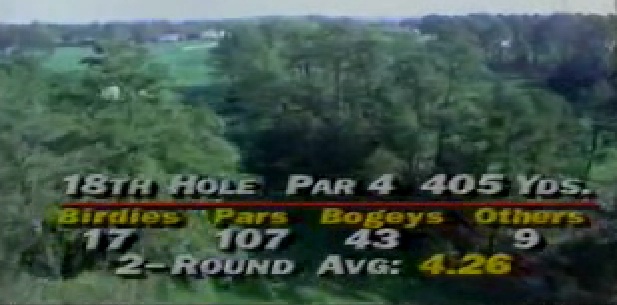 Nicklaus is 175 coming into #18. 4 or 5 iron uphill to a narrow but deep two tiered green designed for mid irons.
Gary Koch 180 into #18. Hard 4 iron up the hill. Watson and Kite both hit 6 irons into #18.
For those who might be watching the Masters this week… would that be all of us?
It might be educational to have a look at how the layout was played differently not so long ago.
One of the biggest eyeopeners for me is the 11th hole.
When I played The Masters in 1998 I played a practice round with Greg Norman and on the 11th hole I smashed a drive and outdrove The Shark by at least 20 yards. I hit a 6 iron for my second shot- he hit more.
Fast forward to 2010 and I went to watch the event on Saturday. The 11th tee has been moved at least 60 yards and players (who werent in the right trees) were hitting 8 iron second shots. That is a 5 or 6 club difference given tee back- less lofted irons- the ball- the equipment… Its crazy
Even the 18th tee has been moved back 45-50 yards and Bubba was still hitting a wedge in. I hit my second shot into 18 with a 6 iron
Will be an interested spectator this year on television. One of only 3 or 4 events I even bother to turn the tv on for
Competition is entertaining. The course is pretty, and bring backs memories. They usually have some nice interviews and you get to see some of the past champions hanging around today. It can still be tough to putt those greens.
For me at least… the event has lost it's mystique… which it really had… more than any other golf event.
Three key elements are gone.
Change of trajectory into the design of the green complexes.
Rough now slows the ball down from running off the green slopes and running into the trees off the tee shots.
The jumbo drivers give the players a big security blanket to swing out of under pressure.
It's still fun to watch the event.