Does anyone know how to remove a leather grip like this one so that it can be reused?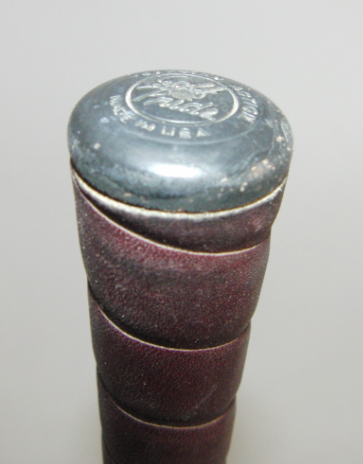 You should be able to push (wiggle) the plastic cap down the shaft a little and carefully unwind the leather grip from the leather grip base. If you want to remove the leather grip base from the shaft you should be able to use a hypodermic needle to inject grip solvent (lighter fluid or such) by sticking the needle through the grip base in half a dozen or more places. Once you have injected solvent in 3-4 places start twisting the grip back and forth where you've injected the solvent to break the bond. You'll easily see (and feel) where the bond is still not broken and more solvent is needed. Eventually, with the solvent and twisting, the grip can be removed from the shaft. The needle holes will not damage the grip and the grip can be re-installed…and the leather can be re-installed on the base.
Excellent. Thanks for that.
Jobs a gud en.

It's easy when you know how. Thanks again Go Low.
Excellent! Now, when you replace the leather on you'll want to start wrapping the grip at the same place so the medallion on the leather grip (I see in the image) will be facing out instead of ending up off-center - on the side or back. Also, a couple of wraps of thin (and narrow) black, or matching brown, tape at the bottom of the leather grip, overlapping onto shaft (before sliding the plastic bottom piece up) will keep the bottom of the leather grip nice and snug. The key (I believe) is getting a good start at the top and also making sure the spiral is good and tight by applying a goodly amount of pressure as you go.