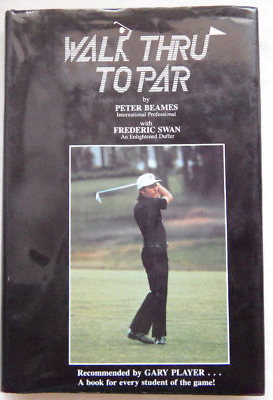 I had the privilege of playing golf today "The Goat Patch" in Oceanside CA with Peter Beames who besides being a many time tour winner, was also Gary Player's swing coach for many years. We had a great time talking about the golf swing, equipment and golf course architecture. Peter like myself is a persimmon player, and it was great to see him still compressing the golf ball at 65, and nearly shooting his age today. Impressive stuff.
The title of the book he wrote would find a nice home here for the module #3 students and especially the ones working on the left side torso crunch. I haven't had a chance to read the book yet, but from our conversation today around the course and hitting shots in between the light rain coming off the Pacific Ocean, I am sure it will be filled with lots of familiar nuggets of knowledge. Slotting it deep, saving shoulder and torso rotation, the grip, acceleration through the shot with the body, and using the big muscles so one doesn't end up "flipping" the club through impact. Peter played with all the greats and shared many stories with me today about the likes of Bobby Locke, Peter Thomson, George Knudson, Ben Hogan, Gary of course, Chi Chi, and many others.
For those on the ABS putting module, Peter loved the chip roller and said it was very similar to the approach used by Locke himself. That was nice to hear.
I'll try to get him on here for another ABS interview soon which I am sure we will all enjoy.