Anyone have info on the macgregor parmaster 1662c?

Its difficult to tell from the small image but assume this is a Macgregor Ben Hogan model?
Apparently they were a store line club that started in the 40's while the man himself actually played the premium silver scot line.
It looks like Macgregor later convinced him to play Personal model's in the early 50's that were based on the design of the 1662 store clubs – though way better quality.
From what I've seen the main differences are: stainless steel manufacture (criticized by Hogan for lacking feel), smaller power bar across the back, and the topline has a chunk cut out near the hozel on most models.
Still a cool set though !
It would be interesting to know why the pro level Personal model was never released as a 'tourney' club….possibly because Mr Hogan planned to leave Macgregor and eventually did so to start the Hogan golf company.
Looks like Mr H was playing his personal model clubs pre-accident and during his most succesful years. Here's a photo from the 47 Ryder Cup.
Does anyone have some other closeup bag shots of these irons? Or maybe a picture of the third set stored at Merion?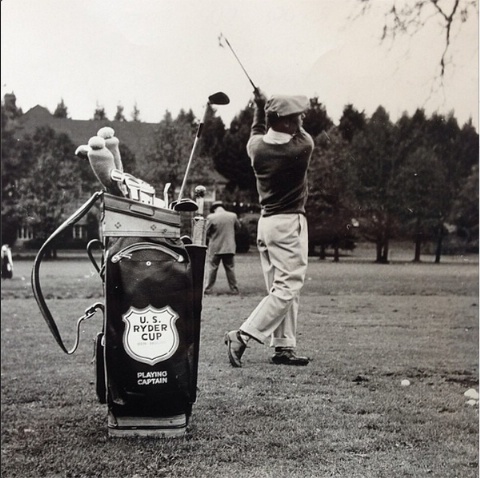 Lag, sorry this should probably go under Ben Hogan WITB post