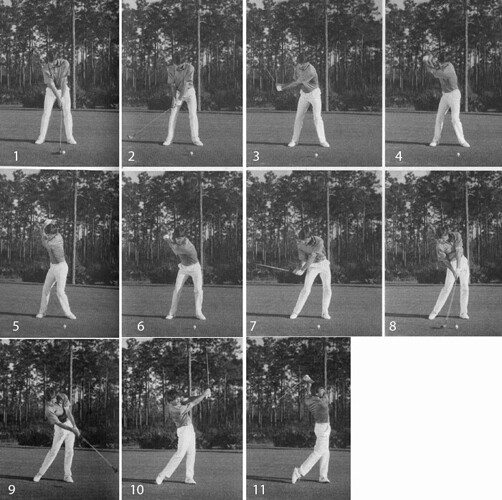 Faldo, in my opinion, had one of the most fundamentally sound golf swings particularly in this sequence.
He certainly hits the main points on my checklist.
He is hitting a persimmon driver which encourages this kind of golf swing.
His set up in frame 1 is excellent. Ball position slightly inside left shoulder with his head well behind the ball to allow for a proper turn.

Right shoulder initiating the takeaway working behind him quickly as you can really see this in frame 3.

Frame 4 and 5 we see the big shoulder turn showing great range of motion and flexibility.

Frame 6 we have the big sit down move with the legs which I prefer for simplicity. Transition is being initiated with the lower body.

Coming into P3, torso starts picking up acceleration in frame 7.

Holding shaft flex nicely coming into impact here in frame 8, I trust this high speed camera shot.

Frame 9 is so critical. Right arm remains firm which inhibits clubface rotation. Look how square the clubhead is well
past impact. This works well with his level shoulder rotation which he does nicely for a big player.

Good upward extension into PV5 at frame 10, and the finish with the spine is very erect over the left leg. No back troubles here.