Any thoughts on Cleveland's new 460cc "classic", "persimmon-like" super LFF driver?
I think I was just a little bit sick in my mouth…

Honestly what is the lie angle on that thing?
Its like a vaudeville drag act
However one may feel about the aesthetics (or lack thereof) of the final product, I think it's an important, intriguing move by Cleveland.
Surely it's a response to the radical white-out approach that TaylorMade has taken. The marketing people at Cleveland must be reacting to something, whether it be TaylorMade or, perhaps, a recent surge in internet topics related to persimmon. Focus groups must be telling the company that they prefer the look of older woods; they must be saying that golf is no longer as fun as it once was, for them. Not to become too philosophical, but is it possible that the most recent club designs from some manufacturers, such as TaylorMade and Callaway, have gone too far? While most golfers on this forum believe the game has gotten away from the things that make it most attractive, beautiful and gratifying, the vast majority of the total population of golfers has been all-too-eager to chase distance at the expense of pleasing design shapes. But now, the emergence of this Cleveland driver suggests, perhaps, that the general golfing population may feel that something is missing from their experience and that titanium distance gains are either negligible, mutually exclusive from lower scores, or antithetical to greater pleasure. Titanium, of course, is still very much part of this design; but the design attempts to minimize the technology, visually at least.
Regarding aesthetics, here are my thoughts:
The "Classic" script on the crown is unsightly and disingenuous. The faux insert looks good, but it's as superficial as the early metal woods and their faux inserts, sole plates and screws. The color of the head is better than white but not as pleasing as black. The colorful Japanese graphite shaft is less-than-classic. The 290 Ultra Light script on the back of the head is unsightly and it proves that the "lighter equals longer" ploy is still active in this design model. The sound is no doubt offensive to traditional, delicate dispositions. And, just as the all-white head is a copy of an early Toney Penna design, this titanium Cleveland Classic driver is a copy of the highly unsuccessful Tommy Armour 845 "Forged Persimmon" model shown below: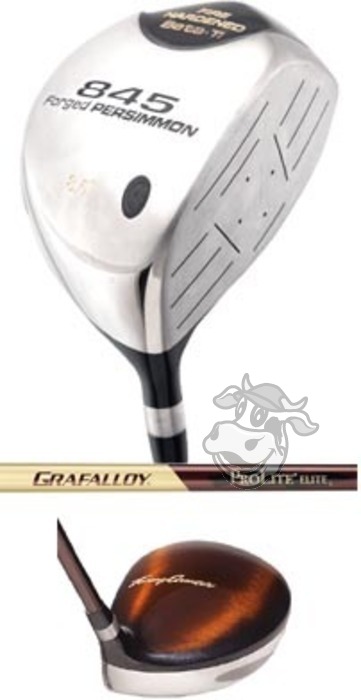 You beat me to posting this. Although I think it is disgusting looking, it is surely a sign that the "powers that be" in the golfing industry are aware of the existence and growth of the persimmon movement. Why else would they release this? I think it's more than just a response to the taylormade white head.
I would love that to be true jrich but in my heart of hearts I'm not quite convinced. This is probably the product of some typical survey / focus group work that shows that a portion of the golfing population doesn't care for the aesthetics of the white headed monstrosities that have recently been in vogue and so a more "traditional" look was the design brief. Without any of the intrinsic qualities of persimmon I just see it as another aesthetic gimmick designed to provide a counterpoint to other gimmicks in an industry desperate for something, anything that will make your average punter part with their hard earned cash in difficult times. I hope I am wrong and it means more that.
Welcome Wilson Staffer, I enjoyed your contribution and thank you for starting the thread.
Cheers, Arnie
I will say this about Cleveland Golf: they have a track record of retro designs. Of all the larger OEMs, Cleveland have at least made an effort to recognize traditional designs; they've brought back the 588 wedge and the TA7 irons that were quite popular not too long ago. In the 1980s/90s, those halcyon decades, the Cleveland Classic series of persimmons and the 588 irons were quite good. And the line of Classic putters is a nod to traditional shapes; even if some don't consider the Anser style traditional, surely the heel shafted designs are, as is the Bullseye style Cleveland attempted a few years ago. I'll go so far as to say that I also liked their somewhat recent (early 2000s) Launcher model drivers and fairway woods; the Launcher 400 didn't look too grotesque and the 330 is a nice, relatively small and deep-faced head. Other than the famous 983K and 983E, the Launcher series is one of the few titanium designs that I find appealing… without the gold Fujikura shaft, of course.
I would be very interested to know the origins of this latest Cleveland Classic 460 faux persimmon creation. It hardly belongs in a Mackenzie bag with a set of old forged blades and a Bullseye putter, but clearly they're trying to tap into something different with this design. One responder on golfwrx said that he liked it a lot, but he wouldn't buy it because the rest of his bag is modern, so this 460 titanium driver wouldn't match the rest of his bag.