what are the differences?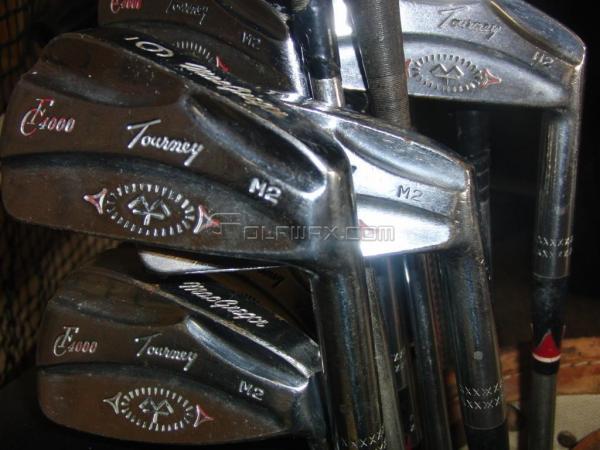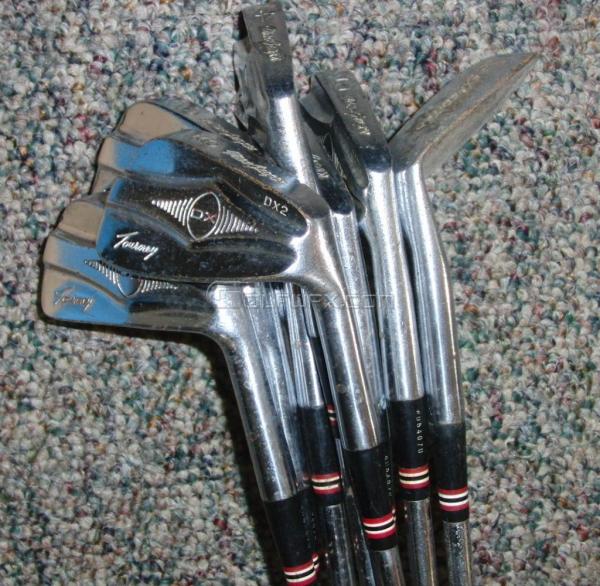 The ceramic faces on the first set?
Not exactly sure about the DX2's face though
Thanks Mashie,
Dont have any other picture than these, sorry.
Anybody knows from when they are and so forth?
They look pretty the same with the "wings" or "diamonds" or what you prefer to call it.
Thanks Arnie,
you know if it is hard to change the shafts to stiffer ones?
I guess it depends if they are pinned or not. If you haven't actually bought these particular irons or aren't wedded to them particularly I would keep scanning the bay until some more come up with stiff shafts already in them. But if its these ones that you like the look of and you just want to change out the shafts, it can be done, but how easy it is NRG, Lag, Macs, Leco, Two would be better placed to comment than me.
Cheers, Arnie
Damn it!!! lol
I found it here
I have some MT Tourney's just like the ones in the top pic, only mine have a stamp that says "M9". They are the ceramic faced.
Anybody know what that means? They have a "1" on the shaft…so I believe they are stiff.
It's funny how cryptic some of the manufacturers were back in the day with the stamped model numbers on the irons. From what I can tell the M2 or M9 signified model number, shaft flex, and grip type. For instance… most old Macs that have a "2" stamped in the head will mean a regular shaft…"1" for stiff. I'm not certain what the 9 means in your case Eagle, but it may have to do with the grip type/style.
It really is a bit of a shock in our current era of adjustable clubs that a manufacturer would ever permanently stamp the shaft flex and grip type nomenclature into the head of an iron. It gives you an idea of how few tweaks the golfer was able to make back then. And yet the pro's back then probably played as well as most pro's today who have the tour van at their disposable.
robbo
Thanks Robbo.
In my case, the grip is the original rubber grip…not leather. Maybe that's it.
Has anyone ever played the MacGregor Tourney CF4000 M2's ? How does the ball feel coming off the ceramic face?

Those are great sets…
The #2 shafts would be like modern stiff and the #1 propels would be like modern X.
The shafts back then were thicker and heavier and so were the heads. Exactly what you want in a golf club.
Light weight should be a goal for dieters not golfers.
Thanks Lag, That's exactly what I'm looking for!!!

I will post some pics soon.
There are some interesting Macgregor MC clubs on ebay with a Tourney Action A shaft. I thought these shafts were numbers not lettered. Anyone know what the A shaft would be? Today it would mean senior flex…I think.
This comment is about 9-months late, but since the subject is '60s clubs, maybe that's really not too late.
I bought my '61 CF4000 MT1 irons [1-11 + Penna SW] used, from a local club pro about '63, and played them until the '80s when I bought my first/only 'new' set, MacGregor Custom (wingback) blades, that look and play similar to the MT1s. [There was no real reason to buy
new clubs…except they were 'new', and Ibeautiful. My best hdcp with those sets was 8, and my swing is 'vertical' - I'm not a 'sweeper. I'm a lefty that plays RH golf.
I played the MT1s and ''wingback' blades for about 20-years each, and since have alternated use. And although 'cavity-backs' would probably help my (aging) game, I can't get by their ugliness. With that (prejudice) in-mind:
Playing the CF4000s includes:
They have no sole 'bounce', so if you're not a 'sweeper', you'll dig a lot of turf (as I do), but the ceramic face doesn't reduce spin at-all that I notivr. (My '80s 'wingbacks' have quite a bit of sole-bounce).

As a 'Senior', I've now reshafted down to 'regular', but still (try to) hit the ball hard. [BTW, the '80s 'wingbacks', chrome and faces show lots of wear, but the CF4000s chrome and ceramic surfaces show little wear even though I used them longer and mostly on 'public' courses with little grass.

With stiff shafts, they feel heavy - mine were swingweight 2 - and take some muscle to swing. And off-center hits really do sting, which contemporary 1-piece slip-ons don't reduce much. But the good shots really feel and sound good.

The aging original leather grips slip more, too, but contemporary grips solve that.

I haven't noticed any differences in (old and new) balls, but there could be - I don't research or compare much.

I have an MT2 CF4000 2-iron - it has a thicker blade-top than the MT1s, but seems to play the same as far as I can feel to both my '61 CF4000 MT1s and '80s wingbacks' . Incisenyly, my 1-iron and 2-iron are 'favorite clubs' for many tee-to-green siruations, especially wind.
…So, if you got 'em, play 'em!
Hey All - Do any of you recognize this club? I'm fairly certain it's from the early 70's. I have a full set minus the 9 iron. Thinking about putting them in the bag and was looking for feeback. Thanks!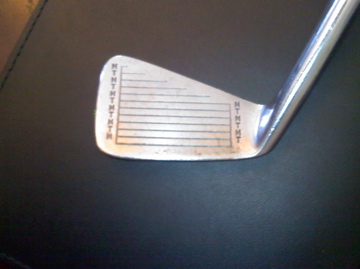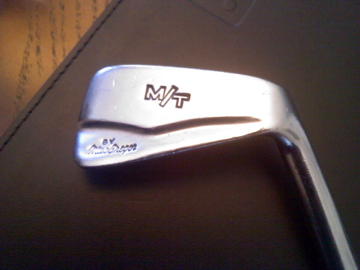 Hi, I don't recognize your M/Ts, but their long hosel seems typical of the '60s. I don't know about the '70s. However, FYI, my mis-'80s MacGregor Custom winglacks have a shorter hosel, but a groove pattern like yours, and except for flat flat toe, an overall similar face. My wingbacks have quite a bit of bounce.
2-suggestions:
Contact ronfinder.com - they know MacGregors and may help you (plus may have a replacement 9-iron). [they had a 2-iron CF4000 MT1 for me]; and
Do these MacGregor serial number codes [from lowscore.de/2012/01/18/macgregor … mt3-cf4000] include your club features? MacGregor ser.no. coding:
1st digit = swing weight: 0, 1, 2, etc
Next 5-digits (letter +4-numbers) = set specs ID
Last (letter) = year and grip:
Irons: 'S' = '61 w/leather grips;
'V' = '61 w/Fineline grip
Woods: 'G' = '61 w/leather grips;
'H' = '61 w/Fineline grip
The only other suggestion, which you may have already done is search the ga-zillion eBay 'MacGregor MT irons' ads for a 'match-up'.
Good hunting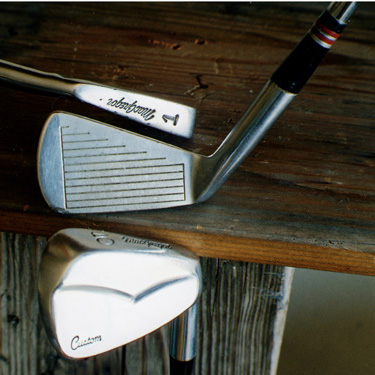 Thanks Win and Arnie.
Arnie - your link is about as close as I've come across. Time to flatten those bad boys and tear up some dirt.
Matt