I respect Nicklaus and everything about him. …so I listen to what he says.
But if Lance Armstrong had to worry about whether the younger generation was gonna learn to love bike riding, then we'd be in trouble.
I learned to love golf on a 9 hole crab grass goat track. Interestingly, the way it was crammed into a tight area, we could play "rounds" of 2, 4, 3, 5, 7, or 9 holes with equal ease…kinda inadvertantly similar to what Jack suggests. Businessmen would routinely come out after work for 9 holes. Other games we'd play were "one club only", play'um backwards, etc. The were organized games, "Dog Fights", where all ages and skill levels were chosen on teams. Many things were learned…not just golf. I'm sure many of you did the same.
It was cheap, and no one cared that it was on crabgrass, or small slow bumpy grainy greens, or that we had only one bunker. Even the "Don Ross" courses in the region were goat tracks compared to today's extreme pampered manicured courses.
We had FUN.
Are we talking about "The Patch"?
My feeling is that a great player is going to do well on a variety of conditions… that should be the whole thing about "The Majors" being a variety of tests. Tennis plays concrete, grass, and clay at a minimum.
Golf majors use to be The Masters, The British Open, and US Open, all three totally different styles of golf. How the PGA got in there is silly to me.
I think the Australian Open should be the 4th major. It's a different style of play, at least on the "Sand Belt" courses. Jack conquered down there 4 or 5 times if I remember right.
When I played down in OZ, I saw a lot of marquee Americans struggle there… when they were taken out of their perfect little PGA Tour bubble. I thought the European players were better international players. Had more "shots" and could adapt to less than perfect agronomy and weather conditions. I praise Tom Watson and Nicklaus for being the great American exceptions.
I agree with Jack that slow play is a HUGE issue, but I don't think making golf 12 holes is the answer… not with the wonderful infrastructure we have here in the States.
Golf courses need to be shorter… not longer… gear needs serious restrictions, save the space age technology for NASA, not another silly 7500 yard course.
Get used to more rustic golf conditions… save money by watering less, and less manicuring, that will lower greens fees, and make the game more affordable. Hold big events on less than perfect golf courses to set an example. Simplify the rule book to speed up play, get rid of the provisional ball rule, and standardize the dropping procedures. Nix yardage books, laser guns, GPS and do away with golf carts and cart paths that need constant maintenance. Get some exercise, or just walk nine holes. Work on your technique so you can hit it where you are aiming, and don't spend so much time over the ball. For the better players, give old man par a chance again, and less than perfect greens will do just fine. Hit it good, make a couple putts, and feel good about a round of par. Blame the missed putts on the lousy greens. Better than not having an excuse on felt like surfaces.
Go green and recycle good vintage gear. Save your money and pay a caddy instead. Put a smile on a kids face, teach him the game, rather than buy another frying pan that's outdated every 8 months.
Time to go hit the bag.
Lag said:
Yep.I can't imagine a better start to develop the love of golf.
To me it proves it's not the quality of the course that is the critical ingredient in promoting golf love, but the availability of it, and the atmosphere…kind, nurturing, fun,safe. A pro who liked kids, a cook willing to feed us for next to nothing. Kind of an unoffical daycare facility.
After my start there, it would not be unusual for parents to dump us there at 9 AM, and we would easily play 45 holes before dark…with eating and swimming breaks.
By the time your buddy was about 6 or 7, we had added a more up to date challenging back nine. It proved to be fertile soil for his development.
I loved "The Patch"
If goats mowed the fairways and the greens there, you would not be able to tell.
If you want to learn to play golf, you are correct… you need affordable access 24/7.
We used to play at night sometimes on a full moon.
Bad grass teaches you to did the ball out of any lie. Sidehill lies prepare you to play the great historic courses
in the age before bulldozers leveled all the landing areas. Wind, rain, mud, bring it on. You want to learn to play golf
don't you?
Bad greens will teach you to hit the ball closer, and how to chip into grain (cross, side, into and down). Bad greens will
teach you how to roll the ball, and a better putting stroke. You'll learn rub of the green, and that it is ok to miss, even a
short one sometimes. You learn tolerance and patience.
I played "The Patch" at least a dozen times, coming up empty handed. The kid was too tough to beat on the home track, and as we know, turned into one of the states finest and most respected amateur players and went on to win several times as a pro on tour.
Flat, sheltered perfectly manicured golf courses will not teach you this game, nor will easy to hit gear.
Curiosity is killing me. I don't think you played golf growing up in my neck of the woods, but it sure sounds like you could have. Is "The Patch" a generic name for run down munis and broken down Mom and Pop public courses? Fun, fun, fun; bargain folf, a great mix of laughs, grief, and pure learning experiences.
The Patch (nickname) is an actual golf course down in Georgia, and oddly enough, I used to go out there in the beginning of summer and practice with a contemporary of mine, a fine player whom I would then travel with during the summer playing the major amateur circuit (NE Am, Porter Cup, Western Am, Rice Planters, Eastern Am, Cardinal Am and others) We had met out in San Diego at Junior World, and just became good friends.
Oddly enough, Eagle grew up on this same little patch, independent of knowing I had been out there I believe. It's a small world indeed!
Kids know how to imitate and have fun… Just give them a chance. Heck, Hogan started in a caddy yard( with Nelson…talk about fertile ground!!), struggled to get a set of clubs.
Basketball…they don't need Madison Square Gardens…give them a peach basket, some flat dirt, and a telephone pole.
Baseball…all that is needed is a broom stick, ball, and empty street.
If I were Golf Czar I'd use the stimulus money to put some tiny poorly maintained 9 holers or par 3's very close to inner cities or even small towns. Old used bags and clubs, in plentiful supply now, would be readily available. Tank tops and bare feet are welcome.
The "First Tee" program probably has good intentions, but I suspect it is heavily burdened with rules.
I think the Irish have a unique version of par 3 golf…maybe BOM can elaborate.
I think you mean pitch & putt? Maybe? It's fun- no holes over about 100 yds with some as short as 50-60 yds… all par 3's obviously. Basically every town has a course and it's got it's own type of community that goes with it. The top guys/girls can spin the ball with the control of snooker/pool ball. All shots are off tees and they tend to be rubber mats- you've never seen a sand wedge laid open like this added to the fact that the ball is teed up like a driver. They hit under and up with spin… it's so cool. There were a few guys at my local course that wouldn't think too hard about shooting 40 for 18. They'd want the ball roughed up to spin more. I used to give my used balatas to the local kids coming up and they'd rough them with sand paper and all sorts of things in order to get them spinning more- the older the ball got, the more valuable it became. The original ball was called a Comando-- I can't believe I'm talking about Comandos…so funny. I think they were made by Penfold- remember those? These were solid rubber but kind of firm and kind of soft. We'd boil them to get the paint off them because when it blistered it exposed the raw rubber which you could then scuff up… apparently this was all legal and above board

They'd become precious the older and softer and scabbier they got. Good times.
Good memories Bom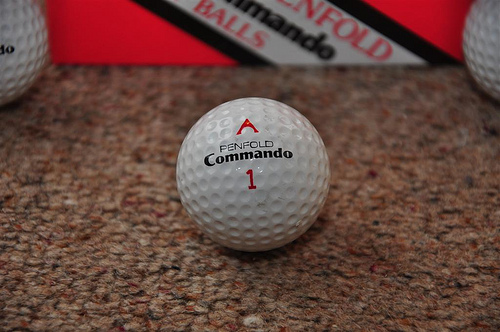 Ye Olde Commando!!.. gotta love the asymmetrical dimple pattern- very advanced for it's time… good memories indeed. Thanks for that, Arnie…
Thanks Bom and Arnie,
Pitch and Putt sounds like a good pass-time. Is beer allowed, or required? I know it isn't real golf…but heck, sounds like those guys learn to do some creative stuff with a club and ball. I bet some go on to become really good golfers.
And Sam Randolph's story about playing in Geiberger's home, using ping pong balls, kinda struck the same note with me…play around, have fun , see what happens.
I have some "after market modified golf balls" I occasionally use in my front yard. I'm gonna try to post if I can get up to speed…might give the scabby Commandos a run for their money.
Eagle,
Funnily enough, drinking during any kind of golf in Ireland is very uncommon- there may be the odd flask here and there during the winter months, but playing golf is for playing golf. If you take more that 3 1/2 hours to play, or if you're in any way slow, you'd never hear the end of it. There are basically no carts at courses other than the ones built in the last 10-15 years in the American style. There are a few of the big named links courses that would have some carts but they're catering to tourists. There was a guy at the course I grew up who'd had a heart transplant I think it was, and he had a cart- but they weren't very happy about it

The older the golfer, the faster they play, it's a funny thing, and they take a lot of pride in that fact too. 2 1/2 hour rounds by 4 retiree age men carrying their clubs wouldn't be uncommon at all. A lot of people would also use pull carts, aka, trollies.
Drinking AFTER the round, is another matter all together, and most pitch & putt courses would be attached to some sort of 'social club'.
Cheers,
BOM
… and on further thought, that last paragraph/sentence may go a long way to explaining the fast play