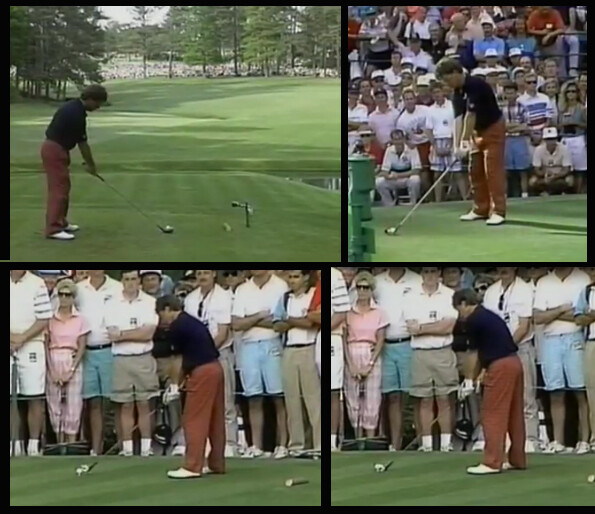 When I see this, I see a correctly proportioned golf club, weighted correctly with the mass behind the sweetspot and a masterful player ready to confidently execute a golf shot with precision. This is class, maintains historical relevance, and really separates the pros from the amateurs. To strike a persimmon the way Woosnam did took great talent and focus. He made it look easy because for him at that time… it was. The feedback he got from using a compact heavy headed persimmon did nothing but help him build this great golf swing and develop confidence in his ball striking. It just screams player. A lot of guys were already into metal woods… but with a swing like this… he had no problem whipping everyone with persimmon.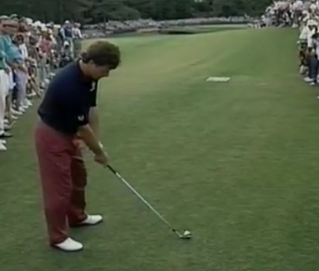 Taking a little thin bladed long iron and hoisting it up high to hold the green on the par 5… talent… impressive stuff. Great golf swing… I'm sorry but I just can't get excited watching guys hit these hybrids that are really made for hackers. The fact Woosnam could pull this off and flag it from here in the heat of The Masters… this is great stuff. He can take that to the grave… and I can't say that for today's players chipping a short iron into this hole after driving a Pro V with a frying pan. It took a lot more skill, precision and talent to do what Woosnam was doing here.

Holding wrist cock… rotating level… LSTC for those who know. Top stuff.

Inside take away, great position at the top, a little cup on the left wrist starting down aids in keep the face open which gives the green light to rotate level and strike hard. Classic finish… just what I like… upright with the spine, upper left arm parallel to the ground… great Mod 3 work.
I really miss seeing these great golf swings that developed from blade irons… persimmon, heavier gear and balata.
Nothing but inspiring.