Here's a quick look at my progress following Lag's tutorial…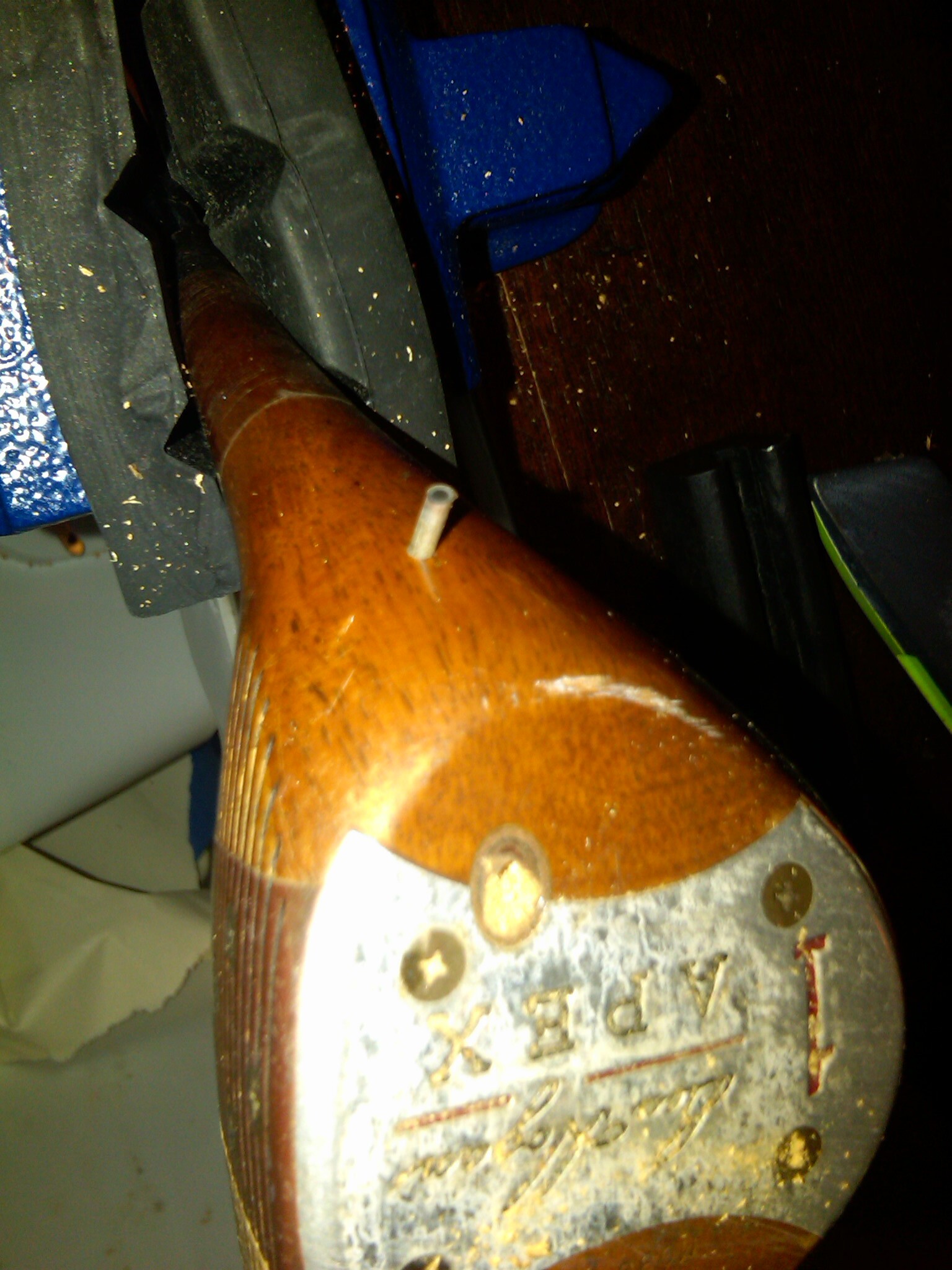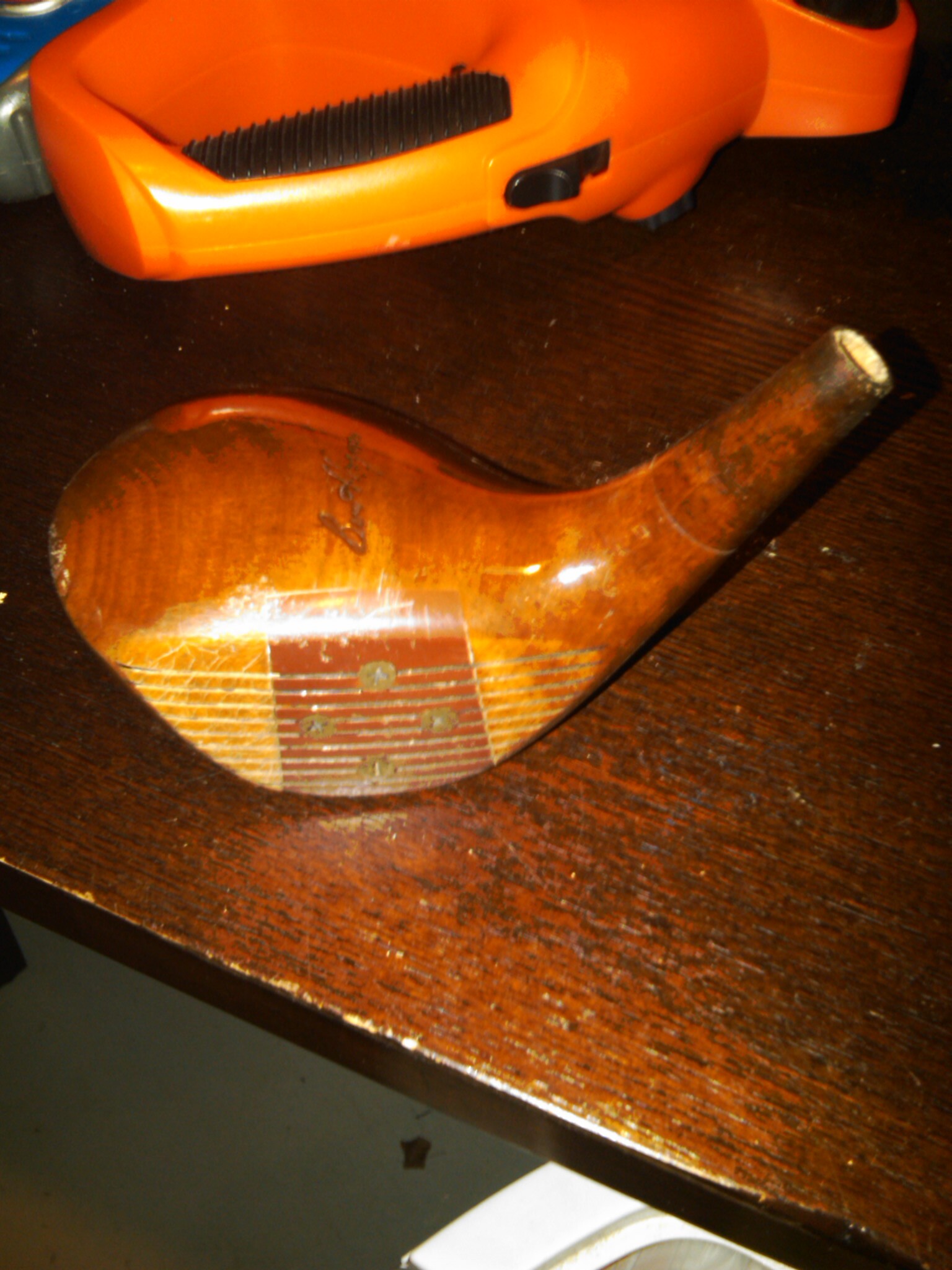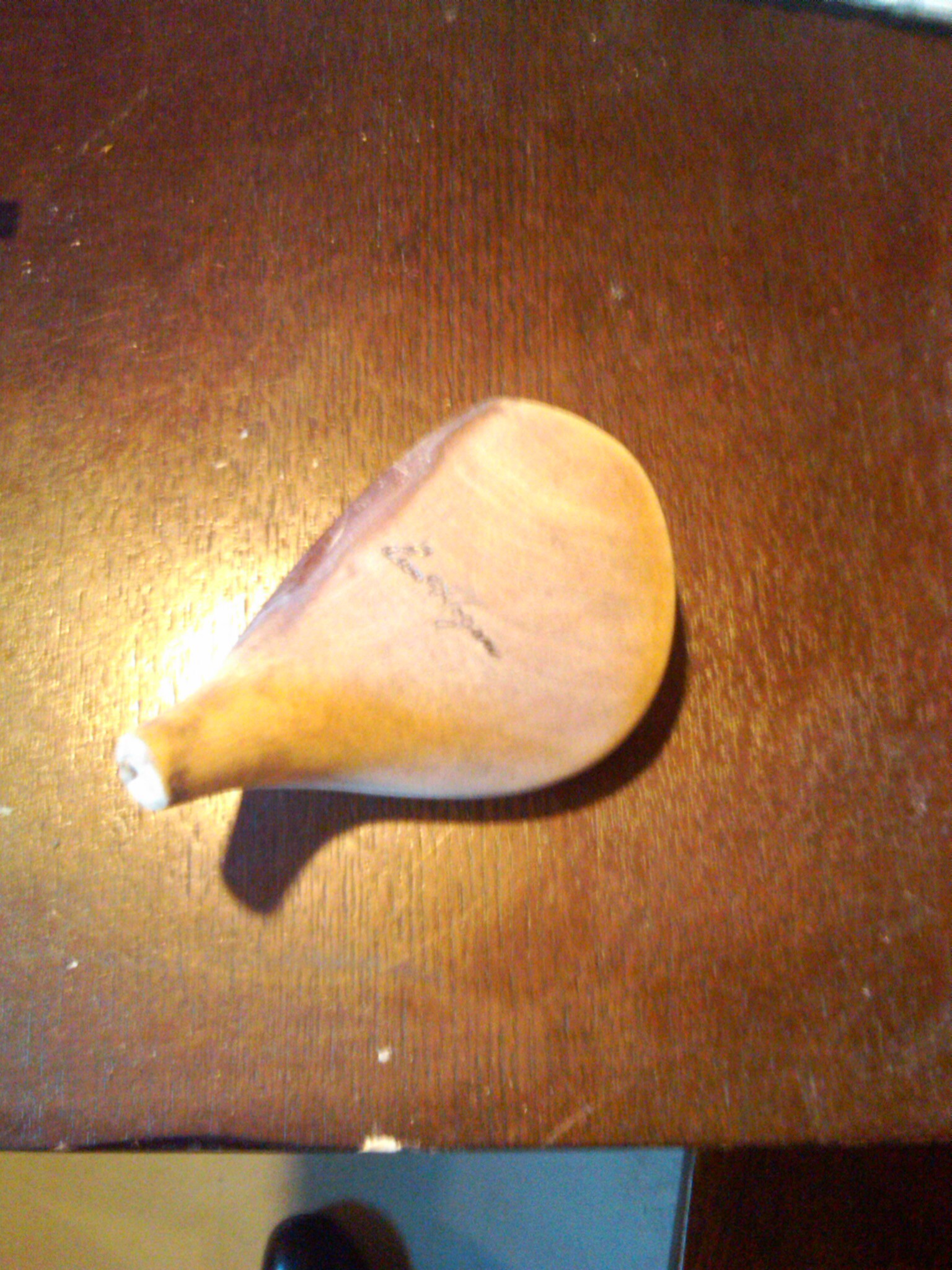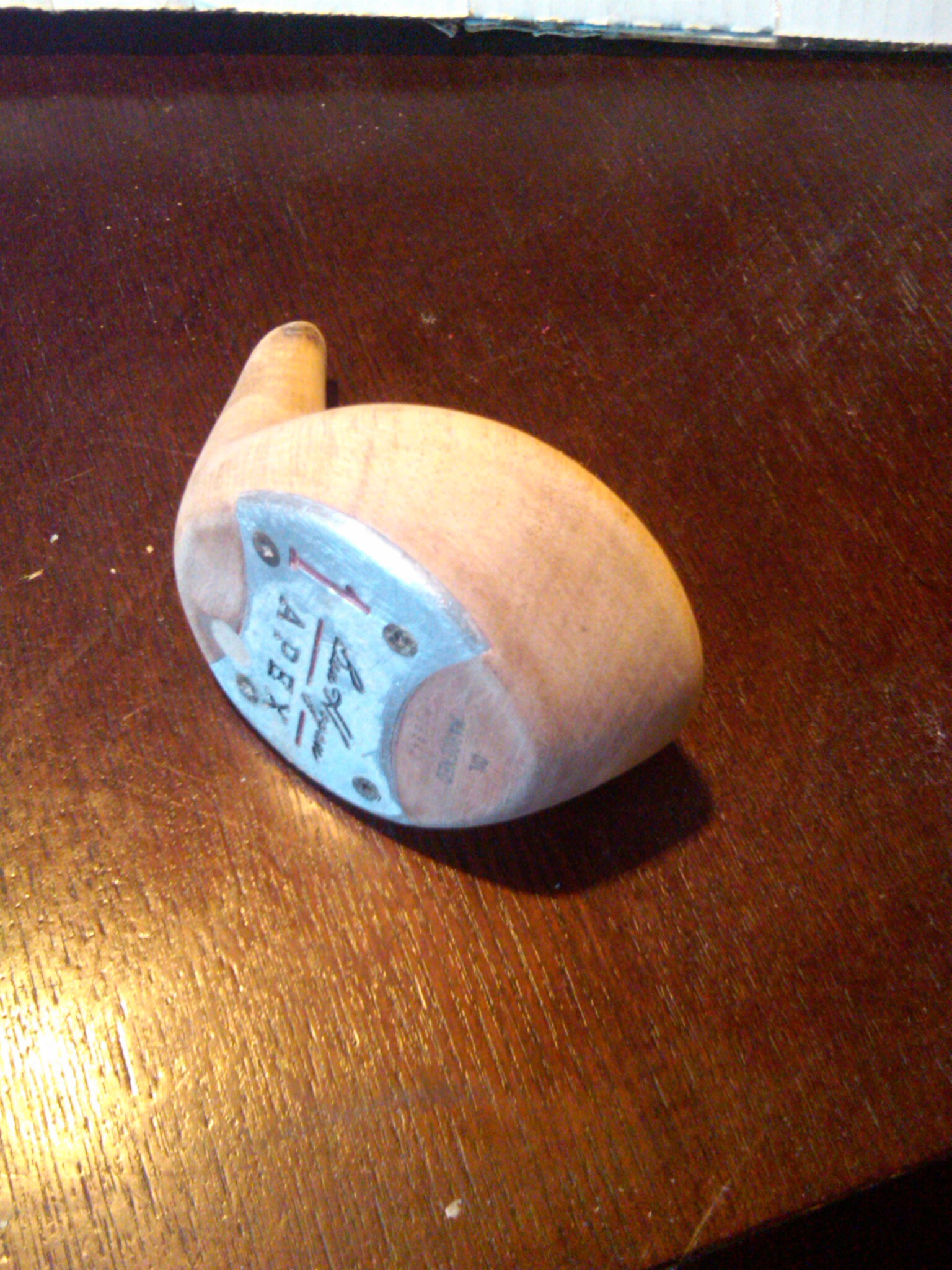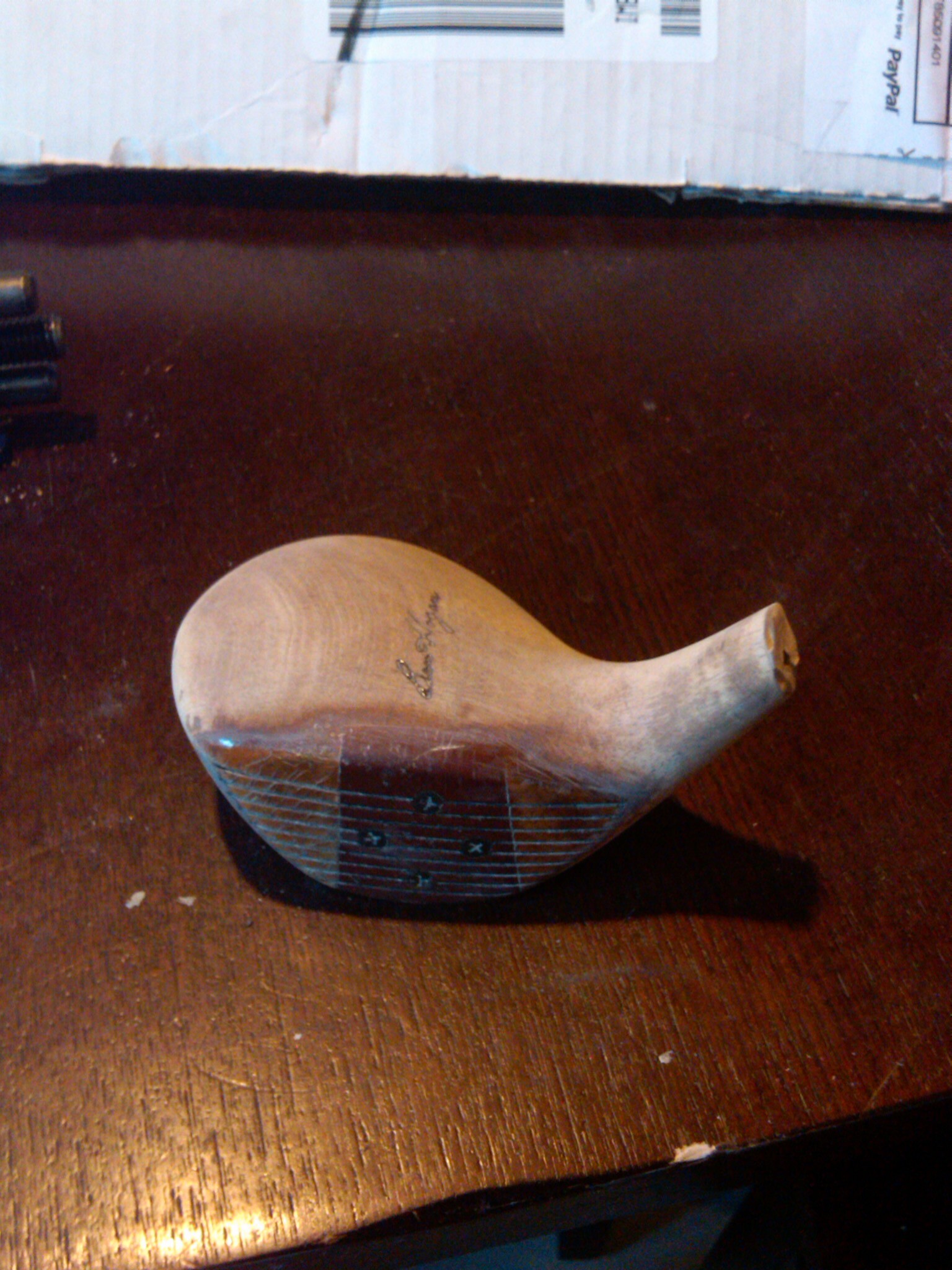 Well done Cheese - top man!
Well done Cheese,
You've done better than me, i can't get the shaft out.

The club i am having a go with doesn't have a pin, so the shaft doesn't come through the sole of the club.
I kept applying heat till the club caught fire, but no joy.
Any tips?
NRG
I think I was pretty lucky with the pin - the drill bit caught just right and popped it out with almost no effort.
What kind of head are you working with? Did you insert a rod in addition to heating the shaft? I really fired it up – probably a couple of minutes before sticking the rod in and then pulled it and reheated at least once and hit the shaft also. Once you get the epoxy to break down, it almost crumbles off. I'll defer to the experts, of course…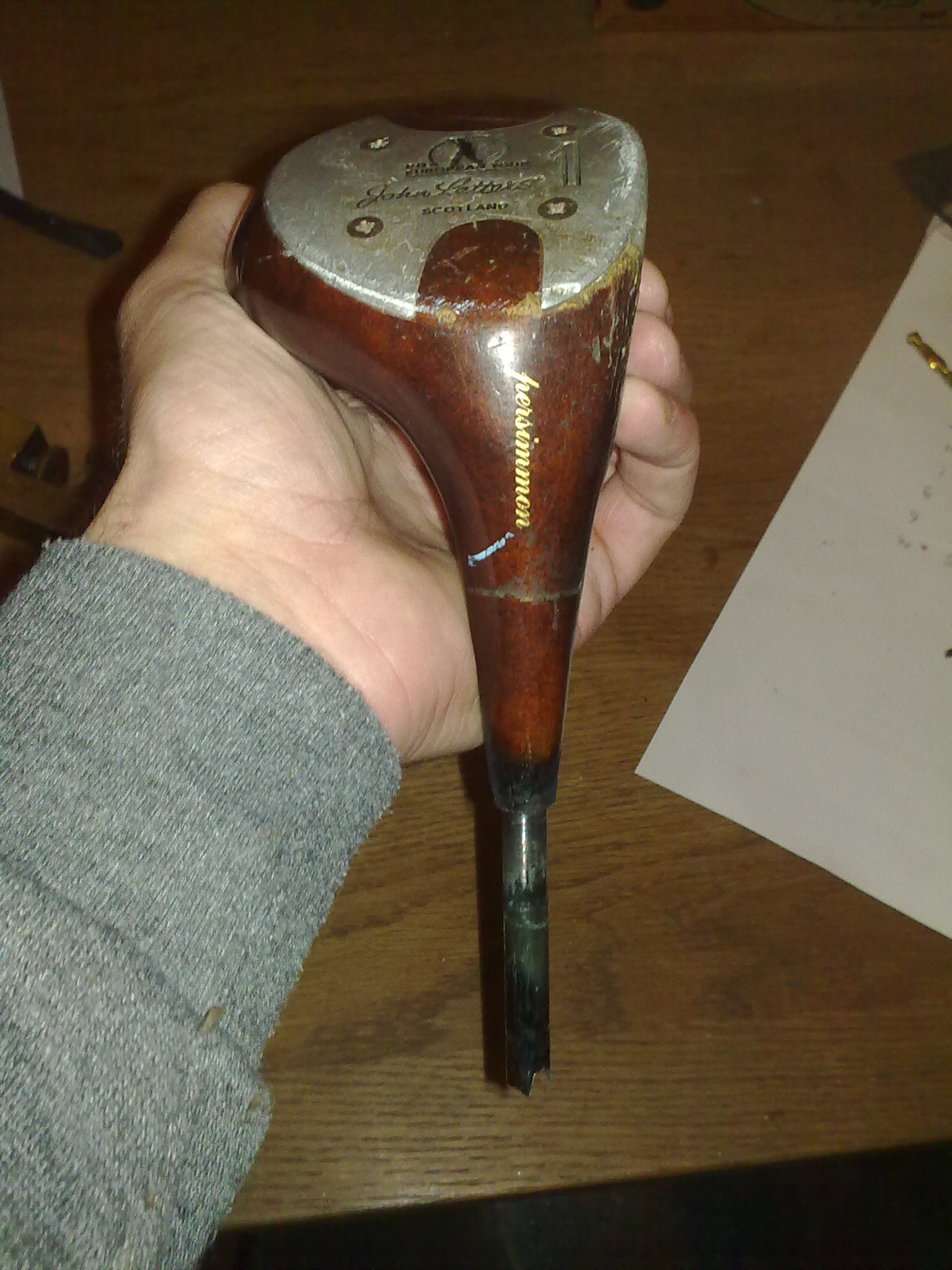 Its a John Letters European Tour, already bashed up, so thought it would be good for a practice run.
I heated a bar, but it might be Aluminium, so might not be holding the heat??, it is a paint roller handle with the end cut off it, thought it would he good to have a handle on it so i didn't burn my hand.
N
stick the shaft in a vice… then hit the shaft with a blow torch…
also …drill out from the bottom and insert a red hot rod in from that end…
then work on twisting the head off…
Got the bugger!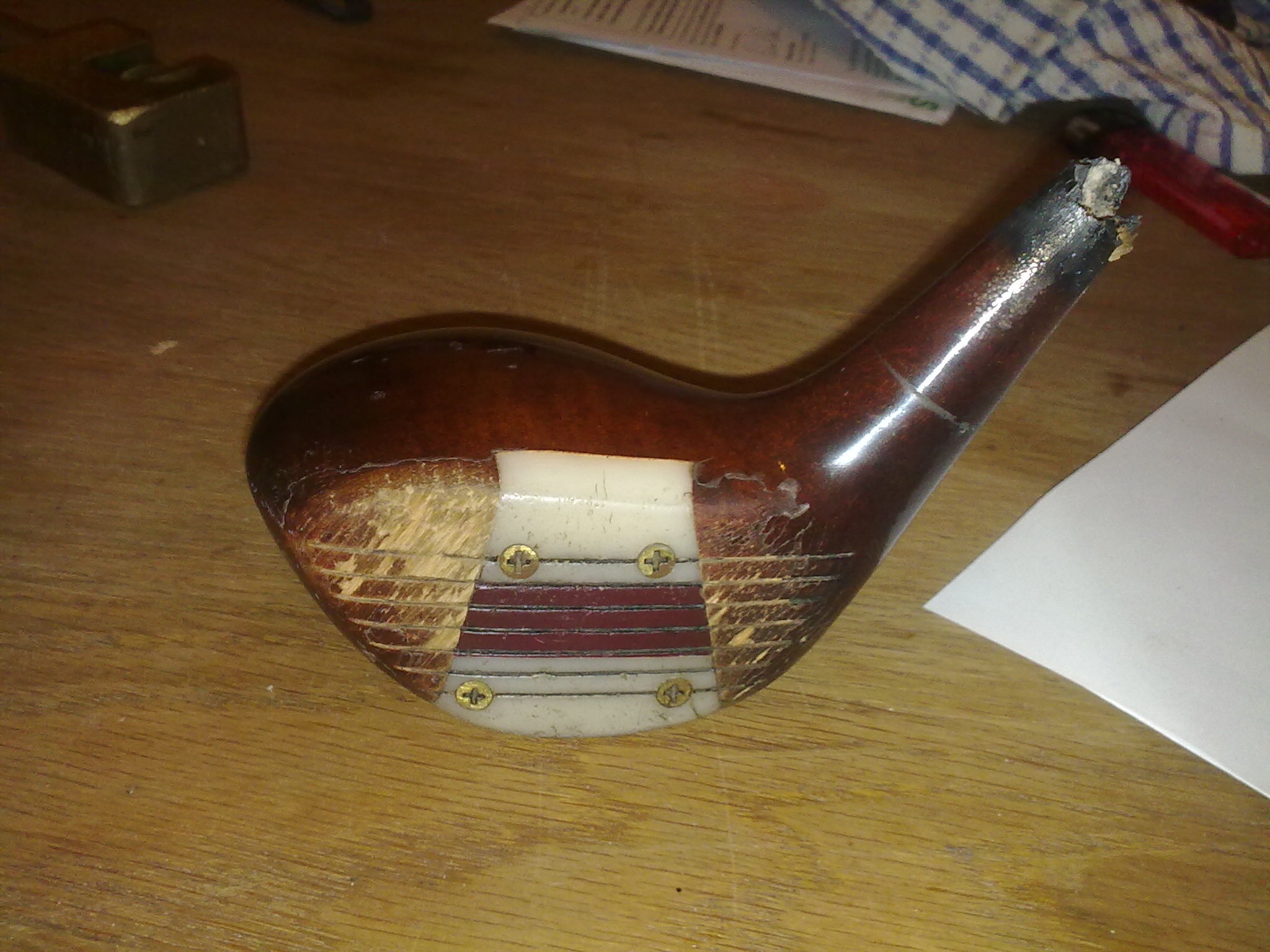 Previously the shaft was spinning in the vice, this time i really tightened it to the point where the shaft buckled, that gave some resistance when twisting the head off.
Nice one Neil! What angle are you going to aim for on this one?
Cheers, Arnie
Arnie,
Am probably going to go for 46 or 47. Lag is at 48 right? but he is 6 inches taller. My irons are 7 flat, but i feel i could go flatter with the long irons.
Lag,
What would you recommend i aim for??
Modern drivers are at 59 or 60 i think. So that would be about 12 or 14 flat…???
N.
Drilled the hole today…not exactly as flat as I wanted but it should do for the first effort. Just need to get a proper shaft to glue in.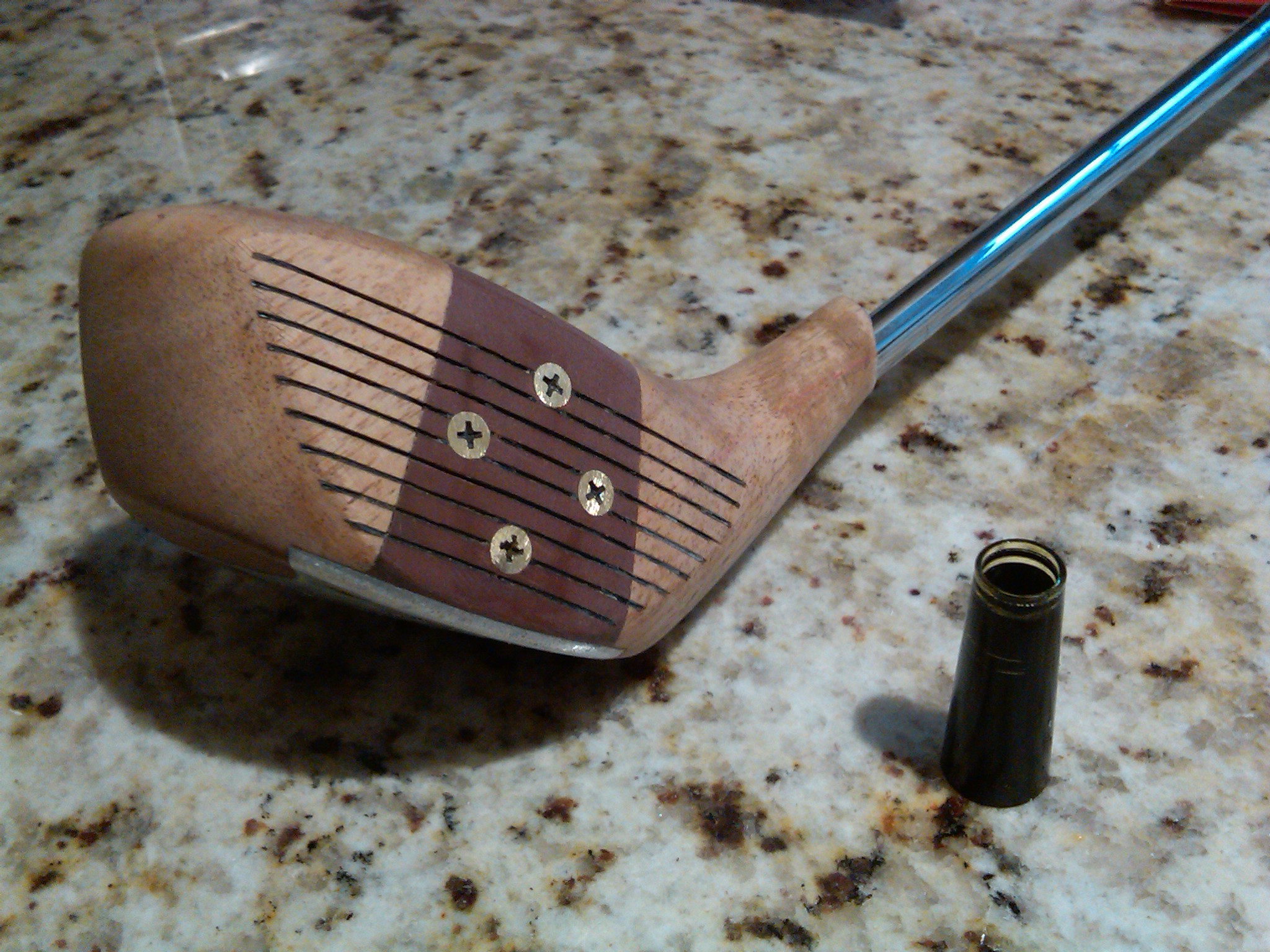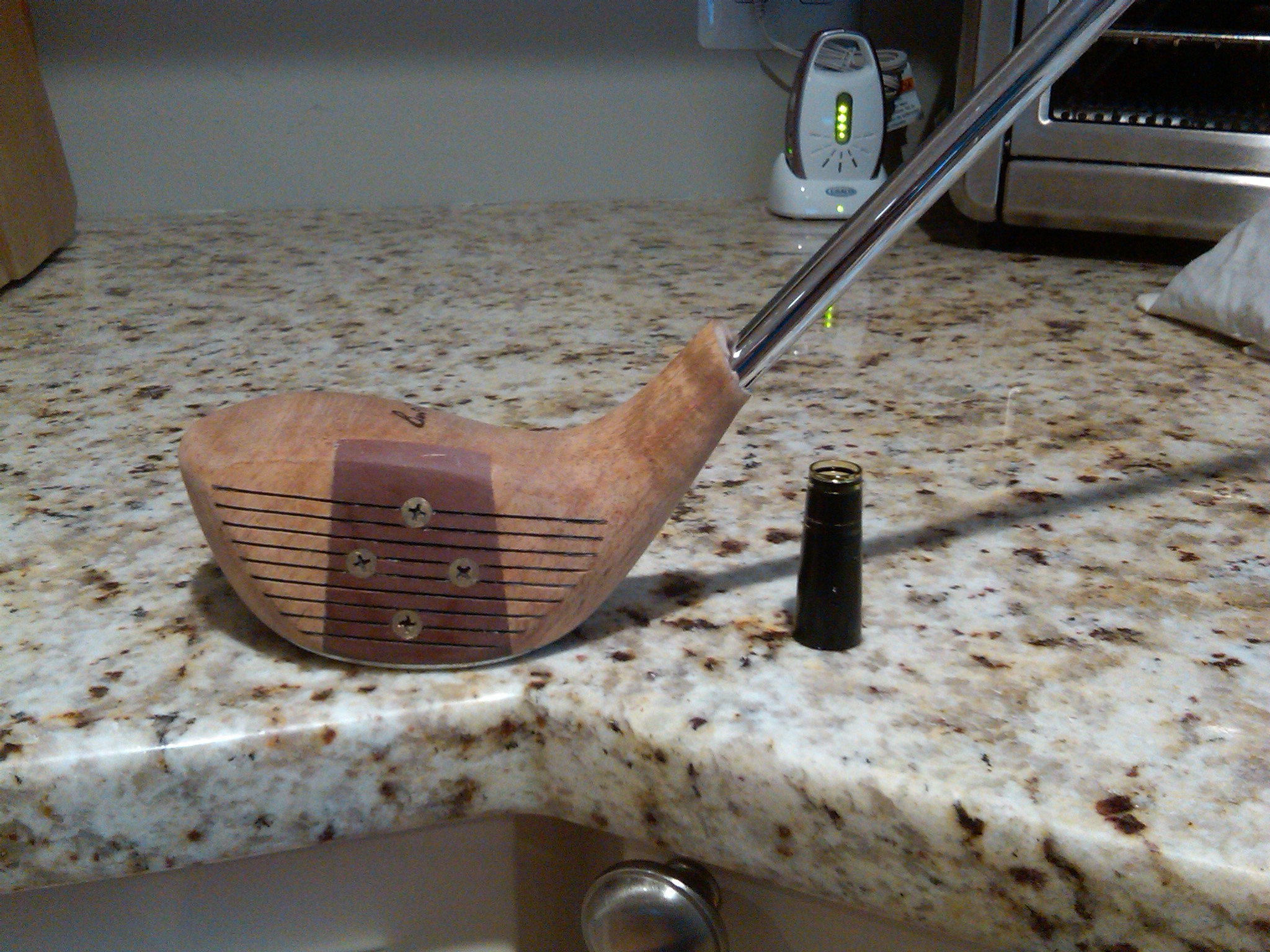 It did have a pin!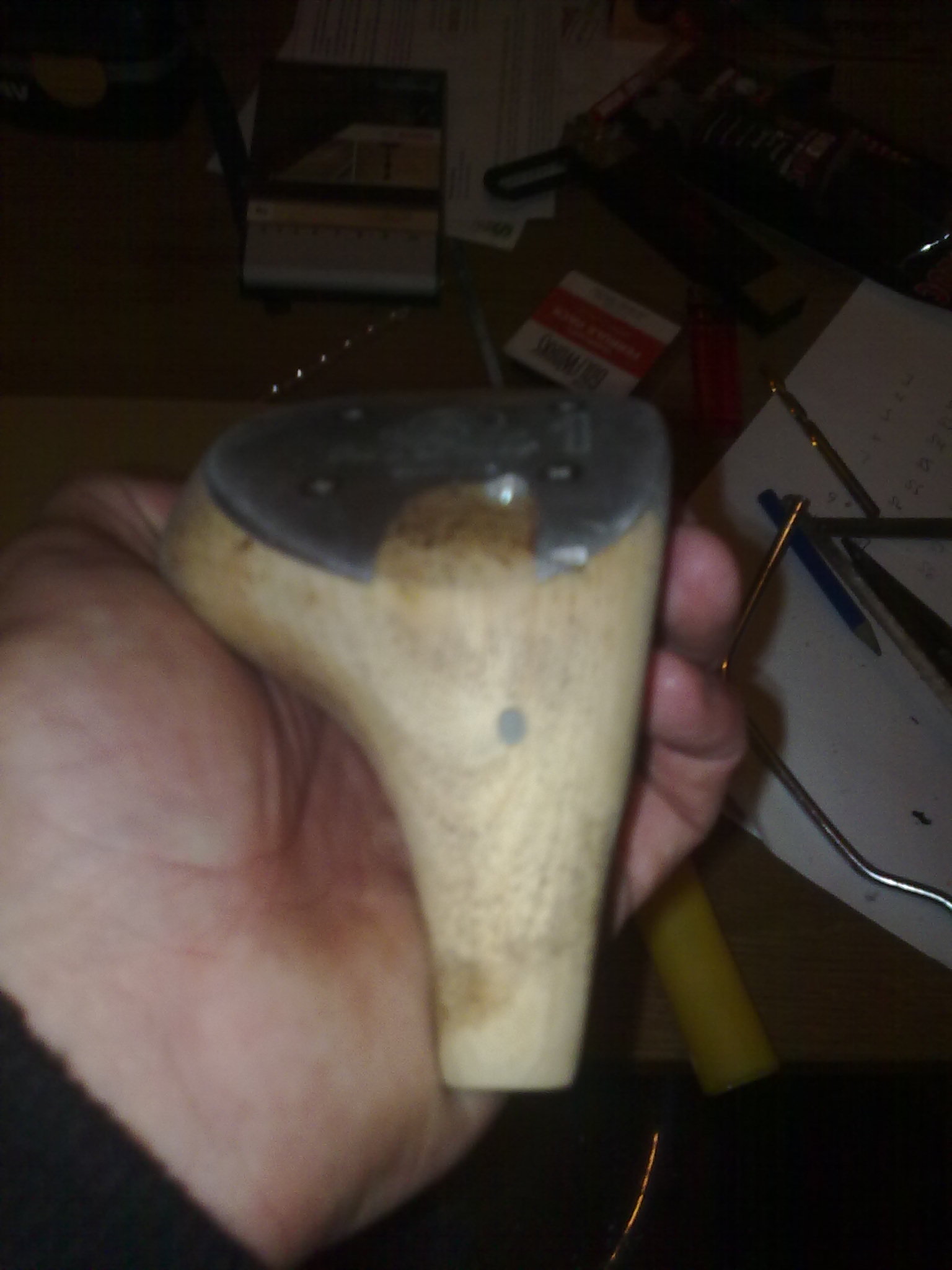 No wonder i had a job getting the shaft out.
Looks like it was hidden under the gold writing.
NRG Top Tip: Beware of hidden pins.
Truly inspiring stuff to see these projects coming along! Thanks for posting the pics…
NRG,
Go 46 sounds good…
Aiguile has one I made at 45… he loves it…
I played Mare today with Macs and he used my 48 degree MacGregor Black Toski, and I hit my Penna with the same set up…
then we switched drivers on the back nine… Only missed 1 fairway, and that was with a 2 iron! Played the Bounce Soles today.
On #15, I nailed a good one up the left side, and after fixing Macs' alignment, moving him a bit deeper into the 4:30 slot, he caught a beauty that sent a shiver down my spine and was right there with me. I stuck a 6 iron 2 feet from the pin into a headwind… fun stuff…
We had the course to ourselves all day… amazing how no one shows up if there are clouds in the sky…
Persimmon golf was alive and well today at Mare
Not sure what to make of this, but I think i got it pretty close to 46 degrees.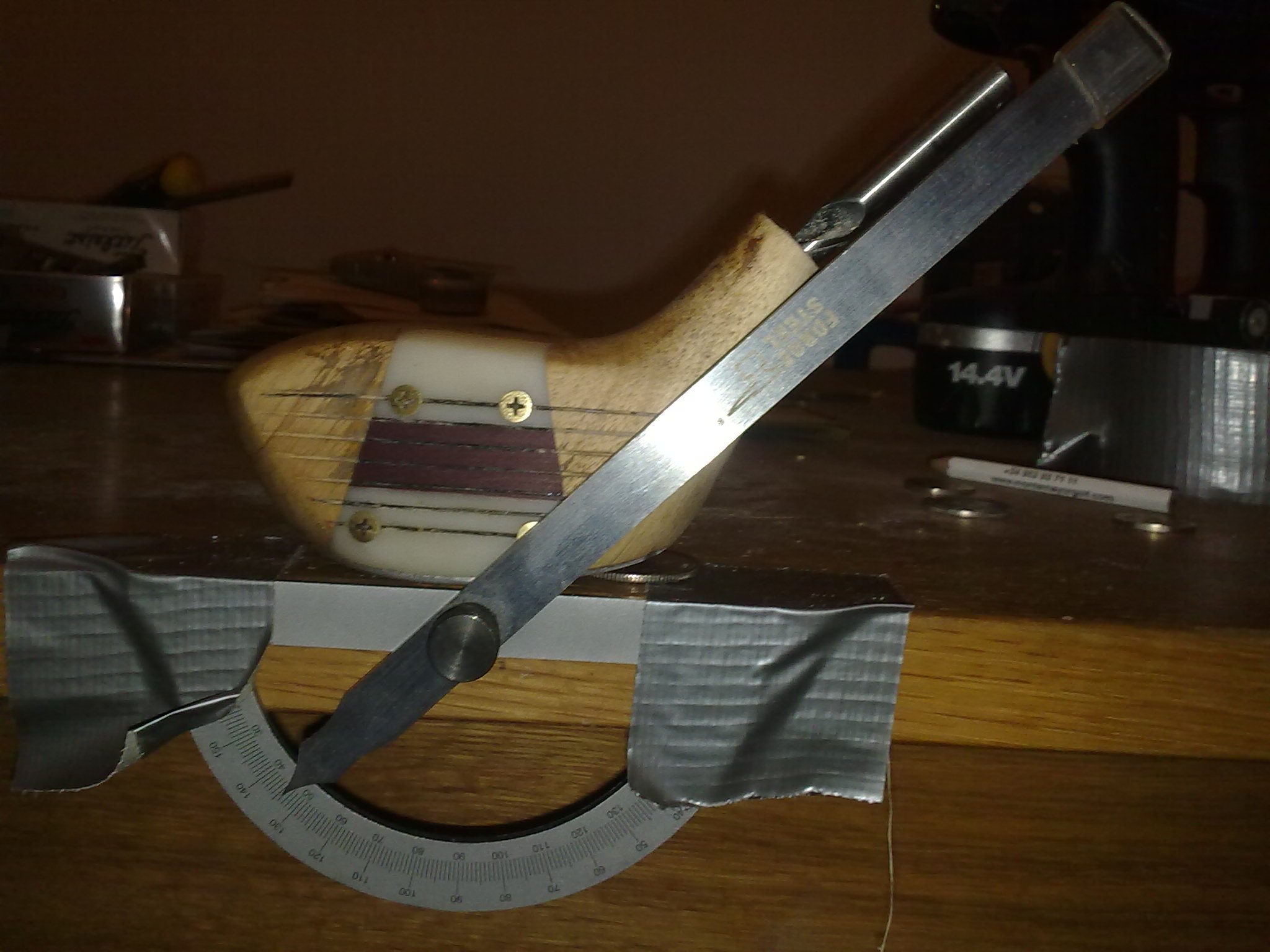 However when unsupported the clubhead seems to sit with the toe about 5 degrees in the air (grooves anyway). So it looks like it's at about 41 degrees.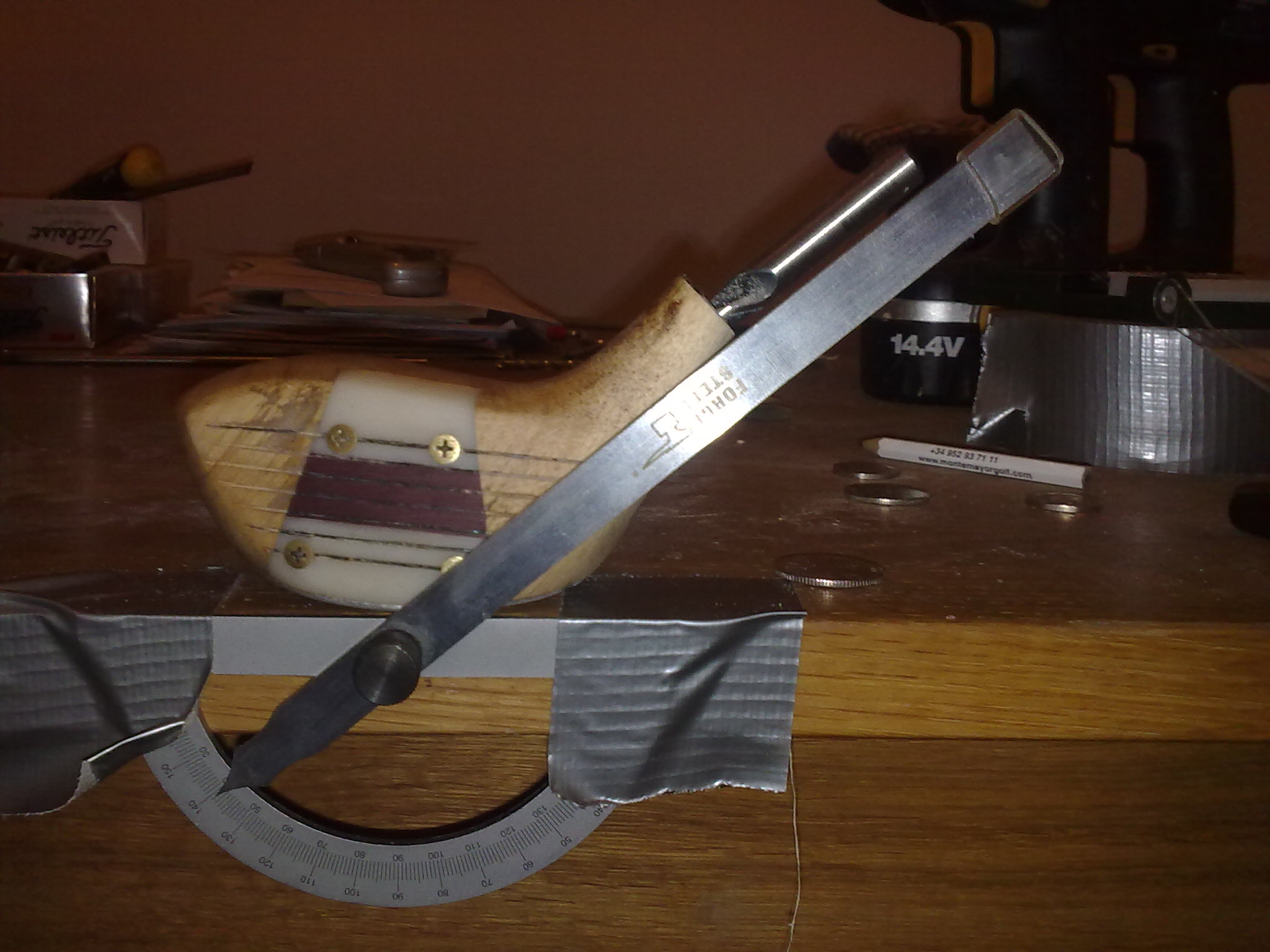 Any thoughts?
NRG,
When soled properly (your first pic) is what you have, so 46 degrees. You'll be supporting it with your hands when you hold it.
robbo
Cheers robbo,
I thought measuring from the grooves was the right thing to do.
It still doesn't look right to me though when i hold it.?
Great work with your clubs, hope you are likeing them.
N.
NRG,
What isn't looking right to you when you hold it? The way it sits open or closed, or the way it seems to sit from a lie angle standpoint? Does it seem like the toe is sticking too far up in the air?
My first attempt with the 4 wood was way off in the "open and closed" perspective so I had to re-drill.
Robbo
The 3/8th inch drill bit should leave a bit of play in there for the shaft…when you set up to epoxy it… so just shim it with a tooth pick or two to your liking… while it sets up…
I can move it around a few degrees to my liking visually…
I like my drivers setting really square just like my 1 iron…
It might just look a lot better as soon as i reshape the hosel area.
Come on Royal Mail!! Where are my shafts?? Ordered them nearly 2 weeks ago.
One of the best things about doing it yourself is you can set up the way it sits, just the way you like…
So, on a light hearted note for a second, and eager to finish my 46 degree driver, my shafts have just arrived…
What value does anyone see in the use of a Spine Finder??
I have one, but imagine that it maybe more use to a swinger than a hitter.
So, do i set the spine at 3 oclock? or not bother at all?