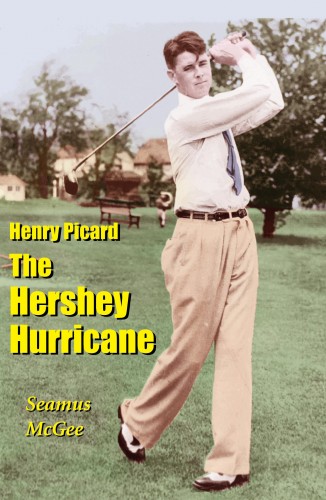 Henry Picard The Hershey Hurricane is an insightful book into both the life and times of the Master's and PGA Champion.
Author Seamus McGee felt moved to tell the story of Picard who many feel has been overlooked or not given proper historical significance in the game of golf. Along with great help from Jim Westbrook and John Birmingham who both knew "Pic" very well, McGee was able to compile enough historical material to write a proper book depicting the life of Henry Picard. McGee was also able to gain access to a detailed scrapbook and manuscript from The World Golf Hall of Fame to further the completion of research needed to complete the work.
While most golf aficionados know of Picard from Hogan's personal dedication to "Pic" in his epic "Power Golf", few know of his accomplishments both as a player, teacher and humanitarian.
The book chronicles Picard from his youth learning from legendary instructor Alex Morrison, as well as having a close relationship with Walter Hagen.
The Hershey Hurricane is a "Who's Who's" of 1930's and 1940's golf. Pic was considered by many in the 1930's as the player of that era. While Pic's accomplishments certainly speak for themselves , they were in fact cut short by WWll, as Pic served his country and set the clubs aside right during the peak years of his playing career.
I enjoyed this book immensely. It really transports the reader to a time when golf was golf. When players played for the love of the game, and honor meant more than money or fame. The book is filled with great stories not only about what happened on the golf courses, but also off the course. The difficulties of roommates traveling by car across the nation with
little or no money, and the friendships that developed along the way that bonded these early golfing legends with deep friendships for life. Some of the chapters were reminiscent of Kerouac's "On the Road"… but written for golfers.
When Pic retired from serious competition, he took up one of the most successful teaching careers in the history of the game. Pic's connection to Hogan was both early in his career as well as later in life when Pic took the head pro job at historic Seminole where Hogan was a member. Their friendship and respect for one another clearly was of importance to both of them.
While this book is not necessarily an instruction book, there are enough tidbits of insight to make it worthy of such a categorization.
I would highly recommend anyone read this book if they are interested in how to think and play the game with confidence.
I would like to thank Seamus for taking the time to document and write this insightful book into the life of Henry Picard.
It's inspiring, educational, historical and most of all clearly created out of both a love for the game and a true respect for one of golf's greatest player's, instructors and gentleman.