Thought this was interesting to hear from the former commissioner of the PGA Tour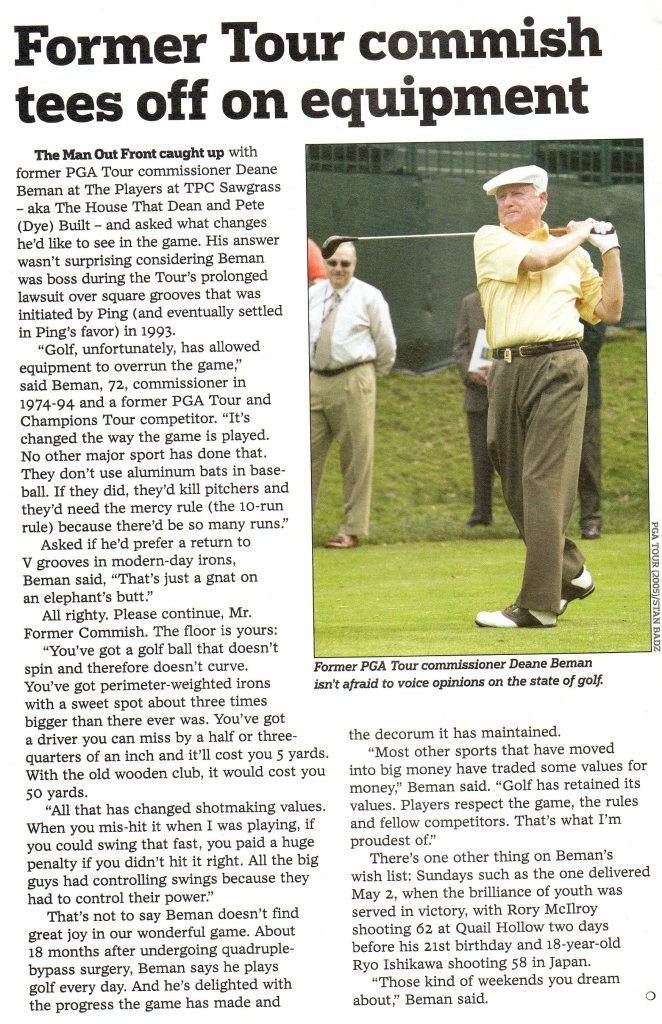 How interesting TM…what magazine did that appear in and how long back?
Cheers, Arnie
GolfWeek about 2 months ago…when Tim Clark won The Players
The tides are swelling…
It's not just me and a few ABSer's taking note.
I believe firmly that we will see a major shakeup of some kind in the next few years. Another rising organization moving for
a more traditional game.
Golf deserves to be played properly and respectfully in it's finest traditions. This option is gathering a ground swell of discontent,
and it is this kind of passion that will make change happen in one way or another. I would be happy to be a part of it.
There are some interesting developments coming…
I don't see it at all Lag.
The game is desperately trying to get more people into playing. They royally screwed up 'Tiger Mania' which just got people watching golf more instead of spending money to play it. Then it became people watching golf only when Tiger was in contention. They had a golden opportunity to get more revenue pumped into the game and they blew it, big time. And to make matters worse, they prepared for this big rise in people golfing and putting more money into the game with more courses, resorts, equipment, etc…so they wound up spending a lot of money, only to see them fall flat on their face. That shattered the confidence of making a profit in golf for many entrepreneurs and corporations.
I saw it first hand in two different places…Myrtle Beach and Atlanta. Myrtle prepared for this with a dramatic increase of courses. I think Myrtle got up to 120 courses at one point. Once it was established that the game screwed up the potential of 'Tiger Mania', about 40 of the courses closed. And there were more coming, but the city of Myrtle Beach passed ordinances that wouldn't allow for them to do. Honestly, I think if that ordinance wasn't passed, I think nearly 50% of the courses in Myrtle from when they reached their peak of about 120 courses…would've closed down.
When I first moved to Atlanta, I realized that there's no way I could ever afford to play a decent golf course. Everything was these private courses that were just built which had those private equity ownerships where you needed to have a $500K+ home and then pay huge initiation fees and monthly dues. About 7 years later those courses were going bankrupt. In fact, the course I was a member at was owned by a corporation that bought out 25 of these courses and offered them in 1 affordable membership deal. And then you had other big time clubs going bankrupt like the Country Club of the South, River Club, etc.
50% of the courses in the US lose money. Unbelievable.
Whether we like it or not, the perception of the golf industry is that the modern equipment makes the game more fun for the average golfer. I'm not so sure they are wrong with that perception either. And since they need golfers, I just see things staying the same…if not getting worse…with equipment.
But, the problem starts with the cost to play golf and being a member at a course and how archaic so many of these courses are when it comes hitting price points that will maximize their demand. Those companies that can figure that out first will succeed and IMO, will probably be highly successful for a long time because the golf industry tends to lag behind forever on anything that is new and thinks outside the box.
3JACK
All good points 3Jack,
Las Vegas is seeing the same thing…
I suspect that like much in life, the recession is FORCING many into a big reality check.
The average middle class person here in the USA has been living well beyond their means for decades now… with the entire credit card lifestyle
and wanting everything now… then pay later ideology. People are losing their homes left and right, and being forced to live within their means.
I don't want to say this is a good thing, but I will say that living within your means is not a bad thing.
In golf, people have become spoiled beyond belief as far as golf course conditioning. Given that advances in agronomy have improved public golf conditions tremendously, the downside is that it is expensive to do so, and the public weekend golfer is looking more at the condition of the course, especially the greens. The tour is setting an unrealistic example putting on velvet surfaces on TV, and the public expects this at their home course… or they will leave and play somewhere else.
Personally I would rather play a great layout tee to green with poorly manicured surfaces, than a boring layout with pristine velvet rugs to putt on.
I have friends here in the Bay Area that wouldn't be caught dead at Lincoln Park because of the condition of the course. But it has been there since the 1920's and will make it through any economic hardship, even if it comes down to sheep grazing the fairways.
You can spent $30,000 on a nice Country Club membership to insure you have perfect lies in the fairway every time, or you can play for a lot less on a poorly manicured course, and if you want to save the 30K and bump the ball in the fairway. then go ahead if you are really that bothered by it.
Personally, I enjoy the challenge of hitting off various lies, but if my ball is in a 3 inch deep divot in the middle of the fairway, which really doesn't happen often, I have zero issue pulling it out and playing the shot from a lie that is appropriate for the beautiful drive I just struck. A light divot, I don't mind, and will play the shot. Personally, I'll keep the 30K.
I enjoy the challenge of a good track. Rain, wind, poor conditions… bring it on… I play against the course, and old man par. If I can shoot par under horrific conditions, I feel that much better about my abilities. Arnie, Macs and I played Lincoln last fall in a torrential downpour, soaked grips, and so cold you could not feel your hands. My hands were completely numb. Putting the ball through casual water would make pinwheels on the greens. Macs had the club fly out of his hands on several shots… it was about as bad as conditions can get. Regardless, I holed a wedge for eagle, and chipped in on the last hole in pitch darkness for a 66. That rounds meant a lot more to me than doing so on a perfectly sunny summer day with velvet greens. I enjoyed the round every bit as much as any other day if not more… once I got out there!
Enjoyment lies between our ears. If half the courses close down in the country so be it. Die hard golfers will find a place to play because they love the game and the challenges it brings. If courses return to sheep mowing the fairways I'll still be playing and hitting shots, with more incentive to hit the ball close to the hole.
Anyone who has watched old footage of the game, can see how poorly the courses where conditioned 50 years ago. However, it was still fun, galleries still showed up to see great players… and the poor greens just put more emphasis on good ball striking which is fine with me.
If putting was the only thing I was interested in, I would choose mini golf… because I like putting into the volcano, and through the windmills, motes and castles. I remember setting the mini course record at the Seattle World Fair putt putt course when I was a kid. That was exciting too.
What I challenge Richie is this perception that the game is more fun with modern equipment. I know this is what every manufacturer claims, but quite frankly, I'm getting a bit bored playing competition golf. The average length 6200 yard courses I play, I'm approaching from 100-110 yards out monotonously, whether that's where the drive ended up or a purposeful lay up. And I'm not even a long hitter.
We always compare ourselves to others and I just can't see how the game is more fun if everybody hits the ball 40 yards farther now. On the contrary, it is much more frustrating to not put it close with a wedge compared to a 7-iron, or to continually search for balls (mine and partners) that are deeper in the woods that are so expensive they must be found, or to have to wait longer for the group ahead to get out of range.
Whenever a pal of mine from the US comes over to Germany, he always says how cheap it is to play golf over here compared to the US. Our club system are mostly semi private non profit organizations. This way your core golf business keeps out all the corporate greed, and the whole focus lies on the members, not how to maximize profit at the end of year. On average i would say a yearly membership fee ranges at about 1500 € for decent clubs. Highend clubs might range as high as 3-4k - but thats it, and very rare to find. We have an initiation fee, but on average thats about 5k. Nowadays most clubs offer yearly memberships for people who are new to the game or early in their career. The fees for kids and juniors are minor. Some clubs allow to transfer membership rights, some dont. This whole real estate development around golf courses is non existent. Stuff like huge mandatory restaurant fees/cart flat rate fees dont exist. Mandatory carts, which can be a huge cost factor for golfers dont exist anywhere, actually you are supposed to walk or trolley your bag.
Our club existed like that for 50 years and has a very balanced book on spending & earning. There are so many things you can do to keep the costs down, like cutting down on your irrigation, not having the greens run at max speed all the time, cutting down on chemical use, this not only reduces the costs for the materials but also for the greenkeepers crew. Most of the clubs in my area i know of work pretty much the same - that doesnt mean people play of cow meadows and crappy greens - we certainly dont play on those tour manicured fairways and greens either, but its not like any of the members actually demand such conditions. Its somewhere in between (most of the places i´ve been so far had professinally designed and built up greens), which keeps the fees low and the members happy.
I honestly think that the german model (or any kind of decent golf club that is run as a non profit organisation) is a good example on how to provide a decent golf expierence to a price that isnt considered high by a wide selection of the society - we still want to encourage people to play and spread the game? What would golf be like, if only the rich could afford it anymore…
I think we need to differentiate here. Your average weekend golfer should be able to keep all his modern equipment/modern balls, all the help he can get, cuz it wont save him one stroke (if you look at the hcp development over the last 20 years, it came down 2 lousy strokes). On the other side, on professional tours or at the high amateur level, there needs to be some kind of throtteling back of technological advantage, since they just take full advantage off it and rip nowadays golf courses (where the average hack struggles to shoot his handicap) apart. In the last couple weeks it seems like everybody is being in contention to shoot a 59 - did you read about the teenager who shot a 57 during an amateur event??? Thats a joke, and thats not how the game was meant to be played. But since the major club manufactures use the professional level to promote their gear, that will be hard to achieve.
IMO the easiest solution would be to let the professionals play a ball that reduces distance and punishes mishits more severe, and let the weekend warriors keep their gadgets. And if one of them decides to become good, he will make the right choices anyways. Other than that, its just hard to think of a solution, since there is no way you just can roll back technology 20 years and expect the majority of golfers to accept this.
I'm packing by bags… and ready to trade module work for German lessons!
After re reading Beman's rant, I think he and Mac O'Grady might actually agree on a few things now. Quite an irony for those who know the history of those two.
LOL - i´d give you all the german lessons you want for a solid swing

When I lived in Atlanta, the course I became a member at was owned by a corporation that bought out all of these 'distressed golf properties' (the expensive golf courses that fell flat) and put together a membership plan where I would pay $150 a month for a membership and then $25 for each time I actually played, which included carts because you can't walk most courses in Atlanta. But, that got me on any of the 25 courses they owned in Atlanta and they were very good courses and the courses were private and consisted of members like myself. They had other membership plans as well. This got people to flock to join these courses because it was affordable and the company is doing quite well financially. For me, if I wanted to play 3 times a week that would amount to $450 a month. Not bad for having 25 courses to choose from with designers like Arnold Palmer, Fred Couples, DL III, Fazio, etc. making these courses. And it included the range.
When I came down to Florida they have a deal where I can play 2 course for one membership at $1800 a year, which includes range, but no cart. But, they want the money up front. I had to negotiate a deal where I would pay 1/2 now and then 1/2 later, but no monthly plan was available. I even told them that I would sign a 1-year or 2-year commitment for a monthly payment plan…but it was a no go. And these courses are not doing anywhere near as well financially as the membership I had up in Atlanta. Just more stubborn, archaic way of doing things
Part of the membership appeal, particularly from a country club perspective…is the less crowded courses which allow for faster play. Another deterrent from people playing this game is when we consider a 4 hour round as fast…it's still too slow for people with families. Which is another dumb thing courses do, by not enforcing quick play they are so afraid of ticking off 1 slow foursome at the expense of leaving the rest of the paying customers angry
As far as modern equipment goes, I play persimmons about once a week and do get enjoyment out of them. But, that's me and other people who play persimmons. The rest of the golfing public? They love the new stuff. Hell, GolfWRX wouldn't be in existence if it weren't for 'club ho's.' I admit, I still dig a lot of the modern equipment as well. But going to ABS has taken out that 'if I don't get the latest greatest piece of equipment, I'm getting screwed' feeling that I used to get. However, the typical non-ABS amateur golfer doesn't want to play old clubs.
To the OEM's credit they did a good job of lowering the price of their equipment the past 2 years. Drivers went quickly from $350 to about $199. And if you waited longer, you could get them at $150. Irons, putters, wedges, etc…all went down in price, too. But that's why OEM's typically do well financially and why golf courses have struggled financially.
3JACK
Seems to me that the guy who has benefited the most from Tigermania is not the golf industry but the guy at 125 on the money list. In the pre-Tiger days this guy would be struggling to get from tournament to tournament living out of his car and struggling to make it, and make a great story. Now number 125 is a multi-millionaire when you add in the endorsements. That is mainly due to Tiger. Not sure if this is for the better, I can see the argument both ways.
Back when Tiger was on fire, i remeber players saying - he gets first way play for second, what kind of attitude in a professional sports environment is this???
That a guy who finishes 100th on the moneylist (and thats only on the PGA tour, his World golf ranking is even worse), is a guaranteed millionaire by the end of the year is ridiculous. Why would he even try harder, when you can live comfortable this way. No wonder Tiger never really got challenged over the years and pretty much no new names popped up during this period.
Now there are some new young names in the game (McIllroy, Ishikawa, Fowler, Kaymer and so on), but it will be intresting to see how they will be motivated putting in the work, and even work harder in the future to achieve greatness, when they are already got stuffed with cash when they entered the tour or when they first won a tournament, or instead if they discover the pleasant tempting way of life outside the course.
That much money around is not good.
It might sound stupid, but when i watched my first tournaments on TV (back then i had no idea about golf) - i thought they played for their own or at least part of their own money, everybody chipped in at the beginning of a tournament and then they play for it. That they basically get a free lunch (aka sponsoring money), was unthinkable for me. But i was naive back then, and when i heared about the matchplay event at Wentworth i think, where you get paid if you just show up, and then if you like you can play well and make a bit more money, i knew i had a lot to learn…
I had some good advice from a journeyman mini tour pro named Mark Blakely from Southern Cal in 1986. Mark was a really solid player, who never made it big, but those who played against him over the years knew he was a really tough competitor, and cleaned up pretty good on the smaller tours.
He told me the reason to turn pro was that by being ABLE to make money, you could spend more time committed to golf.
He said pro golf was the best vehicle to improve your golf game.
What he was saying was that if you really want to be the best you can be "at golf" you need to turn pro, and this will allow you to have that experience of becoming the best you can be.
You don't turn pro to make money for money's sake, but for golf's sake.
While I agree that it has helped the guys that are 100-125 on the money list tremendously from a financial standpoint, by and large these guys ALWAYS want to improve. I've know quite a few current and former PGA Tour pros and almost all of them are extremely hard working individuals when it comes to their games. Are there guys that don't work that hard? Obviously. But those guys usually wind up being the multi-time winners like Curtis Strange, Roger Maltby, Johnny Miller, Peter Jacobson, etc….who did work hard in their prime, but eventually wanted to delve into other parts of the industry. And given how the Champion's Tour is shrinking and having a family and the amount of money out there in course design, endorsements and commentary…can't say I blame them.
But like I said, these guys are established winners on Tour. Usually the guy that hovers in the 100-125 on the money each year is not and they don't have those opportunities.
It's too difficult to just stay in the 100-125 list each year and feel secure about keeping y our card, so that's a big reason why these guys will always work. That and the alternatives are usually far worse. The Nationwide Tour is a pretty solid tour and guys can make a living there. But compare that to full exempt status on the PGA Tour and there's just no comparison. I think I read once that having full exempt status on the Tour is still worth at least $300K a year, even if you never make one cut between appearance fees, basic endorsements, gifts that Tour events have, courtesy cars, etc.
However, I still believe the vast majority of these guys want to get better because they love the game and want to reach their goals in golf. The benefit of staying on the Tour and being off the Tour probably adds more pressure than motivation.
3JACK
Harrington's take (from Geoff Shackleford.com):
"PGA TOUR is not the place for learning. That's essentially it. You've got to have your game when you're out here."
Interesting stuff from Padraig Harrington today about the success of non-Americans in the U.S. this year. At least that's where he started, but then he moved into some things I've never heard a player suggest about the advantages of starting on the European Tour.
"So the likes of – before I came to the States in 2004, I probably won 20 times, or close to it. I'm not quite sure how many times, but a lot of guys before they come to the States, they've won. So when they get that chance, they have won before, they know how to win, whereas a U.S.-born player, especially since he gets his card very quickly on the Tour – even if he doesn't, if he wins on the Nationwide Tour, he's likely only there one year.
A good season over here for a young player, he might get in contention three or four times, might win once, whereas a good season for a young player in Europe, he gets in contention 12 times and wins twice, two, maybe three times, and those 12 times he's in contention, he's going to learn a lot from those. He's going to learn a lot about himself, and that will help him grow as a player.
Yeah, there's no doubt that this is a tough thing to say, that the strength of the U.S. Tour doesn't help grow young players. If Vijay, as Vijay did a few years ago, won ten events in a year, it doesn't leave very many events for anybody else to win. That's a perfect example. If he wins 10 out of 45 events, that's 35 left. And if Tiger and Phil take five each out of that, and now the rest of the field are playing for 25 events, there's not a lot of events for players to win out there, a young player, whereas young players coming through the South African Tour or Australian Tour, Asian Tour, Japan or Europe, we all get our chance to build up our competitiveness, our ability to win down the stretch on numerous occasions before we come over here to the PGA TOUR where there is a lot more depth.
So I think, yeah, it's definitely – if going forward – you've got to be absolutely exceptional as a U.S.-born player to make it to the top, whereas I think you're given a little bit more time as an international player to learn your trade. It's not as cutthroat, as I said, in Europe or the rest of the world where you can learn who you are and come to the States when you're 30 years of age or so.
I'm sure there's great players coming out of college in the States who at 22, 23 years of age don't quite make it over their first five, six years and are probably burnt out or lost their confidence by 30, whereas a similar player, international player, has won 10 events by that stage and is chomping at the bit to get out here and do it on a different stage."
This is going a bit OT, but i think i get his intentions. For Harrington it really seems VERY important that you´ve been there and closed the deal or it least fought for it - never mind if its at the highest level or somewhere below.
And since the European Tour or any other Tour is "a bit more" shallow compared to the PGA Tour when it comes to talent depth, you just get more shots at it.
Now on the other hands e.g. if you look at the LPGA - you have girls like Michelle Wie or Alexis Thompson who acted completely different to what Harrington is advising, they try to learn winning against veterans. They won some minor youth competitions and had solid finishes as amateurs in a couple of professional events. But they never, or very rarley in their young careers hunted down successfully a tournament leader or showed the cold shoulder to their opponents when they were in the lead. So their learning curve might be a lot steeper, than somebody who went through a proper amateur career or somebody who started off at a lower level, but dusted the field, which builds up confidence and incorporates these learning principles.
I think the reason we are seeing so many young players winning now is because to win in the modern game… it does not require nearly the diversity of shot making expertise that was required in the past. Therefore, much less time investment to learn to smash it and putt the lights out.