An important current in golf teaches that one should let the club do its thing and interfere the least possible. Usually one refers to centrifugal force as the main element in such instruction.
One well known golfer/author using this approach is George Knudson. Rather contrasting to HK's he shies away from details and reduces the swing to a few very simple basic elements.
Knudson's paradoxical advice is to 'give up control to gain control'. Let's see with a simple double pendulum math model if this holds any water.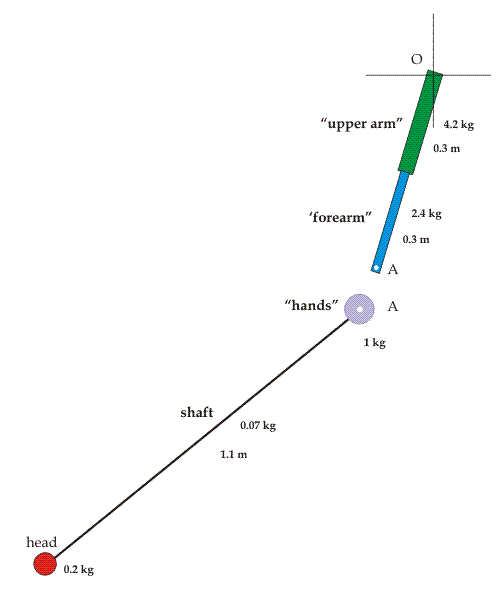 The upper segment of the pendulum is modeled as two equal 0.3 m length segments, with respective masses of 4.2 and 2.4 kg.
The hands are modeled to be integral part of the golf club and modeled as a 1 kg point mass. Shaft length 1.2 m with mass 0.07 kg and clubhead as a 0.2 kg point mass.
There will be two linked pages and we start with the first one [size=125]here[/size] where we look at the effect of arm/club angle.
It is indeed interesting to see a rather strong self regulating mechanism at work and without which a golf swing would likely be not quite feasible.