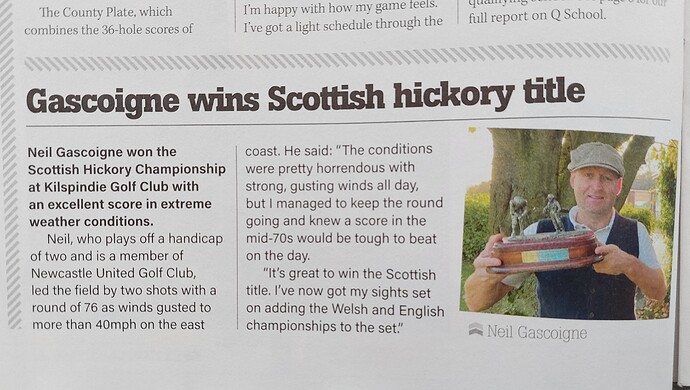 From the local golf magazine.
I remember that it was 22mph ave winds gusting at 44mph. I hit the ball great, but the putting was almost impossible. I always think I have more of a chance in the wind being able to work it both ways, so was quite happy to see it blowing.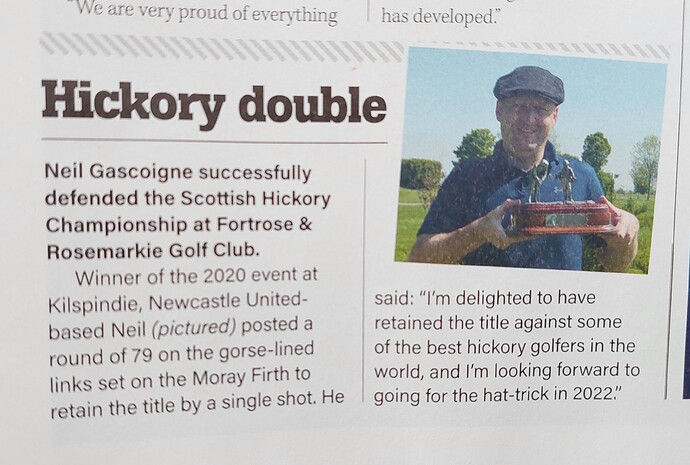 Another day where I hit it great but Fortrose is gorse lined right on the edge of most fairways and greens and I went in there 4 times with not bad shots and took penalty drops. So was disappointed with a 79, but relieved when I won.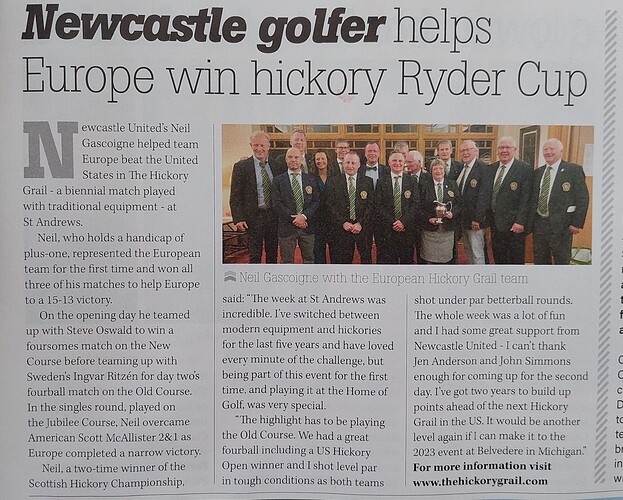 So winning those 2 Scottish titles meant I qualified to play in The Grail "The Hickory Ryder Cup". At St Andrews.
Managed to win all 3 games againt some good American opponents. Highlight was shooting level par round the Old Course. The match was an unbelievable standard for a bunch of blokes using antique clubs.

Next up came the Welsh Hickory Championship. The previous Scottish events were covid affected so this was the first time I had been up against some of the Swedish players who could finally made the trip. I think there were about 15 of them here including several past winners. So this was definitely the strongest field I had played in. Got off to a great start and was level through 12 but we then headed back into the wind which wasn't particularly strong but definitely made it a lot harder coming in.
I knew the 75 I finished with was a tournament record so thought I had it in the bag, but Swede Claes Arma finished in the group behind also with a 75. So I thought it would be a play off, then found out it was decided on countback, so 50:50 chance. Luckily my back 9 beat his. Still feel sorry for Claes.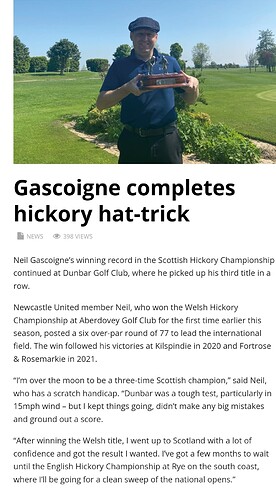 So the 3rd Scottish title was a Dunbar which I think is an Open Championship qualifying venue. All the Swedes were there except Claes. Hickory Legend Iain Forrester made the trip from the Netherlands and was there to win it and plenty othe past winners in the field. So I was definitely feeling the pressure playing in the first group out with Iain and Jorgen Isberg one of the top Swedes
After about 12 holes I was about 6 in front of the pair of them. But it was a tough, scrambling, grind it out sort of round. When we had finished, I thought 77 was enough to win it and ended up winning by 3!
Congrats NRG! Outstanding stuff