Looks like he's demoing a feel. Shaft not right for a full shot. ?
Yeah, it looks a bit unnatural for a full swing alright, I was wondering. As good as he was, the shaft/clubhead does look too far back at that point for a full rip.
Interesting that that might have been a feeling he was trying to convey, though

Cutting it left, orbit pull, club looking at the target.
I know a good few lads who worked with Bob Torrance back in the day, he was one of the few people who Hogan talked through his swing theories with. I came across this a while back and thought was an interesting one - I'd honestly never heard of the term 'swing point' until I read this, but it makes a lot of sense.
"Through all the time and dedication he put in, Hogan discovered a lot of things. For example, he discovered that if you rotate your left forearm on the backswing, it cocks your wrist at the swing point, puts the club in the same position at the top all the time, holds your right elbow under and makes you release through the ball."
Nice one Bom. I'm sure I've seen Weiscopf tell that story.
I think Johnny Miller had the same thing to say about this… that Hogan said the same thing to him.
We can create this with a proper application of cohesive body tension while doing Module 3.
He be in the gunch…got this from a pretty good twitter channel @doglegpar3…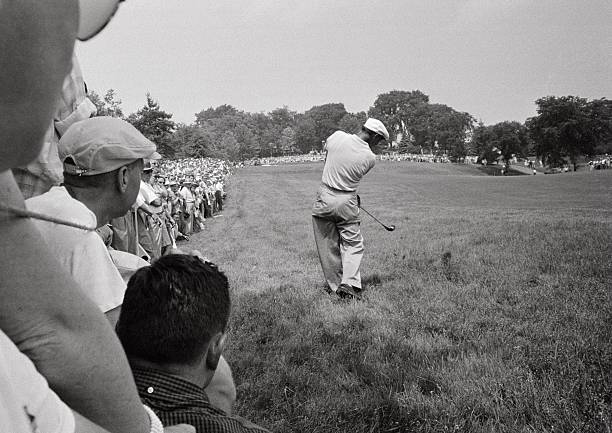 Ah very cool, Double R, thanks for that

It all makes sense now…
Well done Ratter. I thought it was strange him putting on a demo in the rough.

I love the pics of Hogan in the rough or in a bunker. Reveals so much.
Don't see rough like that anymore…
Really an emphasis on accuracy off the tee.
I would guess this is US Open based upon the depth of the gallery…
8 to 10 people deep…
Golf was really popular back then. All this grow the game obsession… I don't think it was
a problem.
Boy would I love going back in time standing in that gallery
-FLATNESS THROUGH THE BALL-
"I was blessed that Hogan mentioned a few things to me. I only met one man who knew the golf swing from A-Z. A few knew it from A-Y. But one A-Z, and that was Hogan. I was lucky to listen to what he said. That's why I won so many majors. He said you have to rotate your body, and then the club comes on the ball the same way. Now, I have the most anti-hook swing, and it was what Hogan told me when I was young. I just couldn't figure it out completely until I was 70, Your rotation of the body squares the club up. Your hands follow the rotation of your body. When you come from the inside, you feel like you're hitting the inside of the ball.' Hogan called it flatness through the ball. Trevino did the same thing."-Gary Player.