are these forged or stainless? they sure feel light…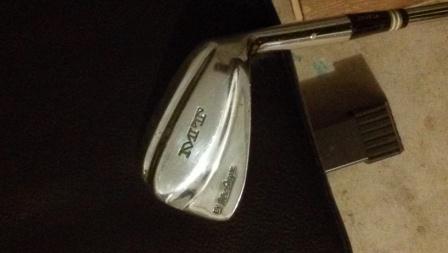 Hard to tell, looks a a split sole Macrgregor blade…
1970's I am guessing… you can rummage around this link in the single iron section by mfg. and get pretty
good ID on most vintage irons…
ironfinder.com/Individual-Irons/macgregor/
Lags Equipment specs. are on this site for viewing to give you a ball park on deadweight, I just picked up a digital kitchen scale
for 20.00 to help when tinkering with clubs…
good luck
!
Dale
well here they are but it doesnt say if they are forged or not
ironfinder.com/Individual-Ir … (step_sole-71.htm
for some reason this link isnt pasting correctly
MT by MacGregor (Step sole) 1971-72
Identification
Traditional blade with curved top muscleback design and 2-level sole construction. On back: MT in block silhouette letters, "by MacGregor" at toe at bottom. Chevrons (< and >) outline the scoring area on face.
You just google search 'iron finder',
I am damn near certain those are forged, I am no expert but have not see SS set of those in
my looking around. Someone else may know here… Nice head though , either way… may be worth picking up if the price is right…
that little bit of text i pasted there is from ironfinder and they dont say forged or cast, but the reason im asking is because i have them here in front of me and they dont exactly look forged, although ive never held a froged blade this new (70's). they're really shiny, yet they have the long hosel and a pin. the swing weight of them is lik c8, but they have ultralight shafts in them. i got them for $30 , and if i can bend them i will, otherwise ill get rid of them.
If they are chromed they are forged
how do i tell if they are chromed? it looks like they might be. might be some rust bubbles in the chrome? they look nothing like any of the hogan sets i have though. maybe the hogan company just used a nicer chroming process?
just a thanks to everyone who helped me in this thread and an fyi for anyone who might be reading this, these heads have absolutely no offset, so might be a good set to look for to set up for abs. i got mine for $30. there is a non-split sole version on ebay right now for $98, but keep in mind, these shafts will have to go!
Just out of interest here is a brand new set of the non split sole version…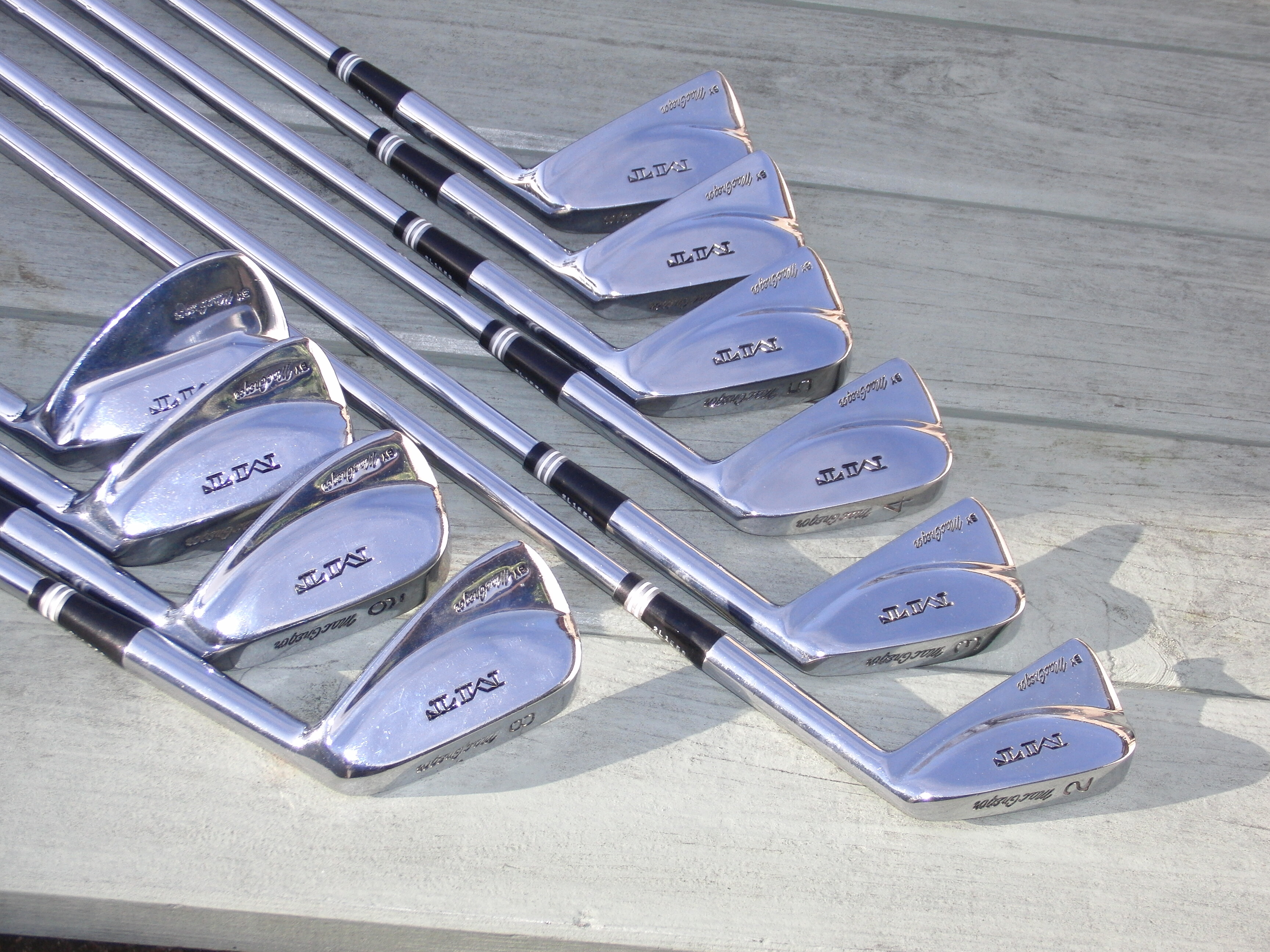 are those the beauts coming my way Arnie?!

Yes no probs Jimmy, just a good excuse to post a nice pic!

Dang those look sweet!!
Nicer muscle pad and contours than my Muirfields!
Dale
You get a better idea of how meaty they are from this pic of mine. Heaviest clubs i've ever come across.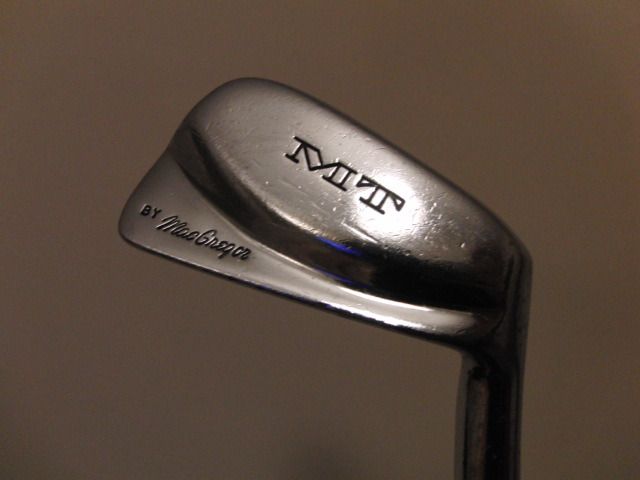 really? i just weighed my 4 iron. 14.5 ounces, but swingweight of C8. can this be possibe? they have the stock shafts and grips. the shafts say something like macgregor tourney light
Mine were heavier than ABS specs when I got them. Arnies weren't quite that heavy, but easy to bring up to ABS specs. They were making them with aluminium shafts as an option around then, maybe you have those.?
From the MacGregor catalogues 1970 which is around when those clubs came out
So good chance you have the lightweight Stainless Steel shafts. Mine & Arnies (or JCs now) have the Tourney Action.
Macgregor tourney-lite steel shaft
combines the better features of both steel and aluminum shafts. New Tourney-Lite shafts are as light in weight as ordinary aluminum shafts. To this MacGregor adds the feel and flex action of the famed Tourney Steel Shaft.
Tourney-Lite is an advanced design shaft. Flex patterns are precisely controlled for uniform action and feel. This premium grade shaft is manufactured to extremely rigid tolerances to insure superior performance characteristics. Each club in your set is fitted with exactly the right shaft for maximum performance. That's why every MT with Tourney-Lite has the same feel and consistent performance.
Available in three flex patterns(1-stiff; 2-medium; 3-flexible)
looks like i have these. so you say the heads are heavy? changing the shafts should help me? i know C8 is light for a swingweight. is 14.5oz light for a 4 iron?
John Erickson Club Specifications Steel X100 shafts tipped 1/2 inch
CLUB Onces Swing
Weight Length Loft Lie Club Type
Driver 14 D 6 44 9 48 Persimmon
2 wood 14.5 D 6 43 12 49 Persimmon
1 iron 14.8 D 6 40 13 52 Forged Blade
2 iron 15.2 D 6 39.5 16 52 Forged Blade
3 iron 15.3 D 6 39 20 53 Forged Blade
4 iron 15.4 D 6 38.5 24 54 Forged Blade
5 iron 15.6 D 6 38 28 55 Forged Blade
6 iron 16 D 6 37.5 32 56 Forged Blade
7 iron 16.5 D 6 37 36 56 Forged Blade
8 iron 16.7 D 6 36.5 40 57 Forged Blade
9 iron 17 D 6 36 44 57 Forged Blade
PW 17.8 E 4 35.5 50 58 Forged Blade
Gap PW 18.0 E 5 35 53 58 Forged Blade
SW 18.5 E 9 35 56 66 Forged Blade
All irons have have zero offset and this can take some time doing multiple bends on the neck to get the center of the shaft inline with the 3rd groove.
Irons should visually see more forward face progression into the shorter clubs because the loft (should) kick forward the leading edge. Manufactures rarely get this right… even in the old days… however some sets did such as my 62 Haig Ultras. The longer necks on the 1950's gear make working them into position much easier. Offset promotes a hitter to come OTT to square the clubface at a critical moment. We want to be rewarded for our rotational efforts and not have to try to over rotate if offset is present.
This chart is the base chart I work off as I fine tune my various sets. I do have several sets with heavier overall (dead weights) such as my 1959 Dynapower's and my 1953 MacGregor M 85's. Those sets are all set up the same but are about one ounce heavier than most of my other sets, including all my Hogan sets, other Wilson, MacGregor, Spaulding, Dunlop and so forth. Most sets would follow this chart more closely. Length, loft and lie angles do not change between sets.
I am a firm believer in heavier clubs because they put more feel in our hands and do wonders to inhibit over acceleration which is the #1 swing killer. Heavier irons also provide much better distance control for your shots. Notice my wedges really get heavy, as these are big scoring clubs that require a lot of in-between feel play. So really being able to feel weight aids greatly in controlling distances. Heavier clubs allow is to strike the ball with much more force. f=ma. By increasing the mass, we increase the force. Force puts feel into our hands, the lifeblood of a good player.
The natural progressive set up moving from the long irons into the woods is very steady, nothing abrupt. I never have to pull a club that is shockingly longer or lighter than my irons. Keeping the feel real and similar is a great way to build trust into your game through your equipment. A set up like this should properly prepare you for any golf course under 7000 yards where there is a premium on accurate ball positioning.
Let your distance come from technique, and rotational speed. Accelerating more mass into slightly less top end velocity enables more consistent ball flight and better compression, therefore offering a significant advantage over your "velocity junkie" opponents on any "real quality" golf course.
from Lags Equip. specs. in equipment thread