Longest iron is a 6?? Oh dear. Thought these pros were supposed to be "proper" golfers

Like Lag often says, you can't really blame the golfers. If any of us had minimal job security and thousands of young guns with our jobs in their crosshairs we'd probably do whatever we thought could give us the lowest score consistently. That said, it is truly sad that we may never see a 2 iron approach shot into a crucial green with an important title on the line.

sigh…
I remember when Dana Quigley was dominating the Champions Tour a few years ago and he'd gone the "hybrid route". They interviewed him after another win and he said he was going to see if Adams could make a "6 hybrid" for him and I just giggled… surely he was kidding! His iron set was going to start with the 7? He had to be joking!
And now we have a reasonably fit 34 y/o going the same route. I gave Quigley the benefit of the doubt considering his age and his short tight swing (hmmmmm… we need an anaylsis of his motion as I think we'd like it here). But now we have Crane going down the same road?
Personally I don't understand the adoration of hybrids. They're bulkier than an iron and with so much sole area they seem to be a mis-hit in the making. A 3h is easier to hit than a 3i… a 4h is easier to hit than a 4i… etc etc. Why wouldn't a PWh be easier to hit than a PWi? Or is that next?
Ugh!
Robbo, funny you should mention Quigley, because he's one of my inside/outside left arm guys. It's got something or a lot to do with the upper right arm and when it rotates. I really like his action. It looks 'fold-ey' but it's quite dynamic- obviously it has to be to be as good as he's been when it matters…
[youtube]http://www.youtube.com/watch?v=YjWXyXYaeiw[/youtube]
Another shout-out to Bom for posting the Quigley video.
What can possibly go wrong with that motion? He strikes me as the modern day Doug Sanders… and they both liked pink too! Short… sweet… to the point. That dude's "consecutive events played" is legendary. Who wouldn't play all they could with that swing? A human version of the one-armed bandit! Cha-ching!
Thanks Bom.
Btw… a warning to those taking bets with golfers they've never played with before:
"Beware the player who swings with a cigar in their mouth".
Quigley and Sifford are enough evidence for me.

robbo
Truth… some guys actually ARE too cool for school…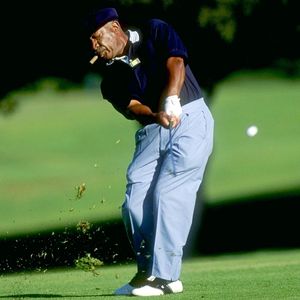 Genius Bom!
I rest my case.
I have never hit a hybrid before, and don't plan on it either. Just looks like a metal 4 or 5 or 6 wood. I remember a guy at my club growing up that had an entire set of woods. Even his wedge was a wood. Nothing new here is it?
Let me guess… the hybrids are long, light, and with bigger heads.
The image of a "modern" player having a gar in his mouth during the swing… how great would THAT be!!!
I can just picture Tiger on the 1st hole of sudden death yesterday having Stevie hold his Fuentes for him cause… "I don't want that baby to get cut up in all the cactus I'm surrounded by"! 2 whacks at it later and Tiger strides to the green with a big cloud of smoke around his head, a perfect metaphor for the state of his game.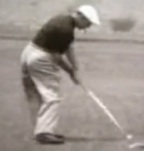 Hogan hitting with his cigarette, Sifford and Quigley with their cigars. I'm thinking these were training aids, and legal for play. I'd better get me one.
Artificial Aids under ruling 6044-A-73-13
I have a 3-hybrid. It goes further than my 3-iron and shorter than my 3-wood. Not a bad club, looks like an old Taylor Made 'raylor' to me. I use it for shorter par-4's that are really tight and the risk of missing the fairway is too great and the probability of missing it with the driver (or 3-wood) is too high. I also use it on long par-3's and if I need to lay up on certain par-5's. I really don't have many approach shots on par-4's with it.
And a good thing.
There's something about hitting an iron flush and having it hit on the green, spin and bite on the green. The hybrid requires me to not only hit a good shot, but to hit it really high…or I'll roll off the green. 4 and 5-hybrids? No thanks. And no great player has ever used that many hybrids either.
The new Adams Super Hybrid looks exactly like a 3-wood, 4-wood or 5-wood (depending on what you choose). Not even sure why they call it a hybrid.
3JACK